October 15: Some Unexpected Passengers
Pilgrimage Map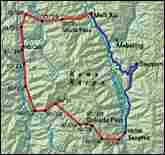 National Geographic Society
After a visit to Ringha Temple, we drive toward the old trading town of Deqin. I've had no sleep, I'm coming down with a cold — sore throat, stuffy nose, upset stomach — and I'm wondering what I got myself into.
Our vehicle is an SUV with front-facing bucket seats, a bench seat for three smallish people behind it, and a cargo area filled with backpacks and a large canvas bag filled with recording gear. There are four of us: the driver and his wife in the front, and my guide and interpreter Kayson seated on the bench with me.
Looking through the windshield, I see a small truck with its hood up and two men peering beneath it... never a good sign.We pull alongside the vehicle. Suddenly, three young monks appear, seemingly out of nowhere.
After a brief discussion, we have outgrown our comfortable foursome and become a septet — two monks somehow miraculously appearing stuffed in among the backpacks and recording gear, and the third monk wedged in between Kayson and me. On to Benzilan, a small stretch of a town running several blocks along the road to Deqin.
Previous: October 13 — Karma in Translation
Next: October 16 — Crossing the Langtsa Bridge