October 28: The Scent of Burning Juniper
At 5 A.M., while still in my sleeping bag, I see a string of bobbing lights winding up the trail from the village of Gebu. The pilgrims have gotten an early start, wanting to reach Mejugo before nightfall.
A little later, in the morning light, I can see shrubs dotting the mountain. They are exchanging their summer greens for the red and bronze colors of fall.
The rocky trail leading to the Gebula pass is decorated with a garland of short semi-circular stone walls. Dozens of the crescent shapes sit at irregular distances on both sides of the path. I think these temporary shelters may be an act of compassion by some unseen architect to protect a worn and weary pilgrim from the cold wind. As we continue our ascent, the rocky trail gives way to a dusty gray powder. The quarter moon shelters are no longer part of our landscape.
The village fades into the distance below us but smoke from the houses still fills the air with the delightful smell of sweet burning juniper branches. Every morning, the head of each household rises before dawn and burns the juniper and prays for help from the mountain god.
We reach the mountaintop and immediately begin our descent. Our journey to the top has taken less than an hour and twenty minutes. We camp, and no pilgrims join us. Our cook, Norbu, says some pilgrims are afraid there is no water source here at Sathijone. Most pilgrims don't carry canteens and have no way to transport water. They wisely pace each day's trek keeping that in mind.
Those pilgrims who preceded us have gone onto Janukah, a long day's journey from the village of Gebu. Norbu has made this pilgrimage before and knows that a spring is very nearby.
Previous: October 26 — Personal Space, Private Lives
Next: October 30 — Bracing for the Shula Pass
Pilgrimage Map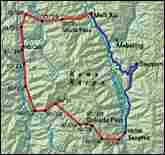 National Geographic Society