Three Sizzling, Sexy South Beach Books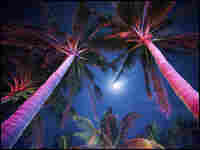 "Three Books ..." is a series in which we invite writers to recommend three great reads on a single theme.
I know exactly when I caught South Beach fever: It was 1984, and Don Johnson and Philip Michael Thomas were starring in a new TV show called Miami Vice. I was hooked.
Mary Kennedy is an award-winning novelist and psychologist. Her first adult mystery, Death is Bad Karma, is set in south Florida, and will be published in 2009. She lives in Delaware with her husband and five neurotic cats.
Flash forward to the present day: Writers love South Beach because the milieu is hip, edgy and filled with possibilities for compelling plots and outrageous characters. If Paris is a movable feast, then South Beach is an all-night party. Mix one part Art Deco, one part Cubanita culture, one part surreal fantasy — and you've got a book.
'The Dark Of Day'
The Dark of Day, by Barbara Parker, hardcover, 352 pages
Barbara Parker, former Miami prosecutor and best-selling novelist, has just released another sizzling thriller set in South Beach and Miami. In The Dark of Day, her protagonist, high-profile defense attorney C.J. Dunn, mingles with society mavens, porn kings, dirty politicians and television honchos. When a supermodel turns up dead, a high-profile U.S. congressman asks for C.J.'s help. It's a Faustian deal: She takes the case only because the congressman promises her the chance to host a CNN crime show. Almost every scene is filled with the flavor of South Beach, from the glitzy hotels on Collins Avenue to the trendy boutiques on Lincoln Road.
'South Beach Chicas Catch Their Man'
South Beach Chicas Catch Their Man, by Caridad Pineiro, paperback, 304 pages
Caridad Pineiro, a Manhattan attorney and author who was born in Havana, is enchanted by South Beach. Her novels are as wild and sexy as mojitos.

South Beach Chicas Catch Their Man is the story of four female amigas, all smart, sexy professional women who love their jobs, adore their men and put their families first. The dialogue is crisp, edgy, filled with Spanish phrases — and the "chicas" are irresistible. Think Sex and the City with a Latina flair.
'South Beach: The Novel'
South Beach: The Novel, by Brian Antoni, paperback, 288 pages
If you like characters with a dangerous edge, Brian Antoni's book, South Beach: The Novel, fits the bill. Characters change, morph and re-invent themselves, because in Miami, "there's the feeling you can be whatever you want to be." The main character, 29-year-old Gabriel Tucker, is thrust into the strange and wonderful world of South Beach when his uncle leaves him an apartment building in the historic district. Tucker quickly finds himself caught up in the lives and loves of a bizarre cast of characters who live in the building: Marina, a drop-dead gorgeous performance artist; Miss Levy, a Holocaust survivor; and Pandora, a mute transvestite. The reader is dazzled by the decadent atmosphere and wonders: Will Tucker save them from the wrecking ball? Will he find true love with Marina? Antoni's book captures South Beach in the heady days of the '80s, when it was called "a sunny place for shady people."

South Beach is just as tantalizing today as it was in the days of Miami Vice. Pick up a South Beach novel, grab a mojito and immerse yourself in a little fantasy as you catch some rays. Perfecto.

Three Books ... is produced and edited by Ellen Silva and Bridget Bentz.
Books Featured In This Story
Hardcover, 343 pages | purchase
Title

The Dark of Day

Author

Barbara Parker
Your purchase helps support NPR Programming. How?
Paperback, 285 pages | purchase
Title

South Beach Chicas Catch Their Man

Author

Caridad Pineiro
Your purchase helps support NPR Programming. How?
Purchase Featured Book
Title

South Beach: The Novel

Author

Brian Antoni
Your purchase helps support NPR Programming. How?