Dolly Parton: Songs We Love
Hear 10 Parton Classics, With Commentary, Plus Unreleased Songs
Pre-Order 'Dolly'
Even if you don't care too much for country music, you've got to love Dolly Parton. That hair? That makeup? That roller coaster, with what the Dollywood Web site delicately refers to as "butterfly back-to-back loops"? What's not to like?
Behind the big wigs and the rhinestone dazzle, beyond the big-screen successes and the unmistakable entrepreneurial prowess, Parton is one of the greatest singer-songwriters country music — and maybe the country — has ever produced. Over a five-decade career, she's proved equally adept as a spinner of delicate old-school bluegrass tunes and Nashville-savvy chart-bait. If there's a purer, cleaner, more heartbreaking high-lonesome voice still singing at her age (not that we'd mention it), Parton has probably written a deeply moving story-song for the person who owns it.
All of which is ample reason to celebrate the release of Dolly, a career-spanning 99-song box set. Below, Parton-friendly NPR staffers offer their thoughts on some of its highlights — which include some previously unreleased material, available at the bottom of this page.
Tell us about your favorite Parton song in the comments section below.
Dolly Parton: Songs We Love
Amy Schriefer, NPR Music
Song: Dumb Blonde
from Hello, I'm Dolly
by Dolly Parton
Don't even bother questioning Dolly Parton's over-the-top style, humble beginnings or Southern pedigree. She's already beaten you to it, flaunting all of those characteristics and strategically reversing any socially constructed weakness into a source of strength and pride, including her hair color. In "Dumb Blonde," one of her first hits (recorded in 1966), she chastises a lover who dismisses her as a dimwit -- when, in fact, she just found out she has more fun without him. A word of caution for anyone out there who thinks it would be cute to put this song on a mix for your blonde girlfriend: You're just begging for the lessons of this song to come true. Trust this blonde, who knows from experience.
Tom Huizenga, NPR Music
Song: Last Thing on My Mind
from Just Between You and Me
by Porter Wagoner & Dolly Parton
In our house, the main reason to watch The Porter Wagoner Show on TV in the late 1960s was to see his new, unknown sidekick and duet partner, Dolly Parton. Her hair was even taller than Wagoner's puffed-up pompadour, and when they sang together -- her sweet, laser-like twang intertwining with his warm baritone -- we knew this was great country duet singing. Besides that, Parton was funny, confident and irresistible. "The Last Thing on My Mind" was the first duet that the two recorded together (they also sang it on the show). And, while it's not a particularly nuanced performance (the pacing is too bouncy), it does prove that Parton, at 21, is one of those rare artists who sounds fully mature right out of the gate. Her trademark tight vibrato is already present. And listen to how she flutters the notes on the words "better" and "unkind." That fully formed, even aristocratic, phrasing would carry Dolly Parton to superstardom.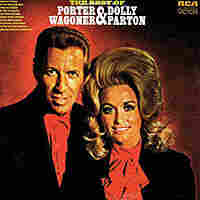 Lars Gotrich, NPR Music
Song: Just Someone I Used to Know
from Porter Wayne and Dolly Rebecca
by Porter Wagoner & Dolly Parton
I have ridden Daredevil Falls in Dollywood. I shed a single tear with patriotic pride when Parton performed a spirited version of "Light of a Clear Blue Morning" on Late Night With Conan O'Brien. But, as is the case for most Dolly Parton fans, it's the sad country songs that made me fall in love with her. "Just Someone I Used to Know" has probably ended up on a past break-up mix of mine somewhere. With her longtime musical partner, Porter Wagoner, the two sing like lost lovers in this 1969 song. The sentiment is simple, yet the resonance is strongly familiar: You never want to tell a stranger that your heart's been broken, so that picture is just someone you used to know. It's a bittersweet keepsake to hold you over until you ride Daredevil Falls again, alone.
Trey Graham, NPR Digital Media
Song: Joshua
from Joshua
by Dolly Parton
It hasn't quite got the urgency of some other great story-songs -- think "A Boy Named Sue" or "The Devil Went Down to Georgia" -- but there's something both sweet and subversive about "Joshua," which was Parton's first No. 1 country-chart hit back in 1970. Musically, it's sunny as can be, but the story is surprisingly dark and complicated: A Tennessee orphan girl with no friends hikes down the railroad track, curious enough to brave the off-limits turf of a guy the townsfolk say is a "mean and vicious man," just because she wants to find out for herself. What she finds is a kindred spirit, a loner who turns out to be looking for her kind of company. The joyful yodel that wraps up this ridiculously happy-making song says everything about how well it works out for both of 'em.
Stephen Thompson, NPR Music
Song: Coat of Many Colors
from Coat of Many Colors
by Dolly Parton
Dolly Parton's greatest gift is her rare humility: She's utterly fearless in her ability to seem heartsick, corny, funny and raw, sometimes all at once. Parton's 1971 country classic "Coat of Many Colors" touches on plenty of country music's most timeworn tropes -- growing up poor, reveling in the simple things, appreciating a mother's love and pride, applying lessons from the Bible -- but the song is built around a genuinely meaningful idea. This isn't just the story of an ugly duckling who aspires to be a swan; it's a timeless and profound parable about the way rags feel like riches when they're stitched together with love and worn without shame.
Scott Simon, Weekend Edition Saturday
Song: My Tennessee Mountain Home
from My Tennessee Mountain Home
by Dolly Parton
"My Tennessee Mountain Home" is one of the great songs of all time -- and it's all Dolly Parton's. Her voice has both the light sweetness of spring and the smoky grandeur of the mountains. And her lyrics (it's easy to forget what a great songwriter she is) are beautifully detailed, including this perfect line: "In my Tennessee mountain home, life is as peaceful as a baby's sigh."
Neda Ulaby, Reporter
Song: Jolene
from Jolene
by Dolly Parton
One hesitates to use the word "monumental" in reference to Dolly Parton, but "Jolene" is nothing less than a monumental entry in the American songbook, a darkly varnished alloy of those old warhorse ballads in which a woman begs a rival not to take her man. In just a few minutes and a few phrases, Parton distills and inhabits dramatically polarized feminine archetypes. She's an injured innocent, but behind the singer's primal bleat lies the operatic anger of an uncontrollable stalker. "He's the only one for me, Jolene," Parton insists, but Jolene has stirred something in her, too. Her admiration of Jolene's beauty and sexual prowess is unabashedly poetic. The song shivers with melodrama, lament and yearning; it's a piercing meditation on being haunted by desire.
Frannie Kelley, NPR Music
Song: Baby I'm Burnin'
from Heartbreaker
by Dolly Parton
My favorite Dolly Parton interview was one in which she confessed to rubbing the backs of her super-long plastic fingernails against each other for percussion when she wrote songs, mostly while driving around the country with her husband in their RV. I'm not sure which of her hits were born from such humble origins, but I hope "Baby I'm Burnin'" was one of them. It's just so joyful and uncomplicated. Parton isn't bragging or making anything up -- she isn't one to claim that she invented the act of sex or even been involved in bringing it back; she's just saying that she's as hot as a pistol of flaming desire. The structure and the beat are so simple, I can't imagine anyone not finding a way to dance to it. Sure, "Baby I'm Burnin'" could do without the sporadic ray-gun noises, but, man, this song cheers me up every time I hear it and think about Dolly Parton doing her chicken-wing dance on stage. If anyone knows how to write a song that'll keep a girl going through the dark days, it's this one.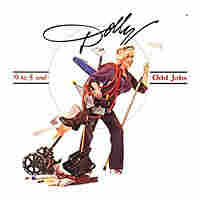 Scott Stroud, NPR Digital Media
Song: 9 to 5
from 9 to 5 and Odd Jobs
by Dolly Parton
My older sister and I won the first-place trophy in the 1981 B.D. Lee Elementary School Talent Show. I've tried to bury this memory, but here it is: We pantomimed an abridgement of the movie 9 to 5 with the hit song blasting from scratchy gymnasium speakers. Kim was a perfect Dolly Parton thanks to one blonde wig, a borrowed Halston wrap dress, four-inch heels and "enhancements." I was her insensitive, creatively punished Boss Man. I'm not sure what a mustachioed, second-grade Dabney Coleman could have known then of ambition or oppression, but I've learned one lesson worth keeping. Parton wrote this song during a break on the movie set. While her costars nervously bit their fingernails, Parton clicked her painted acrylics together and heard the foundation of her song -- the sounds of an office typewriter. This is her genius in full effect, demonstrating that great lesson: If we pay attention during the time between takes, if we use that space to create, our ship will soon come in. The tide will roll us away.
Linda Holmes, Monkey See Blogger
Song: Islands in the Stream
from Eyes That See in the Dark
by Kenny Rogers
I'm not here to tell you that "Islands in the Stream" is, technically speaking, a very good song. I am, however, here to tell you that it did a tremendous amount of good for karaoke. Duets are important, and not everything can be "I Got You Babe." "Islands in the Stream" (which Parton recorded with Kenny Rogers) boasts an agreeable, singable melody and lyrics that sound at times like they've been translated by a computer from English to German and back into English ("Tender love is blind / It requires a dedication"). It has that satisfying repetition of "uh-uh," which even a terrible singer can probably get through, and it's a heck of a lot shorter than "Paradise by the Dashboard Light." So what if the central metaphor doesn't make a lot of sense? (Please explain how islands in a stream resemble lovers. Show your work.)
Gonna Hurry (As Slow as I Can)
from Dolly [RCA/Legacy]
by Dolly Parton
This demo was recorded circa 1957-62 and was co-written with her uncle Bill Owens, a formative figure in Parton's early musical evolution.
Nobody But You
from Dolly [RCA/Legacy]
by Dolly Parton
This track, with the Merry Melody Singers, was recorded during the same 1962 Nashville sessions that produced Parton's Mercury singles "It's Sure Gonna Hurt" and "The Love You Gave."
I've Known You All My Life
from Dolly [RCA/Legacy]
by Dolly Parton
Parton recorded this obscure Goffin-King song during November 1965 sessions at Monument. It was produced and arranged by Ray Stevens.
Everything Is Beautiful (In Its Own Way)
from Dolly [RCA/Legacy]
by Dolly Parton
This original Parton composition is from fall 1969 sessions at RCA Studios in Nashville for The Fairest of Them All.
God's Coloring Book
from Dolly [RCA/Legacy]
by Dolly Parton
This song was produced at the same time as 1971's "Coat of Many Colors," and is thematically similar to the beloved classic.
Eugene Oregon
from Dolly [RCA/Legacy]
by Dolly Parton
This song came out of the RCA Studios Nashville sessions in 1972, for My Tennessee Mountain Home.
What Will Baby Be
from Dolly [RCA/Legacy]
by Dolly Parton
This song also came out of the RCA Studios Nashville sessions in 1972, for My Tennessee Mountain Home.