Recipe: Apple Cider Brine For Pork
Elizabeth Karmel says this brine is good for soaking pork chops, pork loin, fresh ham, chicken and turkey. I haven't tried the others, but I can certainly vouch for the pork chops. Be sure you give the ice cubes a stir to help them cool down the hot solution before you pour it over the meat. The recipe is adapted from Elizabeth Karmel's Soaked, Slathered, and Seasoned (Wiley 2009).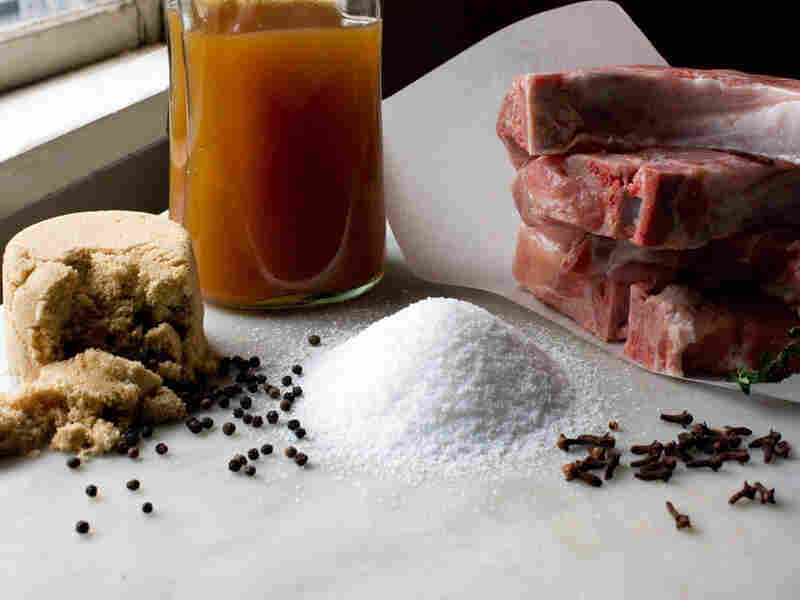 Makes 2 quarts, easily enough for 8 chops
2 cups cold water
1 cup kosher salt
1 cup packed light brown sugar
2 teaspoons dried thyme, or 2 sprigs fresh thyme
1 teaspoon whole black peppercorns
1 teaspoon whole cloves
4 cups unfiltered apple cider
2 cups ice cubes
In a large saucepan over medium-high heat, bring the water, salt, sugar, thyme, peppercorns and cloves to a boil. Cook for 2 to 3 minutes, stirring occasionally, or until the sugar and salt dissolve. Remove from the heat, add the apple cider and ice cubes, and stir well.
Put the meat in a nonreactive pan or extra-large resealable bag and cover with the cooled brine. Cover or tightly close the bag and refrigerate for 6 to 12 hours. If you are using a resealable bag, rotate the pork a few times to make sure all of the meat gets brined. Before roasting, remove the pork and pat dry with paper towels.