SXSW Sessions: The Apples in Stereo
Recorded Live on March 15, 2007, Presented by KEXP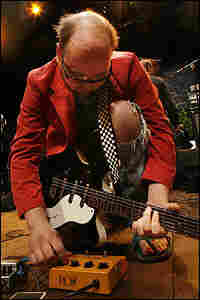 Set List
"Skyway"
"Energy"
"Radiation"
"Can You Feel It?"
"Same Old Drag"
"Open Eyes"
The Apples in Stereo came out of the Elephant 6 Collective, a group of likeminded musicians that would eventually spawn Olivia Tremor Control and Neutral Milk Hotel. While the collective's Athens, Ga., sector largely favors experimental pop and folk, Robert Schneider and his Denver-based counterpart play the sunnier and straighter side of indie-pop. After five years of solo and side projects, The Apples in Stereo just returned with its seventh album since 1993, New Magnetic Wonder.
Seattle-based KEXP presents a diverse mix of music, live performances and podcasts from indie rock and punk to jazz and old school soul.
Support KEXP
Stories like these are made possible by contributions from readers and listeners like you.