New In Paperback Aug. 6-12
Fiction and nonfiction releases from Adam Johnson, Ronald Kessler and Peter D. Ward.
A Novel
Set in North Korea under Kim Jong Il's regime, The Orphan Master's Son explores what it means to live in the country through the eyes of its imagined hero, Pak Jun Do (a play on John Doe). Tina Brown, editor of The Daily Beast and Newsweek, tells NPR's Steve Inskeep that Adam Johnson "vividly creates this strange, dark, twisted lifestyle of the people who are condemned to live there, who have no other way of seeing the world except through the prism of the distortions the regime has served up ... You never think about what it must be like to live in a world of lies, which is what you get through the consciousness of Pak Jun Do." Johnson suggests that, even in private, North Koreans cannot tell the truth; that everything in their lives is fictionalized to one degree or another. According to Brown, that's part of why his book is so original.
News and Reviews
Hundreds of times each year, teams from the Federal Bureau of Investigation slip into houses and office buildings. Armed with a judge's warrant, they seek information or plant bugs, and if all goes well, sneak away unnoticed. There are about 70 people on seven teams who work on such tactical operations, some of whom described their work to Ronald Kessler in The Secrets of the FBI. Some stay on the teams for their whole careers and have done as many as 5,000 break-ins, while others find the stress and travel too much. Kessler tells NPR's Steve Inskeep that this kind of surveillance is what it takes to stop a possible terrorist. "Just one terrorist can wreak havoc, and so they will spend weeks doing the surveillance beforehand," he says. "They'll, in some cases, do bugging for years in order to really catch this person."
News and Reviews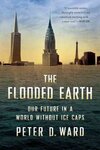 Our Future in a World Without Ice Caps
In Flooded Earth, NASA astrobiologist Peter D. Ward argues that even if humans stopped all carbon dioxide emissions today, the oceans will still rise 3 feet by 2050, wreaking havoc on many coastal cities and their infrastructure. In the worst-case scenario, he says, the ice caps will melt and give way to global anarchy. After outlining possible geopolitical conflicts over the redistribution of territorial borders, energy and other resources, Ward offers a blueprint for moving forward, arguing that keeping up hope for a workable future is an important goal in itself.
News and Reviews
Charlotte Abbott edits "New in Paperback." A contributing editor for Publishers Weekly, she also leads a weekly chat on books and reading in the digital age every Friday from 4-5 p.m. ET on Twitter. Follow her at @charabbott or check out the #followreader hashtag.