Boricuas In The House: New Music From Puerto Rico
i
Yarimir Cabán/Courtesy of the artist
Last week, I had the pleasure of traveling to Puerto Rico to work with NPR's Morning Edition crew. If you haven't already, check out their fantastic series showcasing life and challenges on the island today.
Of course, we couldn't begin to talk about Puerto Rican culture without discussing music: not just the usual suspects, like salsa and reggaeton, but also an amazing underground indie-rock scene.
In between taping Morning Edition shows about the economy and migration, I found time to sneak out to the University of Puerto Rico's WRTU and meet up with two of my favorite music journalists: Ezequiel Rodriguez, who hosts the show Frecuencias Alternas, and Alfredo Richner, creator of the blog Puerto Rico Indie.
On this episode of Alt.Latino, we hear some of their favorite new artists and talk about what's on the minds of young Puerto Ricans today.
——————————————————————————————————————
La semana pasada tuve el placer de viajar a Puerto Rico, para trabajar junto al programa Morning Edition, de NPR. Si no lo han escuchado aun, les recomiendo la gran serie investigativa que hemos logrado acerca de la crisis económica que aguanta la isla hoy en día.
Por supuesto, no podemos hablar de cultura boricua sin hablar de la música. Mas allá de lo que ya todos sabemos (salsa y reggaetón): Puerto Rico tiene una ebulleciente escena de música de rock é indie pop.
Entre grabaciones para Morning Edition, encontré el tiempo par air a Radio Universidad de Puerto Rico (WRTU) y encontrarme con dos de mis periodistas de música preferidos: Ezequiel Rodriguez, locator del programa Frecuencias Alternas, y Alfredo Richner, creador del blog Puerto Rico Indie.
En el show de esta semana, escuchamos algunos de sus artistas favoritos, y hablamos acerca de los temas que afectan a los jóvenes boricuas hoy.
Alt.Latino Goes To Puerto Rico
Fofe Y Los Fetiches
Song: La Mañana Blanca
From: Lujo Eterno
Alegria Rampante
Song: Un Cuarto Más Pequeño
From: Se Nos Fue La Mano
Song: Animal
From: Animal
Song: Manifesto
From: Similar
Song: Hasta Caer
From: No Tengas Miedo Al Amor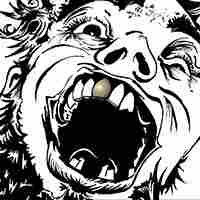 Song: La Mocosa
From: Campo-Formio
tach.dé
Song: A Cliff Against The Sea
From: Deluge
Fantasmes
Song: Redness Moon
From: Redness Moon
Mima
Song: Oigo Voces
From: El Pozo
Song: Lluvia Con Sol
From: Salsa Bestial
Song

Lluvia Con Sol

Album

Salsa Bestial

Artist

Orquesta El Macabeo

Label

Vampi Soul
Your purchase helps support NPR Programming. How?
Jamsha El Putipuerco
Song: El Recoge Escombros
From: El Recoge Escombros
Song: Brain Damage
From: The MD's