The Stone and Holt Weeks Fellowship
In memory of Stone Weeks and Holt Weeks, following their tragic deaths by a highway trucking crash in 2009, NPR and The Washington Post joined forces to create an amazing and unique opportunity for young journalists in Washington. The Stone and Holt Weeks Fellowship was awarded five times between 2009 -2014.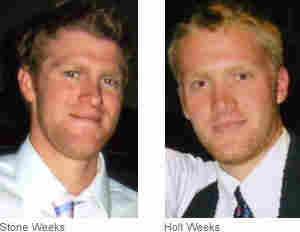 In 2014-2015, the Weeks family asked NPR and The Washington Post to phase out the Fellowship. No more applications will be accepted.
Stone Weeks and Holt Weeks
They were extraordinary, focused young men committed to doing great work: in history, public policy and environmental issues. They were insatiably curious, ambitious, wildly fun-loving and dedicated to making the world a better place for all.
The two brothers had a keen social conscience and were enthusiastic volunteers for good causes. They were, as the National Journal said, "devoted to helping less fortunate people and fixing our troubled world."
Their passion for up-to-the-minute news was inspired and informed by an equal passion for history and politics. The fellowship was created to honor their brilliant, all-too-brief lives by giving someone an enormous opportunity to launch a career in journalism.
Their father, Linton Weeks, is a reporter at NPR and spent nearly two decades as a reporter and editor at The Washington Post. Their mother, Jan Taylor Weeks — an artist, teacher and volunteer — is now Director of The Stone and Holt Weeks Foundation.
In recognition of Holt and of Stone, and of Linton's lifelong work as a journalist and storyteller, NPR and The Washington Post joined together to create the Fellowship. With the loving assistance of countless people, the Fellowship brought extraordinary young people into both organizations.
Nate Rott, 2010
After working on-and-off as a General Assignment Reporter out of NPR West in Los Angeles, Nate Rott was hired as a Producer for NPR. He now enjoys near constant sun and curses near constant traffic. He spends a good chunk of his spare time throwing tennis balls for his adopted dog - a pastime that he hopes will soon benefit others, by enrolling the dog and himself in a program that pairs adopted/foster dogs with foster kids in LA. If not for the Stone and Holt Weeks Fellowship, and the generosity of the people involved, Nate says he has no idea where he'd be. The Fellowship has launched him into a career that he may not have otherwise pursued and connected him to some of the kindest, most decent people in the business. It also serves as a constant reminder to him to be a better person, to help others and to have fun.
Teresa Tomassoni, 2011
Teresa is working as the Director of Programs at FAIR Girls, an international non-profit dedicated to preventing and ending the commercial sexual exploitation and human trafficking of youth. She oversees the organization's social services programs including: crisis response, court advocacy, emergency housing, mentoring and youth leadership opportunities. She facilitates trainings for local and federal law enforcement, social service providers and school and judicial officials on the issue of human trafficking. She recruits, trains, supervises and mentors volunteers working with the agency and is actively involved in drafting and influencing local legislation on the issue of human trafficking. Her experience as a Stone and Holt Weeks Fellow continues to have a tremendous impact on her everyday life. She feels compelled and passionate about striving to effect social change in whatever she does — and to have fun while doing it. While she didn't know Stone and Holt personally, learning about their commitment, sense of humor and ability to organize their peers to serve while having fun continues to inspire her. In her daily work as a supervisor, she strives to lead with joy and a good sense of humor no matter what she's faced with and she asks her staff and volunteers to do the same.
Candace Wheeler, 2012
Candace is currently living in Atlanta where she has been freelancing for Atlanta's NPR station, WABE 90.1. In addition to reporting on education, she recently covered the effects of the events in Ferguson, Missouri, on local residents. Candace and her best friend, who was attacked in her DC apartment during Candace's fellowship, have decided to start a website filled with personal essays, inspiring young women to discuss current events and to chase their dreams. They are working toward an early 2015 launch date.
Leah Binkovitz, 2013
Soon after the fellowship, Leah joined Fellowship Committee member Vernon Loeb — whom she had worked with at The Washington Post — after he left The Post to become Managing Editor of the Houston Chronicle. She now covers education in the vast suburbs of Houston. She also does a weekly column on the city's signage that takes her all over town, profiling small business owners and corners of life. It was a big move, she says, but one that she's very much enjoying. She says she grew so much during the fellowship and is grateful for the opportunity and experience.
Miles Parks, 2014
Miles is the current Stone and Holt Weeks Fellow. He studied acting and creative writing at The University of Tampa, then worked as a reporter for The Ledger in Lakeland, Florida, before being selected. Both his parents are also journalists in Florida. Miles credits them with teaching him about the intersect of words and compassion.

In the fall, Miles worked primarily with the local desk at The Washington Post, contributing to the coverage of Marion Barry's death, the Ferguson protests in DC, and the 2014 mid-term election. He said he did not think it was possible to learn so much in a span of three months.
Miles begins his rotation at NPR with The Investigations Team. He'll be with them through mid-April.
The Stone and Holt Weeks Foundation
In cooperation with the Community Foundation for the National Capital Region, The Stone and Holt Weeks Foundation was established to honor the memories of Stone Weeks and of Holt Weeks. The Foundation supports organizations that Holt and Stone were involved with – and rewards those who echo their spirits of generosity and volunteerism.