Media Advisory: NPR News Interview with Rep. Adam Schiff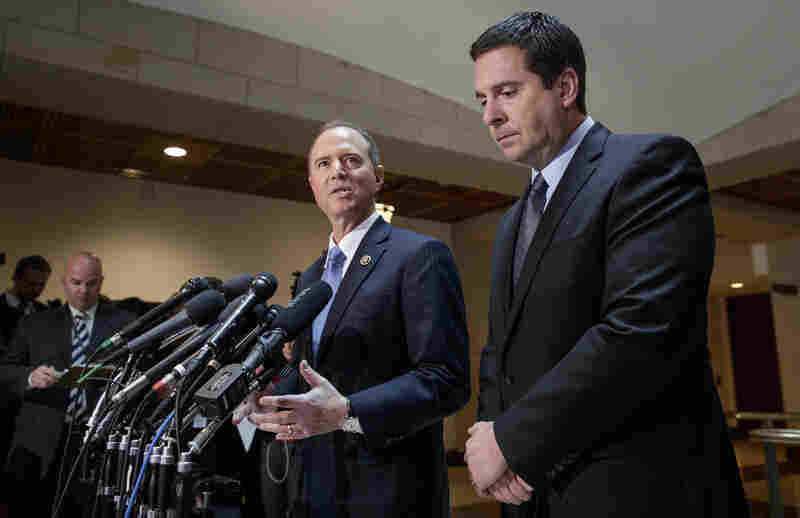 Wednesday, March 15, 2017; Washington D.C.- In an interview airing today on All Things Considered, NPR's Robert Siegel spoke with Rep. Adam Schiff of California, the highest-ranking Democrat on the House Intelligence Committee. Rep. Schiff tells Siegel he believes the Department of Justice and the FBI will have no evidence of a wiretap on Trump, and that his House Intelligence Committee's investigation will conclude that the alleged wiretap didn't happen. Rep. Schiff and his Republican counterpart, Chairman Devin Nunes, are planning the first open hearing on Russia's role in the 2016 election and related issues for Monday, March 20.
Stations and broadcast times are available at NPR.org/stations.
Excerpts from the conversation are available below.
When asked if he expected a simple or nuanced answer from the DOJ on whether there was surveillance of Trump or his campaign, he said: "I don't expect a nuanced answer. I think the answer to the question that have been raised by the Trump tweets is an emphatic no. And I imagine that when the Director of the FBI comes before us in the open hearing we have next Monday, I will be asking him that question and I expect his answer will be that there is no evidence of it because it didn't happen."
When asked what conclusion to expect from his House Intel investigation, he said: "I think the conclusion you should expect is [the alleged wiretap] didn't happen. There's no evidence of it. And to further chase this baseless claim would not be productive. The question will remain, 'Why would the president do this?' And that's a question the president will have to answer."
When asked about the "national security concerns" Rep. Schiff mentioned at today's press conference, he said: "The predominant concern is twofold, I'd say. The first is, part of the Russian narrative about the United States is that – 'OK, Russia's not a democracy, it's a corrupt kleptocracy – but the United States is no different. The United States is equally corrupt. They are just hypocrites about it.' Well, when the president makes the claim that his predecessor illegally wiretapped him, it plays right into Russian hands. ... But a second point is, we will have a crisis at some point during this administration, and not one of their own making. It will come from North Korea or Iran or Russia or China or somewhere.... He will have a crisis and we're going to want to believe our president. We're going to need to believe our president. We're going to need our allies to believe our president. And if he continues making things up, how are people going to believe him when we really have to?"
When asked about the activities of Trump adviser Roger Stone, he said: "I can just speak to the public reports, and I think what he has acknowledged is having a role in the campaign at one point, and now continuing to provide advice from time to time. I won't characterize it beyond what he has said publicly, but I do think that given he has already admitted to having contacts with two primary outlets that the Russians used to publish these documents and interfere in our election – that he is certainly worthy of our concern and something the committee needs to look into. And I would like him at some point to be brought before the committee."
Audio and transcript will be available on NPR.org later today.
Contact
NPR Media Relations
mediarelations@npr.org