Easy Philanthropy: If You Aren't Mr./Ms. Moneybags, Buy a Feedbag
So yesterday I ran through a list of super philanthropists who throw down millions and millions for good causes.
No need to feel inadequate just because you can't donate the gross domestic product of Denmark. Here's a way to do good and feel good.
Strap on a feedbag. Literally. It's a canvas/burlap shoulder bag for sale exclusively through Amazon. It was thought up by United Nations World Food Program spokesperson Lauren Bush. (She's also the president's niece.)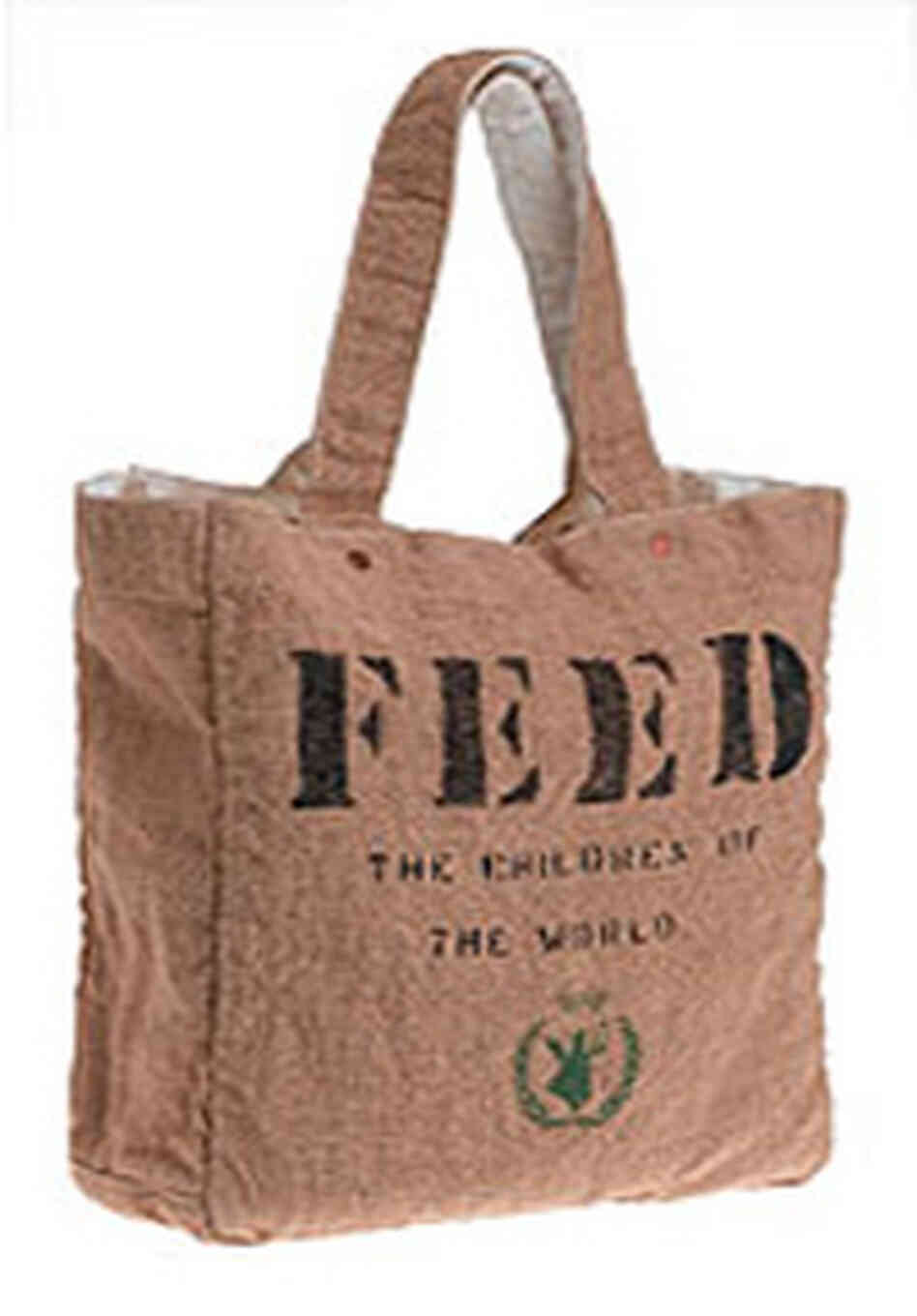 I saw this in Domino Magazine yesterday and thought it was cool.
It costs $59.95. If that seems like a lot consider this: One bag will pay for feeding one child in school for an entire year, which costs 19 cents a day, or $34 a year.
Alison,
I wonder how effective buying an overpriced item, in place of pure donation, is as a strategy. It makes me wonder if NPR and PBS would get more money during pledge drives if the companies that donate incentives just donated how much it costs them to produce their items to the member stations? I'm sure some people donate despite the gifts. Would the combination of their contributions and those from the would be incentive providers (as I detail above) would rise above what stations (and other causes, for that matter) typically get?
Or do companies need the good PR too much?
Reminds me of the RED campaign, Steve, which I have about the same amount of contempt about.
Buy a funky bag at a thrift store and donate instead. You can only do three things with money: save, spend or give it away. Seems that downing the spend and upping the give works better for everyone.
As to NPR bags and doodads, I'd far rather just buy BPP onesies ("Out this weekend...probably drinking") and give to the station, but it's rare you can actually buy neat public radio-branded things by themselves.
Coincidentally, I just saw a woman wearing one! MJ and I just checked out a Michael Kors sample sale (his office is on the floor below the BPP). As soon as we walked in I saw a girl wearing the feedbag and it looked pretty cute! Cuter than anything Michael Kors offered...
Steve,
I think part of the idea is to raise awareness of the cause by having donors walk around with the item, possibly spurring people to ask questions like "what's with your Feed bag?". Also, once an item becomes really well known and recognizable (like those Livestrong wristbands a couple of years ago), it becomes a visible sign to others that the bearer is generous and kind and should be talked to in bars. That sentiment is not exactly altruistic, but heck if it helps a good cause, great.
With NPR premiums, I have seen the opposite effect. I have one friend who refuses to wear his NPR sweatshirt in public because he fears it makes him look like a p... makes him look weak, let's say. I, for one, proudly drink from an NPR mug but stopped taking the premiums once I acquired it.
Wow! I am sort of surprised about the negativity toward a campaign trying to make the world a better place for some people who really need help. The method may not be your choice but why shouldn't that method be given some respect. Lighten up Grinches!!!!!
Maura,
I see the value of equipping people with schwag so that you can advertise for the organization(s). However, sometimes you would rather just talk about a cause instead of serving as a walking billboard for it. I guess it depends on the situation -- GAP's RED campaign vs. your guy friend.
Alison,
I didn't want to start a negative string. Honest. The bag idea does deserve merit, but I just wanted to think via my fingers and keyboard about other sides to the issue.
The intersection of commerce and charity is a very persnickety thing.
The credit card schemes where 'every purchase you make will make us donate $1 to [Salvation Army|Katrina Fund|Puppies with Big Eyes for Peace]' is reprehensible. Garage sales where all proceeds go to a charity are less so. NPR's 'get a branded thing for your love-gift' thing is somewhere between. Same with a FEED bag.
Where does it stop being philanthropy and start being 'consumerism plus warm shmoopy feeling' or worse, 'consumerism plus guilt-ridding for the consumerist behavior'?
Drew,
I think you have raised some interesting points. I've thought the same thing during breast cancer awareness month when companies try to sell me lipstick and part of the proceeds will go to a worthy organization. Why do I need the lipstick? Shouldn't I just give the group money myself? But then again when I need(I know I don't NEED a lipstick) or a bag to carry my groceries in this case, why not?
I think the general trend of trying to make charitable giving "cool" is pretty interesting, and I don't know exactly how I feel about it. I'm sure it increases giving, so by that measure alone, it's a good thing. But Steve is right to suggest that donating directly is technically more efficient. Of course, the idea of making charity cool isn't new. Remember "We Are The World?" As an eight-year-old, everything I knew about hunger in Africa I learned from the hubbub around that song.
It's a good point that you make, Alison.
I've no issue with buying things. It's something people do. We use money to buy goods and services. No way around it. It's when we try to confuse our buying impulse with our charitable impulse that I think we start to get into trouble.
I don't believe that we do as much good as we think we do with those buying-with-charitable-benefits sorts of things, but it's clear that buying something with a charitable donation attached does do some degree of good...particularly when that item is used on a regular basis.
So going down to the corner store with it? Great. And keep doing it. Throwing into a corner with the rest of the things in my life that I never use? Eh. Donate instead.
Well, for that matter, my wife, who is an ovarian cancer survivor, and her mother, who died of cervical cancer, both reacted very negatively to the whole pink-ribbon thing, partially because they both felt marginalized by it ("Hello! Other forms of female cancer over here!") and because they felt the whole concept of pink consumer goods was cutesy and infantilizing. But that's a tangent.
I tend to agree with Alison's point, and I would also add that something like the Feed bag would cause me to donate more to the cause than I otherwise might. See, my standard donation to the causes I donate to (MSPCA, Heifer International, local food banks, etc.) is either $20 or $25. (I'm a freelance writer, so I don't make a lot of money.) But something like that kind of bag, which is an item I would buy and use anyway -- as Alison says, we city dwellers need *something* to schlep our groceries in -- might spur me to donate enough to get it. So while the UN food program wouldn't be getting all of the $60 from me, it WOULD be getting $34...which is $14 more than I would normally send them. So, win-win.
Alison,
If you're going to use an item anyways, then it is probably fine to buy it when it's attached to a charitable cause. Thus, ditto on what Drew just wrote.
"So going down to the corner store with it? Great. And keep doing it. Throwing into a corner with the rest of the things in my life that I never use? Eh. Donate instead."
Another angle worth noting is the recent trend towards grassroots, Web-based fundraising campaigns. For example, Facebook and other social media tools now offer a variety of ways for Internet users to embed a "widget" into their blog or website, encouraging users to donate to a particular cause. Some of these widgets are used purely for personal gain, like "Donate a buck and and I'll keep blogging." Others, like my friend Beth Kanter, have been really successful at using this donation widgets to mobilize giving campaigns very quickly for charities they support.
Beth she created a widget to raise money for an education NGO based in Cambodia, then used her blog and social networking connections to promote the cause. So far she's raised over $50,000 for the NGO, mostly from other Internet users chipping in $5, $10 or $20 at a time. Similarly, she created a widget to cover the costs of participating in a video blogging workshop in Cambodia, in which she's planning to fly over there to donate a number of "video blogging kits" (digital video cameras and the like) to Cambodian villages, along with conducting the necessary training. No gimmicky bags, no middle men taking exorbitant processing fees - just online volunteers using free tools to raise money for whatever cause they're passionate about.
well, the truth of it for me (vintage 1948), i always prefer to simply donate to the good causes of my choice and request that specialty items not be sent...jay
Our overly consumer-centric culture is surely not healthy and we should certainly work to at least minimize its impact in our own lives as individuals.
But those kinds of cultural critiques address long-term problems that need and deserve long-term solutions. In the short term, a lot of people badly need food or medicine or any number of other things they can't afford. If a few organizations figure out a way to leverage the consumer culture to work for the benefit of folks who can't afford to even participate in it, that has to be a good thing.
Of course it is better to just make a donation than to make a charitable purchase; that's just common sense. However, keep in mind that not everybody who purchased this bag would have readily donated in the first place.
I think one positive aspect of charitable purchases (like these bags or the One Campaign shirts) is that some people who buy these items probably wouldn't have made a donation at all. Charity and philanthropy are cool now so sadly, there are people who would buy this bag just as a fashion statement. Heck, I've seen pictures of Lindsay Lohan in a One Campaign t-shirt. I'm just gonna take a wild guess and say she didn't write a check to Bono and company.
It's a good way to get money from people who wouldn't have given at all.