Jimmy Carter, Presidential Babysitter
It's Columbus Day, better known at BPP world headquarters as "kid central." My daughter's school is closed today, and since we don't really have a daytime babysitter option, she came to work with me today. Our Executive Producer Sharon's two sons came to the office, too.
So even though we all schlepped in a bunch of stuff to entertain the kiddies (thanks for the Tinker Toys and the crayons, Alison!), probably the coolest thing they got to do all day was meet the former leader of the free world, 39th President James Earl Carter. He was in NPR's New York Bureau to tape an interview for "Morning Edition." My daughter peeked in the window of his studio and he waved at her and blew her a kiss. She thought that was great.
After the interview ended, he came out and shook hands with all the kids and posed for a photo. Here it is: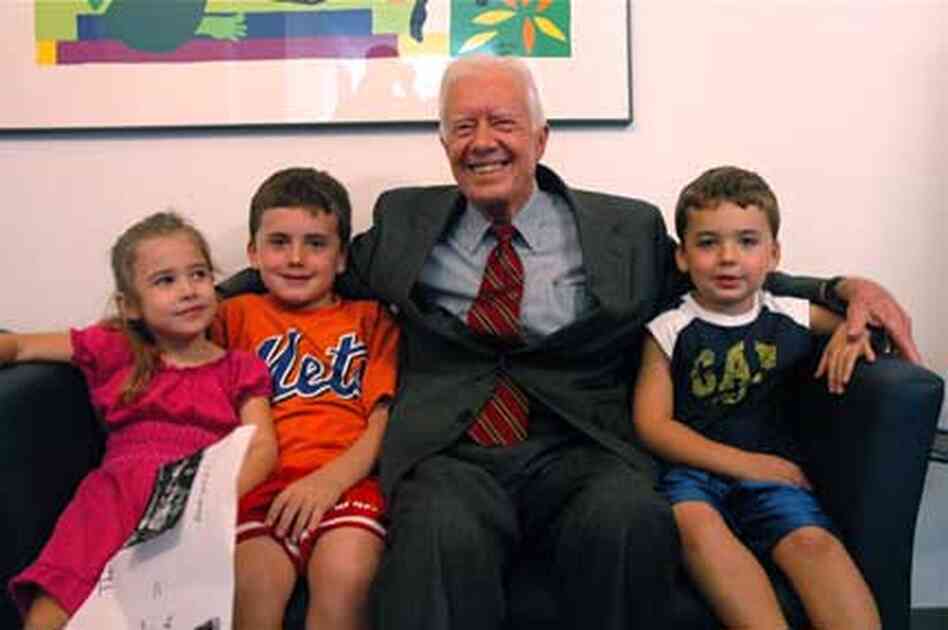 Brian McCabe
And what did YOU do for Columbus Day?
I was already jealous of your cool NPR jobs. Now I even envy your kids.
if these kids were smart lil politicos-in trainning they would use this experience as an excuse to never bathe again.
" president jimmy carter touched these hands.. i am never washing them again!"
I lay in sickbed while experiencing a marathon of Kimora Lee Simmons: Life in the Fab Lane on the Style! Network.
I now both fear Kimora and want to be her at the same time.