Alaskan Kids Say No to a Gold Mine
Today on the BPP, we had a story about the "Rebels to the Pebble" a group of seventh-graders in Dillingham, Alaska who are protesting the development of the Pebble gold and copper mine.
If granted the permit, the mine could not only become the world's biggest project of its type, but could also include the world's biggest dam, smack in the middle of the world's largest salmon fishery.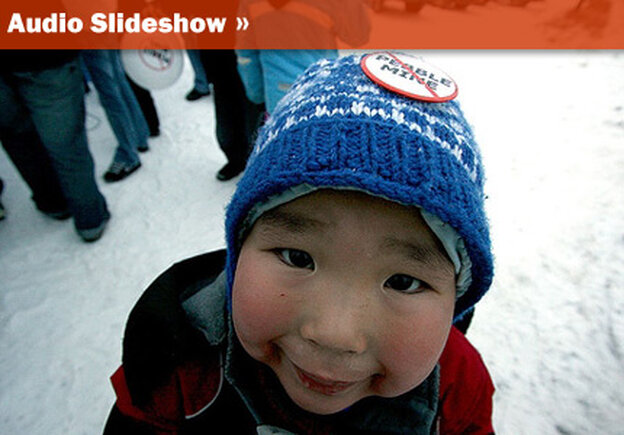 We interviewed their teacher, Kathy McLinn, and Pebble Partnership spokesperson Sean Magee, but had to cut it off at 13 minutes for the radio show. But we went into overtime because tthe two had so much to say to each other:
McLinn was concerned about the permitting process and quality of the mine-related jobs Pebble promised to Bristol Bay. Magee made assurances. You'll just have to listen to the whole three minutes to hear how they "made up."
Fish are forever, or should be. A mine just gives short-term profits for a few rich CEOs while at the same time destroying the quality of life and even the health of many people.
There always has been one constant throughout this region that has been the clean pristine wild alaskan salmon that feeds the whole world. One hint of any disease or toxin within the fishery can and has caused tremendous damage. Just look at what happen with the mad cow disease or bird flu or mercury levels in tuna and possibly halibut. Consumers are very fickle. Imagine what would happen to our fish if rumors let alone actual incidents occur that poison our clean clear water and fish. We drink the water and eat the fish & others who utilize this remote habitat such as moose, caribou, the plants & berries. Mining in this sensitive ecological area is a no brainer. It is a loud resounding NO.
Keep fighting, kids! You may catch the attention of some powerful people who would like to help your community in a way that is respectful to your people. You never know.
Awesome photos of our children in rural Alaska... let's just hope our leaders are looking out for their very best interests & not their own pocketbooks.
It's good to see youths encouraged to rise up and fight for the future health of our land and resources. In a world where money talks it's refreshing to see the people downstream of the proposed Pebble come together with a unified voice to protect this blessed area's abundant LIFE from the run-off off and likely permanent damage by those who can't see past the end of their gold plated shovels. Too bad that statewide native leaders didn't recognize this and support the people of this region but voted instead against the initiative to limit possible damage. This is more than just a native issue since possible negative effects reach user groups of a diverse ethnicity. We love our nutritious fresh wild Alaska salmon, moose, and other fish and game!!
This shows that some folks can see beyond the dollar signs. The US has ran it's greatest nature resource - itself in it's undisturbed setting - out when they find something of someone perceives to be of value there.
The kids show much more thoughtful insight than any Alaskan (or otherwise) politician - they can visualize the value of the ecosystem in the long-term over the short-term gains. These connections are very important and I hope that they continue to spread their message. I grew up in SW AK and have come to realize that in other parts of America those intimate ties that people have with wild places are lost. Quyana kids!