BPP Oscar Caption Contest: Cameron Diaz, Jessica Alba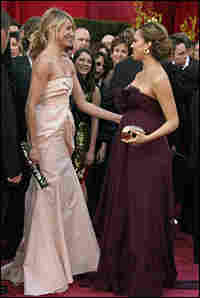 Winning Caption: "Would you mind standing next to me all evening?" — Tony Wolf
Runners Up:
"No, really! It's held up with duct tape!" — Michelle Doty
"Oh my gosh you must love getting to eat food....I mean, oh, I mean congratulations!" — M.E.

There's something about Jessica.
"Nope...I didn't get the red dress memo either!"
" Oh my gosh you must love getting to eat food....
I mean oh I mean congratulations!"
Ohmygod! Neither of our dresses will stay up but for totally different reasons!
Cameron: "Who are you wearing?"
Jessica: "Cash Wartren!"
You came stag too? Want to hang together then?
Everybody now, I'm hot, you're hot... feeling hot hot hot.
Your seat is 15F, 10 rows down, and then
6th seat on the right.
Cameron, through clenched teeth, "You phony witch."
Jessica, "Can't act your way out of a wet paper bag."
Although the crowd looked on in anticipation there was no kiss exchanged.
'If you don't shut up about my you-know-whats, I'm giving this sucker a yank!'
Oh my gawd, fatty! Can I stand next to you all night?
Would you mind standing next to me all evening?
Jessica, nice dress, just don't come any closer. I don't want to catch that pregnancy thing.
Do you have a hairbrush I can borrow!?
So Cameron, when a mommy and a daddy love each other .....
Yes, I know you said you could borrow a few things while I was on location, but my boyfriend wasn't one of them. I'm just glad it wasn't the Mini Cooper.
Cameron says to Jessica: "Can I borrow some milk?"
A Husband, a baby, and still time to get your hair done. How do you do it?
Cameron, is that your new lightsaber? Awesome. Did you see my new Star Trek Phaser?
No, really! It's held up with duct tape!
Jessica: "Why, Cameron, if you stood sideways and stuck out your tongue, you'd look like a zipper!"
Cameron: "Jess, just how many times did you hit the buffet?"
I'm taller, thinner, blonder, and I'm not pregnant. Life is good.
We both picked up a little number from the Ralph Lauren bedding collection.
And the crowd applauds when informed who will be starring in the new epic, "The Laurel and Hardy Story".
Whew! Better you than me.
Designer cases for doubble sided tape.
Cameron: The winds picking up. I'll need to hold on for a second.
This is so silly, I know, but I really like your purse better than mine. Wanna trade??
So Cameron, what was it like to kiss Justin Timberlake?
Jessica: Maybe one day we will get nominated for Best Actress.
Cameron: Jessica, you naive, knocked up little thing...neither of us could get a job in community theater if we weren't perfect for the Male 15 - 39 demographic!
Congratulations, Jessica! It looks like being pregnant has some advantages. I mean, you look like you've been eating for two and look at your knockers! Wow! I must look at my film schedule and see if I could squeeze in having one myself.
Do you mind if I feel what it's like to be pregnant for a second?
In this corner its baby bump vs tight rump. Ding, ding.
That's OK, Carmen. With a body like yours, you don't have room for a womb, let alone a baby.
What is that weird looking bag???
And then the doctor put his hands in your tummy and a baby comes out!
No, silly, only ugly actresses win oscars...
"Hey Jess..what's it like to eat three meals a day?"