BPP Oscar Caption Contest: Diablo Cody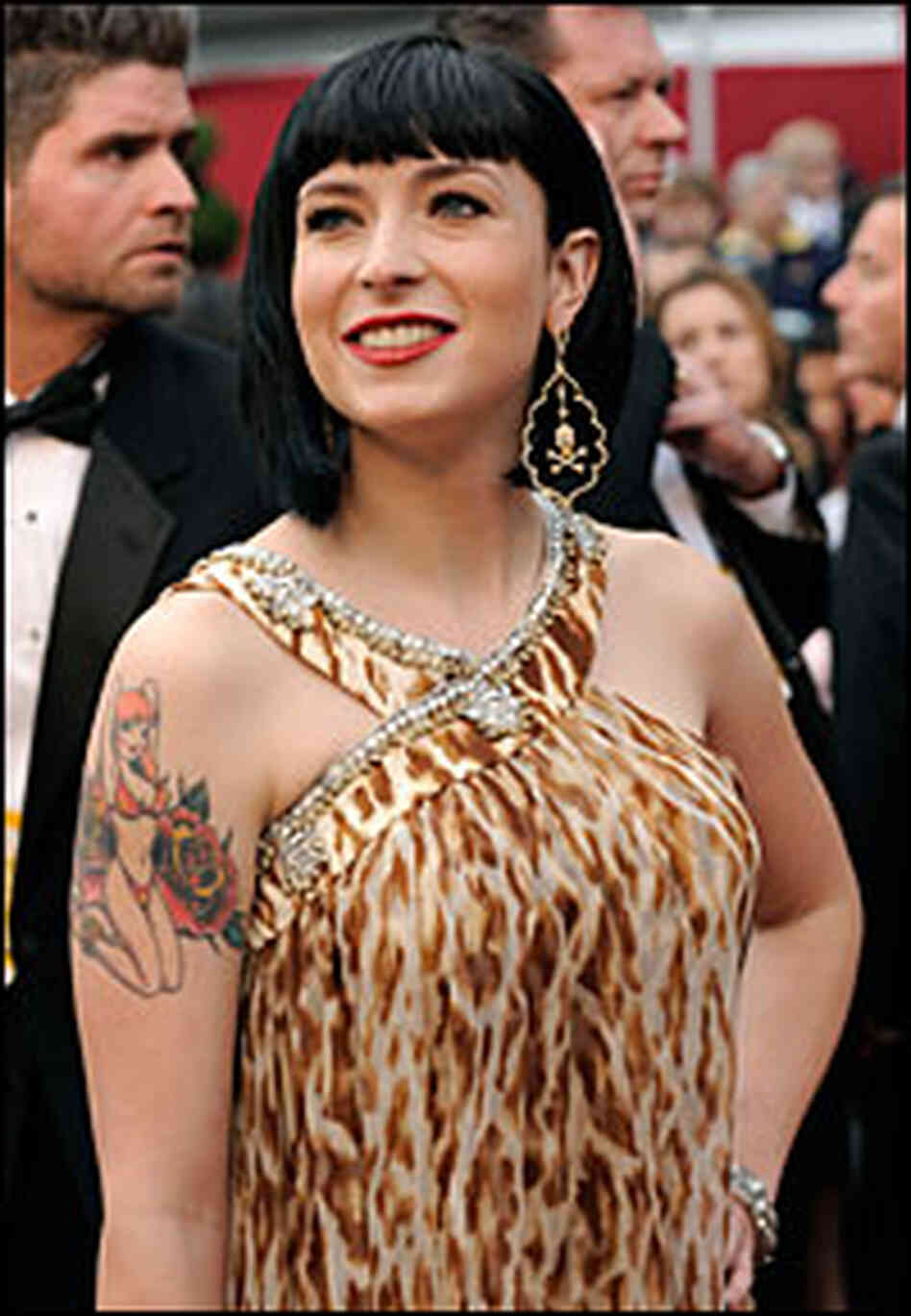 Kevork Djansezian, AP
Winning Caption: "Who are you are wearing?" "Tigger." — Kevbo
Runners Up:
"Is Charlie Sheen here? Good, that would be awkward." — Chuck S.
"Me Jane. Want Oscar." — Erin
friends, romans, countrymen...lend me an ear!
My name means Devil Cody.
sorry ms. cody, but the part still goes to ms. taylor
You guys know I was a stripper, right? Cuz I'm the screenwriter who used to be a stripper. See my tattoo? That's stripper right there. Ditto the animal print. And now I'm up for an Oscar. Isn't that cool? A stripper gets an Oscar? You guys do know I was a stripper, right?
I DOUBT THAT VALET' EVER PARKED A HAWG BEFORE
"Who are you are wearing?"
"Tigger"
dabba,dabba diablo rocks!
Do you think this look is too busy?
cross my heart and hope to get my prey!
She's gonna claw somebody if she doesn't win
"Every one I just flew in from the IFC
awards and I won the best screen writer for JUNO. Next will be Oscar!"
Ms. Cody's look this evening was inspired by a conversation she had with Cleopatra and Jack Sparrow at a seance for those seeking fashion guidance.
Aw, shoot. I must've lost my other earring at the pre-Oscar's saiance.
I'm a hooker. I mean a stripper. Way to go, WGA!
Peebles, Daddy and I are off to Annual Quary Party~
Ms. Cody was accompanied by her long time beau, Tarzan.
True to her former profession Diablo insisted that any awards she may win on this night be converted to single dollar bills only.
Diablo Cody, sporting the most beautiful tatoo ever displayed by a winner at the Academy Awards.
El diablo is in the building.
"'Your eggo is preggo?!?!' Why, Ms. Cody, that's simply brilliant! Here, have an Oscar, and please give us more of the same in the future!"
Do you know how many curtains I had to buy before I found some to wear?
I'd like to dedicate my Oscar to my tattoo!
Giving birth to an Oscar.
when did Betty Rubble get that tattoo? oh wait, I see her artist, Kat Von D in the wings...
"Which do you think is more repellent, my outfit or my tattoo?
This little thing? You should see the one on my...
Neo-Classical Hollywood Stripper Sheik! That's working it, baby!
my girlfriend can beat up your girlfriend.
Sheena, Queen of the Pirates
Awesome screenplay, but I can't help one catty comment: huge skull and crossbones earings lend an air of authenticity to her nouveau riche aura.
Xena, Warrior Princess, gets a word processor.
Is Charlie Sheen here? Good, that would be awkward.
Uncle Bill would be so proud I've carried on the family show business tradition! I just wish I
'd saved that old buffalo skin.
Elizabeth Taylor wants her Cleopatra-look back.
Fred's babysitting Pebbles but I found a friend of Dino's lying around to wear.
"No, no, I said except for the earrings its all a tattoo."
Channeling my inner Egyptian
"It really is warmer than St. Cloud."
No, this isn't a cry for attention. Honestly.
Honey, it ain't just a name....know what I mean?
Oscar-winning 'Juno' screenwriter Diablo Cody attempted to strike a fashion compromise somewhere between Wilma Flintstone and Betty Rubble.
My dress is from the You Gotta Be Kidding Collection by Courtney Love. Shows off my tasteful tat!
The new WWE Women's World Champion...
I was going to wear the tiara, but that would be too much.
I wonder if they'll notice if I wear it again next year???
"I'll show that Helen Mirren who's the queen..."
"Why, yes, I was an exotic dancer. Why do you ask?"
Don't you just miss the swan dress?
I'm not ashamed of my game.
It's my first Oscar night. I didn't know if I should go with the bikini clad/rose tattoo, or something more literary like a sonnet.
" The tattoo? Oh, thats Henna Montana."
The tattoo on my right shoulder is an angel.
Can you guess what my former occupation was?
This is a better paint job than most cars get.
George smacked into a tree on the way to the show, so I'm forced to go solo on this one... again...
Her name is Diablo Cody. What did you expect, pink chiffon?
...as wilma flintstone sports this lovely ensemble...
I thought Captain Jack Sparrow would be here..
In People Magazine's next "Oscar" issue: most scantily clad tatoo.
This is one wealthy crowd. If there was a pole here I could really clean up.
Diablo (Diabla?), Pirate Queen of the asphalt jungle.
This? Oh,I thought it would go good with the Betty Page hairdo.
Courtney Love loaned me this dress
Nose Art from the B-25 "Tokyo Rose"!
you can take Diablo out of the strip club, but you can't take the strip club off of Diablo
"Cleopatra zin da house"
"My minions, worship me, for I am your Queen"
. . . now, where did Marc Anthony disappear to?
Look everybody! I got dressed all by myself!