BPP Oscar Caption Contest: Hugh Welchman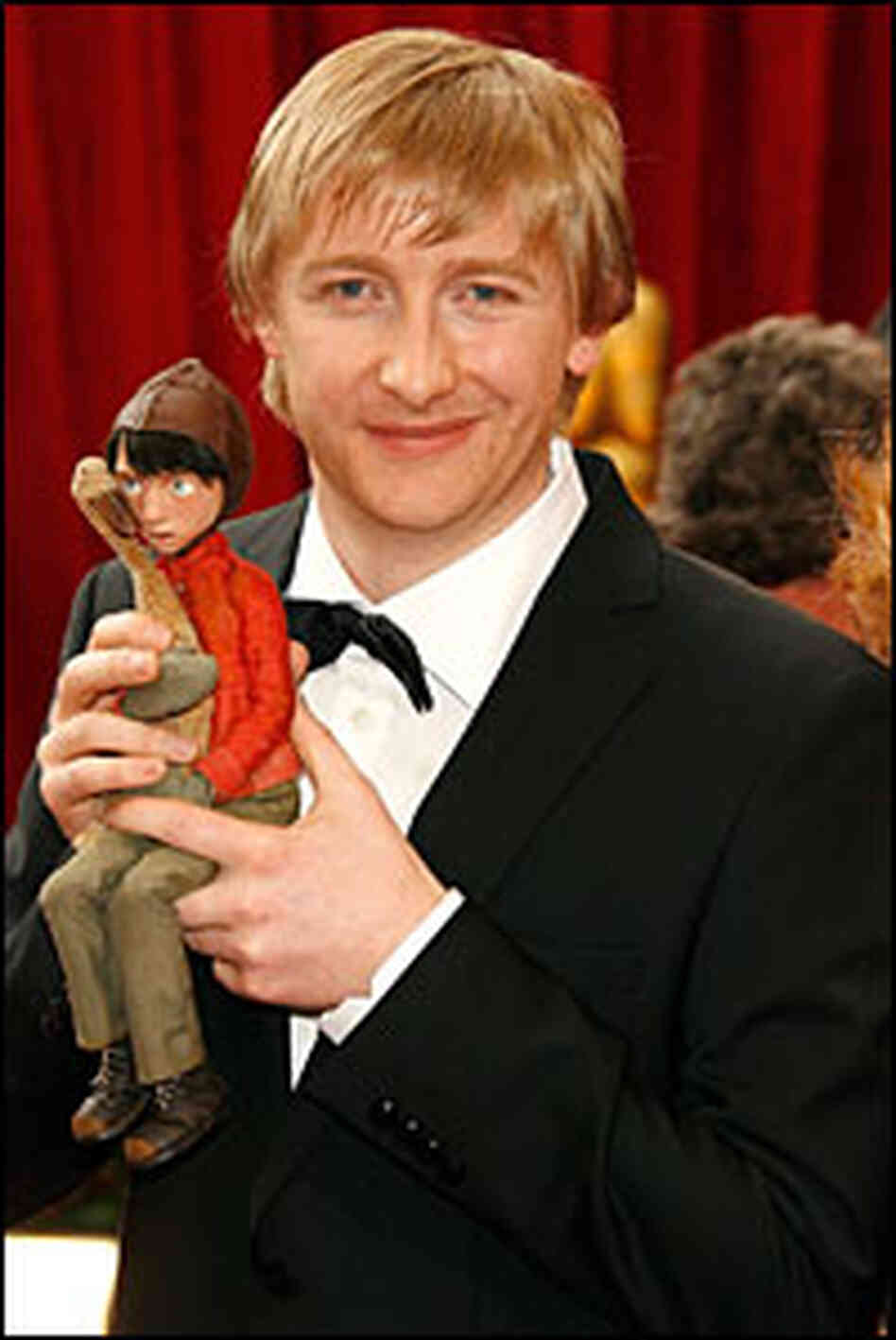 Vince Bucci, Getty Images
Winning Caption: "I won the Owen Wilson look alike contest, and all I got was this Luke Wilson doll." — Wayne Dize
Runner Up: "Say hello to my little friend." — Lisa S.
Hugh raised the money for his film demonstrating how to make 'limberjack' dolls dance. Those elementary school gigs really pay, you know.
"Say hello to my little friend."
Clay Aiken you put that little boy down this instant!!
"It's not a doll. It's NOT a doll!"
my next animated story might might be pinnochio...
Darn, there's no place to put my hand up it. But isn't its hat ADORABLE?
Now I've become a real boy! Wait... that's his line.
Hugh Welchman introduces Kristen Chenoweth's date for the night.
Great. Now he'll have two dolls to play with!
We go everywhere together...hey you...don't sit there, that's his seat.
"I've still got a pretty good grip on my boyhood, if you know what I mean."
Lars and the Little Fake Boy
I didn't know what I was going to say when I got up on stage, so I brought my friend; he talks to me.
Hugh Welchman pays homage to the Lord of the Rings Trilogy, appearing dressed as a tuxedo-clad Ent.
WHERE'S CANTEEN BOY WHEN WE NEED HIM??!!
Brits clone Owen in an attempt to reduce dependency on foreign Wilsons.
Where is the Wolf when he need him?
Since his Bjork 2001 Oscar doll was lucky enough for him to win the oscars Hugh thought maybe it would get him an academy award also.
The BOX said it's an ACTION FIGURE!
this is the statue they handed me, but I don't know...
we need two statues please...
(voice from the puppet)Yes, I listen to every thing the litte boy says. He's holding me hostage, so I can't really say no, can I?
Trey Parker and "Team America" star Gary Johnson, a double major in Theater and World Languages, presented the Oscar for lewdest scene involving puppets
This is the only Oscar I need.
He will be a real boy... then you'll all see
Hugh Welchman arrives at the Academy Awards Ceremony with his little friend Tom Cruise.
Hugh Welchman shows off one of the tie-ins for his animated short Peter and the Wolf: collectible smoking acccessories.
Before the men in the white coats hauled him away Hugh Wlchman was heard shouting, "It is a real Oscar, it is a real Oscar!"
Yes, I KNOW I look like the doll, other than the hair color, and you're the 14th person who's told me that, ok?
Say hello to my little friend.
We've only been dating for three months, but I think he could be "The One".
I won the Owen Wilson look alike contest, and all I got was this Luke Wilson doll.
This is what I really wanted to wear.
"I call it, Tickle-Me-Russian-Peasant-Boy."
NO! I wasn't in Harry Potter and this isn't a House ELF!
Diablo, Would you like to have a drink with "my little buddy" and me?
Jack McFarland and his Cher doll finally have some competition.
Hi, my name is Chuckie. Would you like to meet my friend?
I have placed my soul where I know you would never look for it.
I'd like to thank my mommy, and my daddy, they love me! They really love me!
You've heard the one about sticking your tongue on an icy pole?
I really wanted an oscar..
Hugh Welchman and Mini-Me
I really thought Lars and the Real Girl was the most inspiring movie of the year.
It's not an Oscar. It'a Bob.
"I wish my brother George were here . . .
... oh, wait, here he is"
"Curtain in five, Mr. Bowie."