BPP Oscar Caption Contest: Tilda Swinton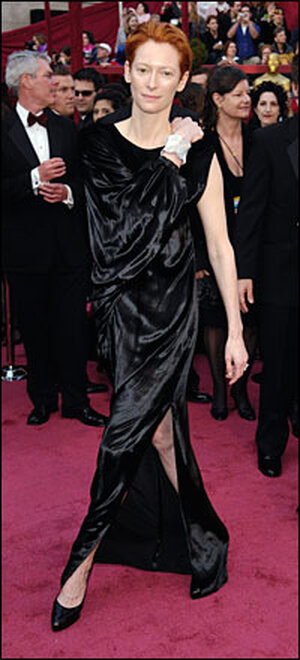 Winning Caption: The Ambassador from Planet Bowie arrives at the Academy Awards. — mkhall
Runner Ups:
Mugatu's "Derelicte" line makes its red-carpet debut. — Tehresa
Harry knew of Ron's predilection, but was still astonished to see the spell he cast over the red carpet. — Keri
"Has anyone seen my mortarboard?" — John Dillon

Dude, she just won! In that getup!
And plastic bags are the new black!
If Tilda Swinton doesn't win Supporting Actress, she'll pull an orlando and go for Supporting Actor
The Ambassador from Planet Bowie arrives at the Academy Awards.
Tilda is wearing Premium by Exxon Mobil.
"I am going for the no make-up, perfect
pale skin in this half black kinda dress."
okay so i'm not your average beauty queen and i have at least one very strange looking knee but i won!!!
mugatu's "derelicte" line makes its red carpet debut.
The left sleeve is saving my seat.
Sorry, I didn't have time to change before picking up my Oscar as I was saving birds off the coast of Prince William Sound.
Boy, Carrot Top has really lost some weight.
Mourning the loss of my right arm, thanks for your sympathy.
Damn these Americans and their early awards shows! I haven't had time to attach my other bat wing!
I have just stepped on my gown again, soon my right leg will look like my left arm.
Yeah, so the kids at Project Runway didn't have time to finish my dress. So what? I won anyway.
And now for something completely different!
Harry knew of Ron's predeliction, but was still astonished to see the spell he cast over the red carpet.
Ave! Tilda Swinton demonstrates solidarity with fellow Roman Anne Hathaway.
Oh Rhett, I thought the drapes would make a complete gown! Don't worry tomorrow is another day and there are more drapes at Tara.
Accepting the award tonight for Tilda Swinton is Kyle MacLachlan crossed dressed in a stunning gown donated by Steven Cojocaru.
I saw it in the window and just couldn't resist.
and we thought David Bowie was DONE with those cross-dressing days. too bad he's lost 70 pounds, a bit much don't ya' think??!!
"Yes, I have been dating a Supreme Court Justice, why do you ask?"
Sorry guys i forgot to remove my "Ziggy Stardust" costume and makeup before going to the oscars tonight.
...remember - show the bracelet - draw attention aways from this dress. show the bracelet draw attention away from the dress
Okay, so I feel a little guilty leaving Helen in that pickle, but my arm was getting tired. I'll get the Rock to help her as soon as I knock my shoulder back into place.
Has anyone seen my mortarboard?
and you thought the ice queen was an act..
What is that?! - and I'm not talking about just the dress.
The mortuary needs it back after the show
Tilda Swinton off to Arm wrestle 'The
Rock'
I'm trying to be "green" and reuse trash bags when I can.
Here's looking at you, George.
The newest in fashion...casket lining.
I'm too sexy for my frock, too sexy for my frock.
I should have grabbed that other bag...could've covered this arm too...
Tilda Swinton's making sure she's not typecasted as a white witch- she's versatile enough to be a black witch too.
"Oh how embarassing, my first Academy Awards and I forgot my other sleeve at home!"
Someone hire me so I can eat again.. please..
Think of how great she would have looked with Steven Cojocaru, if they switched outfits, of course!
The ultimate in glad bag recycling.
"I wonder if my spaceship found a parking space..."
The kindest thing you can say is that it looks like a trash bag.
Tilda Swinton demonstrating the Oscar line-dance, hoping that Renee Zellweger will join in to help her finally get rid of her wedgie.
Phew, that's over - Now let's get on with real life.
Yeah, well, plain is the new pretty, OKAY?
The ice queen in Visqueen!
Now that she has a statue, maybe she can afford to get some eyebrows.
No, I am sorry. I lost the other sleeve-I will see if it is in the lost and found!
and after my win, I shall glide off into the distance!
Newsflash. The TSA made Tilda Swinton remove the hood and one arm from her outfit to prove she wasn't wearing a burqa.
"...and you shake it all about!"
Quick -- get this girl to Queer Eye for the Straight Guy.
Martha Made it for me out of a Hefty bag
The latest look in androgyny: Glad Bag Chic. (It's just a matter of time until the Olson Twins adopt this look for all formal wear.)
Unadorned beauty and brave as hell.
Do the hustle, doot do doot do doot doot doot doot do...
With various easy moves, such as this one, this dress can be turned into six other styles.
For actually winning the Oscar, Tilda Swinton received a $25,000 bonus from the Hefty Trash Bag Corporation for product placement.
Conan O'Brien wears the latest by Wiccan.
Clay Aikan finally shows his true colors?
The judge wants his robe back.
Well, you try to channel David Bowie and see what YOU get!
"Oh my gosh, I'm so late I just rolled in my bed to get here!"
Stacey London and I shop at the same convent.
Hurry, get a picture of Tilda before see covers herself completely with that invisibility cloak!
"You put your right foot in, you take your right foot out. You put your right foot in and you shake it all about."
Clay Aiken arrives in a shower curtain.
A cruel friend tell Tilda it's in vogue to wear your best home economics project to the Oscars.