Waking Up with the BPP, Whether You Like or Not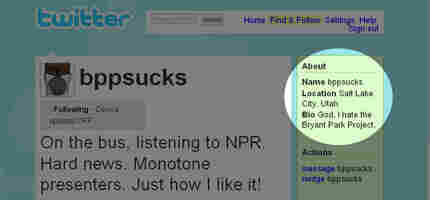 We picked up a hater yesterday, in the form of twitter.com/bppsucks. The hater hates us out of Salt Lake City, where the Bryant Park Project airs in the morning on KCPW. The Twitter account's bio reads, "God, I hate the Bryant Park Project." See what I mean?
Stunned, perhaps reeling and certainly stung, I reached out. Would BPPsucks talk to us? "Oh my, I'm much too shy for that," the person replied. "It's much easier to hurl snarky remarks from the shelter of a provocative user name."
Is it just me or does BPPsucks have a sense of humor?
No haters! BPP has become an essential part of my morning/evening commute. Thank you all for what you do. The Jason Mraz interview and the VTech Radio interview inspire me to want to write songs and become a dj for a college town station. Keep up the great work. - Loyal fan from Washington, D.C.
I'm a fangirl! I've been listening pretty much since the beginning and you guys save my days full of data entry. I even made some of my co-workers addicted! Keep it up!!!! -ND fangirl
I would guess that BPPsucks is just seeking attention.
I, for one, enjoy the BPP blend of serious and offbeat news.
does anyone think g-d cares or is even lisening to s.l.c. twitter...bpp-er's spread love, links and laughter!
How weird!Don't worry about one person, when you so obviously have many admirers. Personally, I like me some BPP after I wake up with the Morning Edition crew. It's like the BPP is dessert, or something, you know?
You know you're popular when you have a hater :)
LOVE THIS SHOW! Have told all my friends and link to you from my blog all the time. You guys are awesome, so don't believe this one hater for a minute!
Wait, SLC? Isn't this probably the guy who got so peeved when Luke left? What was his name, Roberto?
I was just reading these comments and I thought SLC was some internet abbreviation I didn't know. I looked it up. Salt Lake City. I am dumb. But did you know SLC also stands for "Sri Lanka Cricket" and "Squirrel Lover's Club?" Who's dumb now? Still me.
BPP is the Bomb!! It's crisp and fun to listen to!
BPP is the Junior High of NPR. It's flip and so very full of itself. Today I learned that the host's have never heard of the New Madrid fault, something all midwestern 5th graders know inside out. At least the smart ones. It's pure awful.