Allegory for an Industry, or Just a DUI Souvenir?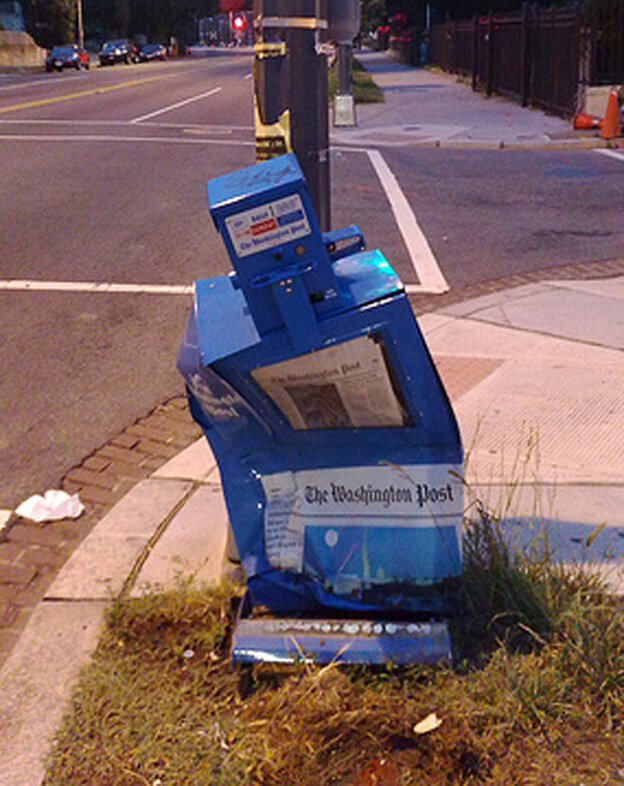 I was walking home the other night and saw this freshly crumpled newspaper box at an intersection in Washington, D.C.
Wish I could have seen this happen — the damage implies a state of control/uncontrol that intrigues me. It's really what I'd expect to see if you could cram a newspaper box into a huge microwave — and the box was made of plastic, I guess. It's like it just swooned.
Anyway, if you're someone who can't get enough of Newspaper Industry Dying stories, please just pretend I included that angle here, along with a pithy comparison of this stricken box and a budget crunch.
Bonus: You can even throw in me equating this hit to a denial-of-service Web attack, if you want to use metaphor to tap into the old "The more things change..." angle. But we needn't trouble ourselves with such things.

hmmm...looks like it just got clipped by a car to me, but maybe i'm not being imaginative enough...what issue of the Post was it? could have been an inflamatory headline, or a disgruntled customer who didn't receive their paper that morning...hmmm
I used to stuff, wrap, and delivery newspapers during my high school years in Illinois. And this wasn't one of those little paper routes on bicycles either. These were 50-pound bundles, stuffed, stuffed together at 2:00 am on a Sunday morning in a cold and dusty warehouse and delivered in large van. Hard work, low pay, bad hours. Good times!
When I saw this picture, I thought, "I have had problem with those locks, too, but that won't help. Then again, it was probably his last day. Definitely, his last day."
You see? You looked at it from the journalist point; the death of the newspaper biz. I looked at it from the point of the view of the guy who actually put the paper in the box.