Help, Please: Find the Double Entendres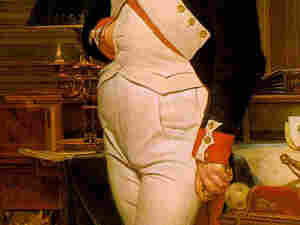 People, I need your help. Today on our show, author Tony Perrottet talked about his new book, Napoleon's Privates.
Yes, Perrottet has seen the member in question, and yes, he told us exactly what it looked like. But that was only three-quarters of the segment. The rest was a stunning parade of double entendres.
And that's what I need you for. Listen to the interview above, find a double entendre and drop it into the comments. There's a limit of one per person. First come, first served. Keep it clean. I'm trusting you.

Did he say member-abilia?
Not so much double entendre as entredre and a half. Since I'm going first I'll grab the obvious one, "How does one bring up Napoleon's penis?"
"(Catherine the great)was an excellent rider, and she refused to ride side saddle."
What was the name of the book Bryant was referring to regarding impotence trials? I would love to share it with a friend...
his beeeed, he put it under his beeeed! hahahaha
When preparing his troops for battle, did Napoleon find it necessary to cafully position his privates, or that a task he left in the hands of his subordinates?
Moral of the story: don't piss off your doctor.
I've never heard comparisons to beef jerky or shriveled eel in that way. Pesca must be proud of setting the network record for the number of times mentioned (19). He slipped in several himself.
Referring to this doctor having it as a souvenir... "The doctor thought fun was being poked at it."
Man, I thought he said "beard" at first too.
The man who took Napolean's penis out of circulation / Events that took the circulation out of Napolean's penis
Regarding Lincoln and his friend sharing a bed for three years and a "smoking gun."
Just gotta ask about the context of "Quarks and Quantum Theory" being the last time when that word was mentioned so many times?!?!
I know penii can be quite cosmic, but quarks and quanta? Please illuminate or at least reference! That string seems a bit of a long stretch...
All I can say after hearing that story: Mike Pesca, the latest South Park celebrity.
The "beard/bed" thing was fun. I loved when the guy was asked to repeat it, and he made it even more goatlike (and thus beardlike).
Please put the beard/bed snippet on a loop!