Why Chengdu?
A number of you have asked how we came to choose Chengdu as our base.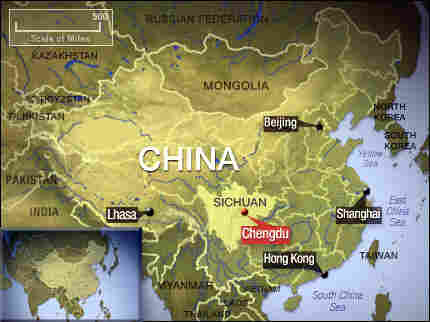 I have to admit, when we began talking about putting together a week of programming on China, I was pushing to do it from Beijing. I know Beijing very well, having lived there in the 90s. I love Beijing's parks and hutongs (old alleyways). I can understand most Beijing residents, since they speak Mandarin. I was confident that we would find lots of interesting stories to report on.
But our executive producer Chris Turpin, and others in NPR management, kept insisting that we take our listeners somewhere besides Beijing or Shanghai. Today, I'll be the first to say it was the right decision.
HOW CHENGDU WAS CHOSEN
Through our coverage, we hope to convey to our audience just how complex a place China is. We want to reflect the enormous changes taking place, and the challenges and the opportunities that they present. While we certainly could have accomplished that in Beijing or Shanghai, it seemed more appropriate to get out to a city that's still in the process of developing.
We solicited ideas from a number of people. We were looking for a place with a vibrant cultural scene, a place with some historical significance, a place where the economy is booming. Chongqing was mentioned more than once, but as many of you will remember, our friends over at Marketplace did a week of excellent programming (live, I might add!) from Chongqing back in 2006. We also considered Wuhan and Xi'an. But on a scouting trip that Chris, our Beijing assistant Joy Ma, and I took in February this year, we decided Chengdu would be the place.
DEVELOP THE WEST
We liked that Chengdu is part of a big government effort to "develop the west". We were impressed with the local music and arts scene here, not to mention the teahouse culture. We liked that we could get out to the countryside in less than an hour. We were intrigued by the fact that we'd pass Intel and Motorola offices along the way. We felt welcomed by just about everyone we met. And, I cannot lie, we ate really, really well on that trip.
People here in China seem to think we picked well. A foreign ministry official in Beijing congratulated us on the choice, and said that Chengdu represents China's heartland. "It would be like going to Kansas City," he told us, beaming.
REMINDER OF BEIJING'S PAST
In the five weeks that I've been here, something else has struck me. Chengdu very much reminds me of Beijing ten years ago. There are brand-name stores and western fast food outlets galore, but you can also find little noodle shops everywhere you go. There are big grocery stores (including Carrefour and Wal-Mart, but also Chinese chains like Ren Ren Le) in every neighborhood, but you can also still buy vegetables in open-air markets, which are hard to find in Beijing these days.
Most of our team has never been to China before. And so I'm really glad that they're getting a chance to experience a place that's still evolving. Hopefully through our exploration of Chengdu, we'll be able to capture and document for you — our audience — some of the forces that are shaping not only this city, but China as a whole.
"...we ate really, really well on that trip"
Oh yes. Oh yes. Oh yes.
One thing I love about living in the USA is that I can eat the cuisine of a different country every day of the week. But if by some new cosmic rule I had to eat only one regional cuisine for the rest of my life, I'd move to Chengdu or Chongqing. Come to think of it, perhaps I'll do that anyway someday.
Welcome to Chengdu.
I'm a US citizen who has been listening to NPR my whole life. I now live in Chengdu with my Chengdu-native husband. I'm looking forward to what you all find in this amazing city.
People in Chengdu like to keep pets. They take a walk around the Fu Nan River every day after dinner. And you will see so many dogs playing on the grass along the river.
You rarely find people rushing on the street for business reasons in Chengdu. We're not as rich as people in Shanghai, but we are happy; things are good enough.
Welcome to China and Chengdu.
One prevalent and overarching pattern of thought Ive been stunned with lately, in this particular case expressed by my business partner, is a strange and rampant nationalism that appears often to be manufactured and stoked by the state media.
As an example, recently my partner off-handedly mentioned how he's certain that Japan will attack China militarily within the next decade.
I was flabbergasted, and anyone with a passing knowledge about the present state of the Japanese military would laugh this off. But he's adamant about it. We've discussed it in depth and he truly believes it.
We often talk about the deceptive nature of government information in China, also how the Government seems to use Japan (and its legitimate anger over generations-old wartime aggressions) as media distractions during times of internal problems, but his clear understanding of the machinations of government propaganda breaks down sometimes in these bizarre ways.
Im seeing more and more of this as the crises and protests (and attendant nationalist reactions) surrounding the Olympic torch gain steam.
China is a huge country, especially considering its culture diversity. Unlike the American culture, Chinese culture is mostly native. NPR's journey to Chengdu will surely be a very good chance to record local traditions that are quickly vanishing because of the government's policy to imbue all people with communism and nothing else.
My hometown was located in the southeastern city of Foochow, whose tradition has nearly vanished after over 50 years of communist rule . The town has its distinctive aboriginal language, as well as rituals and behaviors. However, Chairman Mao and his friends didn't know nor like them at all.
I started a website last year around the traditional spring festival, named "Save Foochow Traditions" http://wecan.name, however it had few responses after a year-and-a-half. The ultimate danger is that people are gradually getting used to the current situation.
Finally, if NPR has future plans to come back to China, I suggest Foochow. It's nothing special, but quite representative.
The vegetarian dishes at Wenshu Monastery are some of the best in my memory.
The building behind the statue of Chairman Mao at Sichuan University belonged to the department of Biology when I was studying there.
I'm glad you chose Chengdu for your program.
There's a trendy vegetarian restaurant in Chengdu called "Date-tree" at Platinum Plaza. The last time I was there, the first thing I saw when I entered was two red-robed lamas dining with three beautiful Han Chinese women.
I'm a Chengdu native and lived in various parts of the US for the past 18 years.
Several years ago, I began shuttling between China and the US starting businesses and traveling in different parts of China. As a loyal fan of NPR, I'm thrilled that one of my favorite news programs will tell the story of my beloved hometown in such a grand scale!
By choosing Chengdu over other Chinese cities that are better known in the West, you have once again shown the resourcefulness, insightfulness, professionalism and the in-depth and unique approach of storytelling that has made NPR respectable among all the Western media (yes, including the now much-despised BBC and CNN in China - sorry, can't resist throwing in the jab)
I have faith in ALL THINGS CONSIDERED to tell the TRUE and WHOLE story of Chengdu, thus China, pleasant or not. The truth will show your listeners a society and people who, despite all their problems, are amazingly complex, optimistic, energetic and progressive.
So, my overall suggestion is to interview random people for their own personal stories.
I like NPR's news coverage; although like most, it tends to focus on the negatives about China.
Chengdu is a great choice, because it will be a chance to show some of the positives and a lot of the contrasts. It's a city on a kind of frontier, geographically and economically. Life is still hard for many, but there's a sense that it's a great time to be Chinese, and success might be just around the corner.
Chengdu is also the headquarters of the Peace Corps China program, which in Chinese is called "U.S. China Friendship Volunteers." There are under 100 volunteers in small cities and towns in Sichuan, Chongqing, Gansu, and Guizhou. I am convinced we had the best food situation in the entire Peace Corps.
I was there during the spy plane incident. My students were upset. I was surprised at how deeply they felt about it. One student even cried in class for the pilot who had died. But no one ever expressed hostility to me. I think I had shown enough respect for them and friendship that they didn't see me as connected with the actions of my government.
My wife and I were in Chengdu and Woolong in March, 2007. Pandas were the objective, and we succeeded beyond imagination.
We were shocked to find a city of 10-million people. The hot pot restaurants were cold, climate-wise, until the hot pots heated up.
The traffic was beyond horrifying.
The panda reserve at Chengdu was great, the park was beautiful and we got to hold Zsa-Zsa, a seven month old baby panda - unreal!
(EDITOR'S NOTE: Was there an Eva?)
But the thrill was the panda reserve at Woolong, and the drive was challenging, to say the least, with Tibetan workers, with jackhammers, breaking up the road, every few kilometers, for no apparent reason.
It was worth it for the 92 pandas at Woolong, where we worked and volunteered in the enclosures for two days. Then, after paying monetary tributes, we got to play with and cuddle the pandas.
A three-star adventure and the 700 panda photos made it all worthwhile.
I would like to suggest that you contact Yusheng Li of the Sichuan Conservatory of Music in Chengdu. Yusheng is the first professor of classical saxophone in China. His first class of three students in 1997 has grown to 80, with five teaching assistants.
He is a remarkable person and his students reflect a keen interest in this very Western instrument. I'm one of a number of Western saxophonists, several of whom are internationally known, who have visited his students in Chengdu.
The experience was life-altering and one I hope to repeat.
I see there is concrete wall being erected between the East and West!
And the wall is called "Prejudice".
When the United States emerged as a global power at the beginning of the 20th century, the Europeans thought it was a monster and the threat to the world. When the Japan emerged as an economic giant, the United State regarded it as a major threat. Now China is on the rise and there comes a "China Threat Theory."
I believe there will be an "India Threat" later on. It doesn't matter if you are democratic or not. When talking about China, the West try to link its rise to Communism, human rights abuses and so on. America wants to free the Chinese people from what it perceives as a repressive regime. I suggest NPR pick dozens of people from all walks of life and ask them if want to be freed as soon as possible and what do they think of democracy.
I'm also puzzled by the slogan: " Freedom, Equality and Fraternity " proclaimed in the West for centuries. But didn't the West just free their colonies only 40 years ago? Why are billions of African people dying of hunger? Obviously, they were paid little attention by the their former colonial masters in the West
(Why is the Tibetan situation more urgent?)
People in the West have been fighting for freedom and democracy for centuries. Has this made poor countries get better?
Why not?
If you live in China now, you would laugh at the comments like "the government's policy to imbue all people with communism and nothing else".
It's just not true.
On the contrary, most Chinese people nowadays are imbued with capitalism.
NPR's planned week of programming about Chengdu will be a good chance to observe local traditions. You'll find they are not quickly vanishing, but thriving. Nowadays people in China celebrate the traditions and the government isn't in any way against it. One example has already been covered here in your "Chengdu Diary" in the April 12 blog posting "Grave Sweeping Day" (Qingming Festival):
"We were lucky to be here last weekend for the traditional celebration of the Qingming Festival, or grave-sweeping day. On Qingming, the Chinese pay respects to their ancestors by tending to their graves. It's been a practice for millennia here. But this year marked the first time since the Communist Revolution in 1949 that Qingming was officially recognized by the Communist Party as a national holiday. It's quite a symbolic shift. "
People in China always celebrate the Spring Festival (Chinese New Year). Now more and more young people are also celebrating Christmas. And, thank God, there???s no one yelling "cultural genocide" like some zealots who claim that the Chinese government is committing "cultural genocide" in Xizang (Tibet) when Tibetans wear jeans instead of traditional costumes.
Actually, there are a lot of other places retaining authentic Chinese traditions: Guizhou,Yangzhou and even some parts in the rich provinces.
I look forward to hearing your week of programming from Chengdu. Its' on my Outlook Calendar for the entire week!
Having lived in Shanghai 10 years ago and having recently come back for a reunion, I realized that the development has moved on to cities such as Xi'an, Chengdu, and, soon, others such as Guilin.
You rightfully noted that Chengdu has the same feel as Beijing and Shanghai 10 years ago.
Xie-Xie NPR!
We just returned from 2 weeks in China, including visiting Chengdu. A couple of interesting items that might be appropriate for your show.
1. On the way back from Wolong just as you are getting to Chengdu we passed a row of suburban US style car dealerships, Porsche, Mercedes, VW, Audi, Mazda and others there was even a 24 drive through McDonald's there, China sure is changing.
2. The statue of Mao that you have a picture of in downtown Chengdu: you pointed it out and mentioned that everyone jokes that Mao is directing traffic. We noted on our 2 trips to China that folks near Beijing seem to be very nationalistic and pro government, but out in the provinces people are more circumspect.
BTW, it may not translate to radio well, but the Sichuan Opera was very cool.
Welcome to Chengdu, a city of contradictions.
It's a city where I was told by a grandmother, perhaps my own age. not to rub my puppy's stomach because it would be bad for her digestion.
It's a city where my daughter goes to a Chinese Waldorf School, where teachers practice bio-dynamic gardening. It's a town where I buy organic vegetables, brown rice and natural teatree root to wash the scum off the decal in my bathroom. The decal is of a horse-drawn surrey with two blond woman wearing bonnets who appear to be off for a days ride.
Chengdu is the city where I took in a puppy for my daughter to care for after she grieved for the school's dog she lost last year right before Spring Festival because someone needed money. A teacher found the dog's carcass without its skin. The shiny fur of a well-cared for dog probably brought in enough money for someone to take the train back to their hometown with an arm load of gifts for his aging parents.
The undercurrent of the realities of life here are so deep. Chengdu is a city where children and dogs are loved, but dogs are eaten and three-year-old children attend boarding school to get a jump start on their education in a system which is still draconian.
After deciding I wanted to live and teach in China for a few years, I spent three months searching the internet from my classroom in the US, looking for a school where my Chinese-born (then six-year-old) daughter could begin her elementary schooling in Mandarin.
I looked all over for a school where the language of instruction was Mandarin, but was informed by Western educational philosophy.
To my great surprise, I found a Chinese Waldorf school. The web site showed photos of young children in tall black rubber boots digging in their garden. As a Seattleite and a lingering crunchy-granola type, I knew I had found the right school and therefore the right city.
Chengdu is hip.
There is a thriving youth culture here, many gay bars, and bookstores that are reviving salon culture. Chengdu, is not like Kansas City - it is much too hip and much too big. With a population somewhere between five and eleven million (depending on what you are counting) Chengdu is unlike any American city.
It is grimy but tree-lined. The traffic is horrendous, but it is by far the best bike city I have ever lived in. I still do not recognize my neighbors, but I know their business. I hear them chopping vegetables, watching TV, laying new tiles, making love and quarelling. I know what time they get up and what time they go to bed.
In a year and a half I have only had one invitation to eat at a Chinese friend's home, but we eat out with friends all the time.
I live in a city, but my neighborhood is a village. My now-Mandarin speaking eight-year-old daughter can not play in our front yard in the US without an adult at home, but in Chengdu she goes to the store on her own.
The air and the grime in Chengdu seems toxic but I can buy organic black beans and cook them in fresh spring water.
Chengdu is not the city I thought I would find: I have been disappointed by so much here. It is difficult to find what a Westerner would call "authentic" culture. All performances are Disneyfied and updated to fit the current camp chic kitsch of progress and electricity.
I do not go to performances to hear soulful Chinese melodies, I ride my bike along "music street" to hear a music teacher playing the erhu in his unhurried shop.
Chengdu is a maddening place. I am struggling with the language and although I love well-prepared Sichuan dishes, my palette and gut get tired of the oil overused in most ordinary Chengdu restaurants.
I am put off by a deep xenophopia that is an undercurrent here. It is not borne of hatred but comes from a lack of experience. Foreigners often make locals nervous. We are part celebrity, part oddity and we can cause a salesperson or waitress great discomfort if they fear a misunderstanding.
But we are always wai guo ren - outside country people - and as such we are welcomed and pushed away in equal measure.
China is a country with a five-thousand-year history that has been written and rewritten, buried and unearthed, honored and desecrated. China in general, and Chengdu as the particular where I live, offers us a glimpse into an idyllic world that most Westerners can only find in books, photos or paintings.
We see a hint of an old life that to those already alienated by a second generation of materialism seems romantic, simple and somehow the essence of culture and artifact, something ancient to ground us as humans to our beginnings.
This, of course, is a conceit.
Watching a man on a three-wheeled bicycle cart piled high with vegetables make his way to town is quaint, but not to him. He would be more than happy to trade in his picturesque antique for a new truck with a strong flat bed that folds down in the back.
I watch the high rises in Chengdu rise higher and I think I too might like to leave my old, circa 1960's apartment with it's quaint plaster walls and it ever present hint of mold, for a 'Wishing you a Fortune Life" as the billboard advertises in the development that was built in just a few months on the other side of the street.
Welcome to Chengdu.
Thank you for choosing Chengdu. I will be visiting there next month and really look forward to the preview you will provide.
Thank you NPR. Chengdu is my hometown and I take great pride in its laid-back attitude and amazing cuisine. It has been difficult trying to convince my ABC (American-born Chinese) friends just how "hip," as Anne Zuckerman puts it, Chengdu is. It's home for me and I'm so glad others can share my love for my hectic, relaxed, toxic, delicious city.
One thing that makes Chengdu stands out among other cities: it has been a big & prosperous city since Han Dynasty (206 BCE - 9 AD) almost WITHOUT interruption, which means much longer prosperity than Beijing, not to mention Shanghai which is really the youngest among bigger Chinese cities. Recent few years many writers & magazines have covered the unique culture/personality of Sichuan---have any of your staff read them in Chinese? if not, pls start with ????????????????????????????????? which actually has a lot to do with democracy...
PS.I'm from Sichuan & lived in US & Canada)
Chengdu is certainly no "Kansas city". Although it's inland, it's marked by its openness and liveliness. If you ask me to pick a US city that resembles most, I would say Seattle, for both being on the west, laid back atmosphere, rainy days, high tech industry among others.
One more thing to add to my pick of Seattle as the city in US most resembles Chengdu. Chengdu is famous for its teahouse culture, just like Seattle is famous for its coffee and coffee houses. Spending time in Teahouses with friends and families is century-old tradition for Chengdu natives and people in surrounding regions.