Panda Water Aerobics
It's been nine days now since the earthquake rattled us here in Chengdu and caused such terrible devastation close by. The sounds and images collected over these days are haunting.
So, what a rare pleasure to go back today to a green oasis in the middle of this gritty, gray city: the Chengdu Research Base of Giant Panda Breeding.
The air was fresh and moist. Egrets squawked noisily as they nested overhead. Lush beds of bright flowers lined the paths. The bustle of the city seemed very far away, even though it's right outside the gate.
The panda base here in Chengdu is home to 48 giant pandas. There are babies born last year, still drinking formula from bottles.
There are sub-adults, under five years old, who haven't yet reached sexual maturity. And then there are the moms and dads.
We found one of the adult female pandas, 9-year-old Qi Zhen, relaxing in a pool of water in her outdoor enclosure. She was sitting up, slumped over her paunchy belly, looking like a lazy matron dozing off in the tub. Then, as we watched, she started lifting her feet out of the water, rotating them in small splashy circles, in what could pass for panda water aerobics. Qi Zhen was putting on quite an impressive show, so out came my camera, set to the video function:
Video by Melissa Block, NPR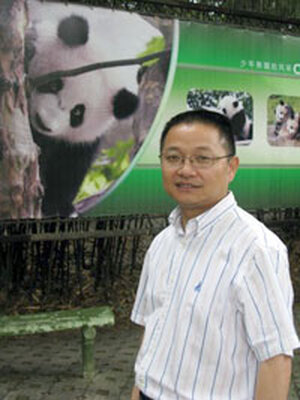 Rare and Precious & Seven Stitches
The director of the panda base, Zhang Zhihe, told me the story behind Qi Zhen's name. There are two meanings, he said. Qi Zhen means "rare and precious." But in Chinese, it also sounds like "seven stitches." When Qi Zhen was born, her mother was so frightened by the sight of her baby that she slapped the tiny cub away. Her claws raked the baby panda's chest. Qi Zhen was taken to the hospital at the base for surgery. She was given seven stitches. And those stitches gave her her name.
And now — nine years later — there she was, a happy panda, indeed. Making me very happy for several minutes, in the middle of a long week of sadness.
I'm working on a story about the panda base for All Things Considered. I'll talk about how frightened the pandas were during the earthquake. I'll also report on the work the dedicated staff here have been doing to increase the giant panda population, to help save this rare species from extinction. And much more.
.
(EDITOR'S NOTE: You can hear that story Thursday on All Things Considered.)
We were visiting in Chengdu a few weeks ago, so have been closely following with great interest your excellent coverage there. We, too, visited the Panda Research Base and and were delighted to be able to see so many Pandas at such close range. To us humans they seemed very comical in their actions - lounging around with a pile of bamboo on their bellies as they eat. I'm glad that you were able to take a break from the earthquake story to tell about the Research Base - they are doing good work there.
Thanks for your reporting this past week. After just returning from a 22 day trip to China we are anxious to hear as much as possible about what's happening and especially appreciate the personal stories you've told. Our tour guide is from Chengdu and we've been able to contact her via email and learn that she and her mother are well.
Thank you Melissa for the precious moment of happiness.
I have been following your coverage every day since the quake. Many times tears came to my eyes when I listened your stories. As a Chinese American, my heart goes to all the people that are suffering in my native country. Thank you so much for your hard work!
Thanks Melissa! Qi zhen makes me happy too. She's so cute!
I learned from CCTV this past weekend that eight pandas were on their way to Beijing for Olympics. Hope all other pandas are doing well!
I'm glad that you had such relaxing moments with the pandas after a long, sad, and exhausting week.
I have been spotting NPR's series report, adding the touching passages to my blog. You keep us safe in the crazy world, thank you!
Oh, Qi Zhen needs somebody to wash her belly.
Looking forward to hearing the panda evacuation story in Wolong panda base.
I read from a Chinese site that there was severe damage in the base and five members of staff were dead and three big pandas escaped during evacuatoin.
I was on a China tour that left Chengdu the day before the earthquake. Thank you, not only for the earthquake coverage, but for giving us even more insights into Chinese life than we gained while there. The pandas are indeed a bright spot... I had the opportunity to pet one while I was at the breeding center, and it's my favorite memory of the trip.
GREAT JOB AS ALWAYS. I LOVE NPR !!!!!
Melissa,
Thanks so much for your objective, yet intensely personal, reports from Chengdu. We visited there last spring, towards the end of our 4 years in China, and were impressed by the city, the Wolong Panda Preserve, and Dujiangyan, despite the gray weather and construction dust. We worry about our guide and driver and their families, and hope that they are safe.
We are especially grateful for your unbiased reporting on the aftermath of the quake. As many have commented, it is difficult to find unbiased China news on commercial media here in North America. Such bias is very obvious to those of us who have spent an extended time in China, and have only begun to understand Chinese culture and traditions ourselves.
Commercial No. American media seem to feel bound to put a negative spin on any news coming out of China, no doubt for political and economic reasons, but also because of a lack of understanding of Chinese culture which is so different from ours. It is easy to belittle others when we think our way is the only right way.
Your reporting and the photos on your blog have put the spotlight on ordinary Chinese people in Sichuan and how they live -- albeit under terrible conditions at present. The long lines of rural Chinese walking miles over harsh terrain are testament to their determination to continue to live under dire circumstances, which has been the constant theme throughout Chinese history. If only more North Americans could experience China as we have, I think the negative stereotypes engendered by most media reports in No. America would diminish, and the realities of China, both positive and negative, would be better understood. Your reports will certainly spread that understanding to those who cannot travel to China.
We are glad you took the time to visit the pandas again, and had a brief rest from the stress in Chengdu city. Take care.
Great video and story from Melisa! Absolutely right comment from Martha!
Oh my god, panda aerobics, that's hilarious. The video was funny too.
Thank you Melissa for the Panda story. I told Pandas International about.
Great to see the panda has a restful time too after suffering stress from the earth quake.
I have been following up with NPR stories on Chengdu Diary. Your group did excellent job. Take care!
We adopted our daughter Haley from Yueyang County, Hunan Province, China in 1996 at age 6 months. She and I traveled with "China Ties" back to her Homeland outside of Changsha, in 2006. This two week trip started in Beijing and included a visit to Chendu, specifically to see the Giant Pandas at the Breeding Center. We were thrilled to see the Pandas, and Haley had an opportunity to pet one. It was a highlight of our trip which neither of us will soon forget. They are such special, gentle creatures. My tears over the past week have been first for the wonderful people of China and their beautiful, culturally rich land, and fear for the welfare of the Pandas, especially in the Wolong Preserve. My ears are glued to the radio, awaiting any and all updated news on this tragedy. China feels like my second home, as we are a Chinese American household. Thank you so much for your excellent reporting.
OMG, Qi Zhen looks so playful. Thank you Melissa for writing (and posting a video) about something more joyful, amidst all of the devestation caused by the Sichuan earthquake.
Oh, and Song Quiying, Qi Ahen does need a nice belly scrub!