D2D California Dreaming Series
Down and Out in Fresno
—Phillip WD Martin
As we learned during Phillip Martin's segment today on the California Dream, the least developed region in the U.S. isn't in Appalachia or the Mississippi Delta, it's in California's Central Valley. Phillip went to Fresno, County in the heart of the Central Valley, and to Manhattan's Upper East Side — the nation's most developed area — to compare and contrast.
It was 115 degrees when the United Airlines jet landed in Fresno under a brilliant mid-day sun. Once outside the terminal I was greeted by a blast of desert air and a Punjabi taxi driver who explained why he moved to this city of 500,000. Farming. That one word explains why communities representing eighty different ethnic groups have come to call Fresno home. This is America's bread-basket, and it requires all levels of work to get fresh fruits and vegetables from the ground to the marketplace. Farming also helps explain why Fresno County ranks dead last on the American Human Development Index, which measures aggregate health, education, income, longevity and other indicators on a congressional district by district basis.
Photo by Phillip Martin, NPR
Pesticides, air quality and back-bending labor mean that people in Fresno die on average four-and-a-half years earlier than folks at the top end of the index. Farming is seasonal, and when the planting is good, farm workers can scratch out a living—barely. When it's bad—as it is now with a drought that has reduced water output by forty percent—it can be disastrous. I held a tomato in my hand that was as dry as a deflated beach ball.
For 39-year old Felipe Jesus Perez, California has been both a dream, and lately, a six-year continuum of restless nights. He lost his job in the fields in 2003 after his foot and tendons were crushed in a cotton harvester. He gets around the town of Firebaugh in Fresno, County these days with a cane. With a smile on his face he told me he's willing and ready to work.
Felipe Perez: I get my diploma in auto mechanics and I did some applications for different kind of job, but they watch me with a cane and tell me 'let me call you later' and they never call me. And I stay in the same place with the same money, with the workers comp that they're paying me.
Phillip Martin: And you say you're recieving Workman's Compensation?
Felipe Perez: Yeah that's right.
Phillip Martin: Any other compensation?
Felipe Perez: No just that.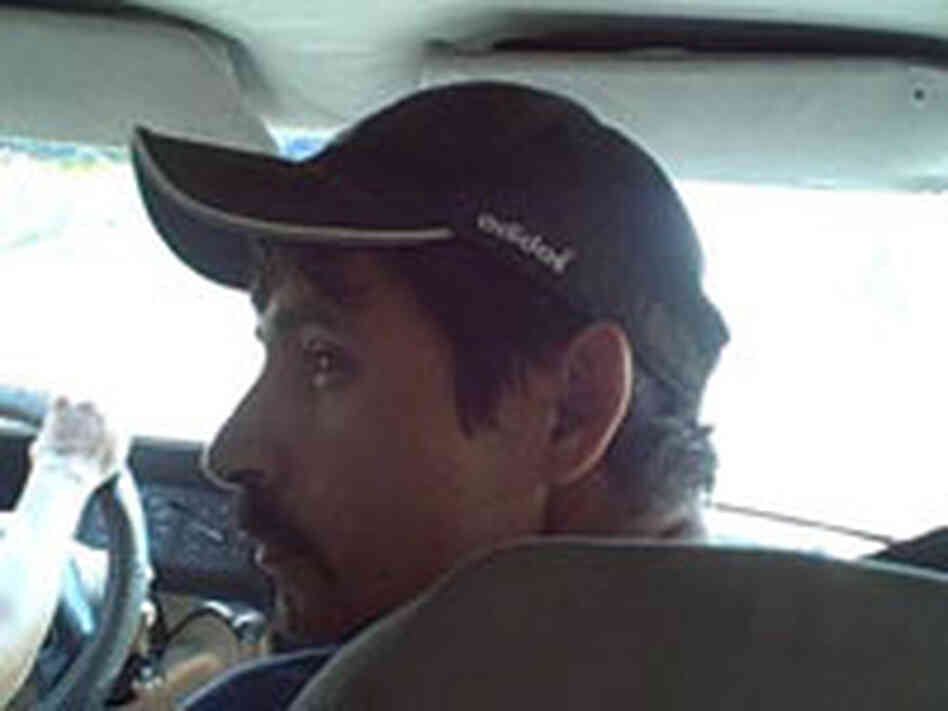 Photo by Phillip Martin, NPR
Felipe joins the ranks of almost 30 percent of the population of the County who are jobless and depend on seasonal agricultural employment.
Before flying West to Fresno I was on the New York City's Upper East Side interviewing residents there about lifestyles, concerns and worries. The economic disparities highlighted in the new American Human Development report were brutally sharp on the ground when comparing this neighborhood to Fresno. Melissa Morris, an amiable and prolific blogger, gave me a tour of her Carnegie Hill neighborhood on the Upper-East-Side, which the American Human Development Index lists as the number one district in the country in terms of human development.
Melissa Morris: Well there's a lot of little fashion boutiques for women. There's a lot of upscale children's clothing boutiques. There are fancy sort of dog grooming salons for my dog, and gourmet food shops. Just being a home cook for many years I know what's in season in terms of fruits and vegetables and I try to buy those.
28 year-old Morris—whose popular blog might best be described as the "lifestyles of the rich and preppy"—lives with her multimillionaire husband Chappy and a miniature Italian greyhound named Monty. If human development is predicated on opportunities and choices to improve one's life, than the upper east side of New York is a showcase of privilege. "The sidewalks are very clean," Melissa explains. "They're kept clean largely by the doormen who will be out there sweeping if there's trash strewn about."
Jose Bermudez has been opening doors at thehigh rise apartment building where Melissa resides for more than 15 years. He says it's no mystery why Upper East Side residents live relatively longer lives than people on the bottom half of the American human development scale: "People are relaxed and down to earth. I guess it's the lifestyle."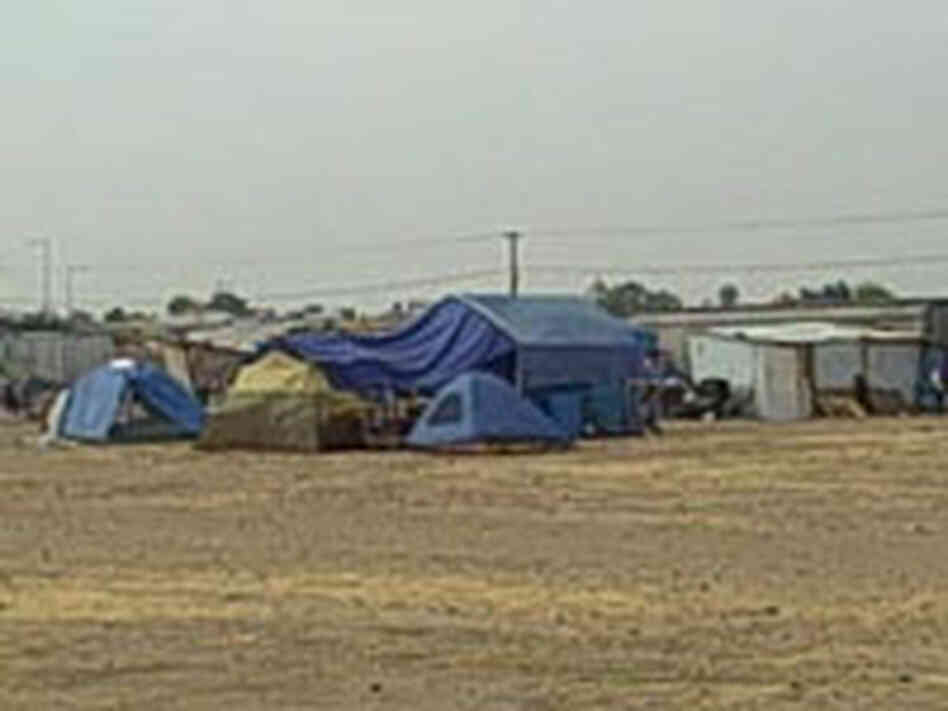 Photo by Phillip Martin, NPR
According to the American Human Development Index, half of the residents of Fresno, County earn less than 17 thousand dollars a year. Upper East Side residents on average earn about 116,000 dollars. Many, like the Morris's, bring in much, much more. Melissa and her husband, like many residents of the Upper East Side, also own a large, spacious second home in Connecticut. But money is not the only resource that makes life here so comfortable. There's also easy access to world class museums, well stocked libraries and a sea of other amenities. The gulf between Melissa and Felipe' most pressing worry when I spoke to them is about as wide as the continent that divides them:
"Currently right now I'm worried about my little dog with his broken leg," says Melissa. "This has been an ongoing series of injuries with him and he's very fragile. I love him very much, so I'm worried about him making a full recovery."
For Felipe, the worries are bit different: "I'm worried that I have three kids, my wife and I don't have a job we don't find any kind of job for my wife. She is doing some applications in different kind of jobs and nobody call her."
You can take a more comprehensive look at the American Human Development Index here and here.
—Phillip WD Martin (You can visit Phillip's blog here.)

Your reporter called the town "Fireball." I think he meant "Firebaugh," which would be pronounced differently
Hi Diana, this is Phillip Martin, the reporter. Technically you are correct. In the script itself, which of course you did not see, I wrote out the name of the town "Firebaugh" but the locals, including the town manager, cops, firemen, farmworkers, etc... use the popular interpretation of what is clearly a European derived or influenced term. They all say "Fireball" to reflect the hot temperatures during the dog days of summer.
I grew up in the Central Valley. Something I always noticed was the brain-drain. The best and brightest young people usually leave, only to return for the holidays. They leave because of the lack of good jobs, the hot climate, little desire to work in agriculture, and wanting more of what you mentioned Upper East Sider residents enjoy as far as cultural activities. These are precisely the types of people you would want to stay to help the area develop. Those that remain live in an area which has high rates of poverty, poor air quality, high rates of teen pregnancy, a high rate of single mothers, and increasing gang-related crime. The area is also politically and socially very conservative. While the area is diverse ethnically, as your story pointed out, politically speaking it is not so diverse. Obama will win California for sure, but will not do so well in the California??s Central Valley.
Howdy,
I was going to look over measureofamerica.org and see it's reports and instead was greeted with a "Page under construction".
I'm not crazy about this "who's at the bottom" description. For instance, looking over the 2000 census, Clarksdale MS ranks below Firebaugh in economic terms but that all doesn't take into account cost of living. Really, the reports of that website would help settle this confusion.
Hello Matt,
Thanks for the heads up. Measureamerica.org was live this morning and seems to have gone down over the course of the day. We'll put a new link up directly to the charts once the site is back up.
Thanks again,
Gary Dauphin
Online Producer
Hello,
I enjoyed this segment very much. I grew up in Fresno. We farmed and sold vegetables at the flea markets year round. When I graduated from high school, I left for MN where the job market is competitive. My relatives are still in Fresno. Now when I think of home, I think of Fresno. I have such nostalgias for the fogs, fresh fruits, and fresh chiros that could only be found in Fresno. No matter how low Fresno is rated, Fresno is home to me. There is no place like home.
A. Peterson hit on a key problem facing the Central Valley --"The best and brightest young people usually leave". Quite true. It's the reason why Fresno State's social policy programmers are sitting down with folks like Jose Ramirez of Firebaugh to excogitate long-term the means to keep young people (like himself) there, including rejuvenating the downtown, etc. I'm not sure how successful they will be when modern cities nearby like SF and LA are beckoning, but there is an awareness that young folks are leaving in droves. In regard to Matt L's comments. I just checked and it seems that the AHD cite is up. I'm not sure what page you were diverted too earlier, but i think you're right for digging deeper.
I am a third generation Fresnan, and I have read all of the press latley about the poverty and bad living conditions, and its all true. Fresno and the central valley is about the worst place to live that I've ever seen. The main problem here is that there are so many illigal aliens, mainly because of California's liberal social programs and that the Fresno area is probably one of the cheapest places to live in California. There is nothing here, all we have is low wage jobs, bad weather, terrible air quality, high crime, bad schools, no civic pride, you name it there is not much of anything good here. Yea there are some areas of Fresno that are somewhat nice, but overall its terrible. And some people that live here say its not that as bad as people have been saying, but believe me those people are totaly out of touch, maybe they have never lived anywhere else and dont know the difference. My family has lived and done business here for over 90 years, and lately we have all been talking about selling off our assets and moving somewhere else. And thats the truth.
It's great that you spent the time to fly to the Central Valley and decided to take a sample of it's population by going to a town highly populated by farm workers who use English as a second language. What about interviewing broader sample of our population- David McDonald- former owner of Pelco, Kirk Kerkorian (perhaps you've heard of that billionaire), How about the Fresno State Bulldogs Men's Baseball team that just one the College World Series (pretty tough to do considering the poor health and living conditions), and you should look for all of the grammatical errors in the many writings by a local writer named Saroyan (perhaps you've heard of him as well) I've been to Manhattan, I've been to Paris, I've been to San Francisco, I've been to Rome, everywhere you go you can find sections of these areas that are sad and disheartening to see. I've had people ask me for change on both sides of the planet, Manhattan included. Why didn't you try breaking outside of your journalistic box and proving some statistical report wrong.
Hi,
I have been living in the Central Valley for almost eight years now, and I am attending UC Merced--an institution slated to help boost the Central Valley from its subordinate status compared to the other more prosperous regions of California. Anyhow, I very much agree with A. Peterson's comment about the condition and situation in the Central Valley. Also, I would like to thank Mr. Philip Martin's blog on Fresno because by "putting Fresno on the map", he has brought attention to what is going (and has been going on) in the Central Valley.
Your contrast between Melissa Morris and Felipe also points out one of a number of reasons for the poverty in Firebaugh. She is concerned about her little dog. Felipe is concerned about the people in his family. This excessive concern for animals over people has translated itself to the Endangered Species Act, which has virtually shut down jobs in the San Joaquin Valley and the surrounding forests of California. We have killed thousands of jobs and businesses by refusing water to the region to save a subspecies of fish (Delta Smelt). We also killed off a logging industry around Fresno to save a Spotted Owl. Now as a result of not being able to log over 1 million acres of forest has burned up in California. The ESA and its proponents in their efforts to save trees and animals have wreaked destruction on the forests and on families. It's time for a revision.
I'm a current Fresno State student in the teaching credential program, and though I am proud of the city I was born and grew up in I'm glad someone has shed light on the poor conditions that we live in. When I say "we" I don't mean those who live north of Herdon avenue or in Clovis. I spent last semester student teaching in South East Fresno and it broke my heart. Fresno Unified ranks fourth in the nation when measuring students who live in poverty. Most students in the credential program don't even want to teach in Fresno which is sad. They want to teach in Clovis because the pay is better, the schools are cleaner and the students speak their language. I myself overcame obstacles that my students still face... racism, hate, gang violence, police harassment, poverty, and high crime. If you don't think these are problems that South East and South Western Fresnans face then come out of your air conditioned suburban home and take a trip with me to China Town, Calwa, Sunset, the west, Cedar and Kings, etc. You're proud of Pelco...it's in Clovis. You're proud of Fresno State, there's scandal and now the fees are going up. H.K. blames illegal immigrants, but the agriculture industry is to blame. H.K., are you going to work in the blistering heat, bending your back all day and risk death for substandard pay? I graduated from San Jose State, and came home to no job. Next year I'll be in Grad school back in the bay, with no intentions of coming back except for holidays.
Thank you for your work. I found this article extremely moving.
The funny thing about this article AND the comments is that 1) the article was supposed to be about Fresno County as a whole, but the sample Phillip Martin used was from Firebaugh-which is not a representative sample of the county; and 2) some of the comments are distinguishing between Clovis and Fresno-which are in the SAME county-FRESNO COUNTY. Yes, Firebaugh is in Fresno County, but at the 2000 census Firebaugh had a population of 5,743. The population of Fresno County at that time was 799,407. The 2000 census reported that the city of Fresno had a population of 427,652. Does it make any sense to choose a small farm town to speak for the whole of Fresno County? No. Sure, we have our issues, but as Jacob pointed out, so does every other population in the world.
J.T. I am not blaming illegal immigrants for all of the problems in the Fresno area, I'm blaming the government for allowing this illigal immigrant infestation to happen. Years ago agriculture had a worker program for Mexican citizens to work here seasonally and then return to their homeland. But when the government does not inforce the laws this is what happens. It really is a shame what happend to Fresno.
Remember this J.T., language, culture, borders.
For being an "Upper East Side" resident, presumably with a secondary education or beyond & considering her societal position, Melissa Morris cannot speak properly, or form a proper sentence.
Mr. Perez should be given a lot of credit, as English is his second language. Also, congratulations to him for his respectable priorities.
This isn't Fresno, you're talking to people who work in the little towns outside of the city of Fresno. This was So, so incredibly misleading. Our household income is $105,000 so is everyone in our neigboorhood. Did you drive around Fresno, did you see the money? I'm sorely dissapointed with NPR's poor reporting skills.