Prescription Drug Costs Double Over A Decade
The feds just put out a neat little summary of what's happened with health care spending for young and middle-aged people in recent years.
Guess what? It's up. The health tab for 18- to 44-year-olds hit $231 billion in 2006, up $40 billion from $191 billion in 1996. On average, each person spent $2,703 on health care in 2006, up 24 percent from $2,177 spent a decade earlier. (All the figures were converted to 2006 dollars to adjust for inflation.)
OK, you expected that, we'd imagine. But take a look at some of the specific ways it's gone up.
Then and now: How the average cost of some kinds of health care has climbed.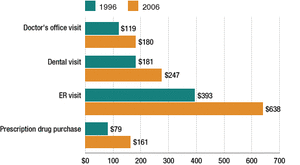 Spending on prescription drugs jumps right out, with the share of health money going to medicines at 18 percent in 2006, up from 10 percent the decade before. One big reason: the average cost of the drugs doubled to $161 per purchase from $79 in 1996.
ER costs were another big mover. An emergency visit to the hospital that cost $393 in 1996 increased 62% to $638 in 2006.
But the data weren't all bad. The average charge for a day in the hospital barely budged, up about 6 percent to $2,430 in 2006 from $2,336 in 1996.
In case you were wondering, private insurance paid the bills for more than half the care, with about one-fifth coming out of consumers' pockets, the researchers from the Agency for Healthcare Research and Quality said. Medicaid paid most of the rest.