Shut-Eye Proves Elusive For Shuttle Crews
You think you have trouble sleeping? Try to nod off when you're squeezed into a small space with six close friends, the sun is rising and setting every 90 minutes, and your pillow keeps floating away.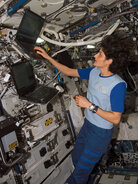 That's the challenge for astronauts orbiting the Earth in the space shuttle. To make matters even worse, the crew of Space Shuttle Discovery currently overhead has another hurdle. In order to synchronize their schedules with the crew on the International Space Station, the shuttle astronauts have to work during what would typically be their night back home, and sleep during the day.
NASA has taken steps to help the Discovery crew members get the best sleep they can. They've even turned to Harvard's Dr. Charles Czeisler for help. For nearly four decades, Czeisler has been devising techniques to help people forced to sleep at awkward times and in awkward places.
To help the Discovery crew get ready for its nighttime work schedule, the astronauts started changing their sleep schedules weeks ago, aided by bright lights in the crew quarters during the nights when they are awake.
Czeisler says researchers know shuttle astronauts aren't getting enough sleep. But they'd like to know more about how badly sleep deprived they are, and whether there are any interventions that might help them sleep better.
So on this mission, several of the crew are wearing devices that look like wrist watches but that measure movement. It's not a precise gauge of wakefulness, but no movement is a pretty good indicator that someone is asleep, or at least meditating, which has its own benefits.