On Air: Indiana Jones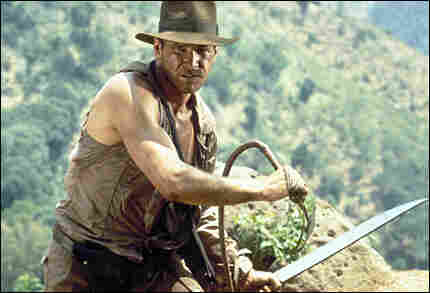 Who says archaeology is boring? What with the whips, the guns, the evil Nazis and the booby-trapped temples hiding precious — frequently magical — artifacts, what's not to like?
OK, so that's archaeology Indiana Jones-style. NPR's Christopher Joyce takes In Character into the field to talk with the real Indys — who see the whip-wielding adventure-seeker in a different light.
"Indiana Jones walks a fine line between what's an archaeologist and what's a professional looter," says archaeologist Winifred Creamer.
And Christopher Joyce finds that in the movies, even Indy isn't sure what he is — treasure hunter or historian.
And what of the crystal skulls that a (much) older Indy is apparently chasing in the upcoming film, Indiana Jones and the Kingdom of the Crystal Skull?
Smithsonian archaeologist Jane Walsh has the story behind the real-life crystal skulls in museum collections around the world. Some say they're ancient Aztec artifacts; some say they're powerful mystical objects.
Says Walsh: Not so fast.
The piece I heard on the radio suggested that Indy could beat up "most anybody." I guess we could quibble about what that means, but what really makes Indiana Jones so accessible as a hero is the fact that he CAN'T beat up everybody. Frequently he gets his but kicked. Often he doesn't know what to do. Sometimes he's embarrassed or the butt of jokes. He's a man who's perpetually in over his head.
Heros like Superman are boring because they can do anything. Indiana Jones is a regular guy who doesn't win every on-screen encounter. That's what we fans love about him.
While Indiana Jones' desire for "fortune and glory" is certainly a running theme of the trilogy's second entry (Temple of Doom), it should be noted that this film is in fact a prequel that takes place before "Raiders of the Lost Ark."
In the film's opening scene he trades a relic for a large diamond (emphasizing his "greed"), though by the end he realizes the shallow aspect of these desires and ultimately gives the film's primary treasure back to its rightful owners, thus forsaking the "fortune and glory" he thought he was after.
While this is easy to miss, it without doubt suggests a bit of transformation away from his greed-seeking ways.
I've been thinking of Elizabeth Blaire's piece with elementary students from Asheville, NC since I heard it yesterday afternoon. The students' connections with book characters was moving and inspirational. Mark, the child in foster care, was so candid and endearing that I literally cheered at the end when he said he'd recently been adopted by a loving family. It is amazing that kids in tough situations can find solace in the lives of fictional book characters. Bravo.
archelogy is not boring, I would be very excited even if I found a mayan tooth.Really great job on the story, keep up the good work!Have a good time in 6th grade.
I think you did a great job on the article, I look forward to seeing the new movie
I think you did a good job on the artical,but it could have been a little better hope to see the movie.
indianas wip is his coolest wepon
This paragph was a nice description on Indys many adventures around the world.And his newest adventure to find the crystal skull.Indy is no reagalur archaeologest he`s always on the move to discover new treasures and ancient artifacts
Archelogy is NOT boring!.............Okay, maybe it can be, once in a wile, somtimes, one in a millon, oh, never mind! Anayway, your article was awsome!
i love that book! when you read it you feel like you are in the story!
I think that all of the Indyiana Jones moveys was the best moveys I have ever seen.
I think you portray Indy in a bad light. You write of context, but you take Jones out of his. He is an archaeologist of the 30's. Often times the finding of theses treasures was all that archaeology was about. Find them and place them in a museum. Modern archaeologists still remove objects from their surroundings, they just know now the importance of documenting the site.