King To Soon Stand in Nation's Capital
Between Washington, Jefferson, and Lincoln, there soon will stand a King.
The Martin Luther King Junior National Memorial will be built among the famous presidential monuments in Washington D.C. Set to open by early 2009, it will feature his famous words carved in stone, a waterfall, a grove of trees and a statue of Dr. King. All of this will take $100 million to complete.
On today's show, Farai spoke with Harry Johnson, president and CEO of The Washington D.C. Martin Luther King, Jr. National Memorial Project Foundation.
He explained how the foundation has handled building a big, expensive project on a very precious piece of federal land and offered his part on the controversy surrounding the foundation's choice of an artist to create the King statue.
Below are some artists' renderings of the planned memorial. Tell us what you think: Will the foundation be able to raise the remaining funds for construction? What do you think about the look of the monument? Is this long overdue?

Aerial View of the Memorial Site
Courtesy of The Washington D.C. Martin Luther King, Jr. National Memorial Project Foundation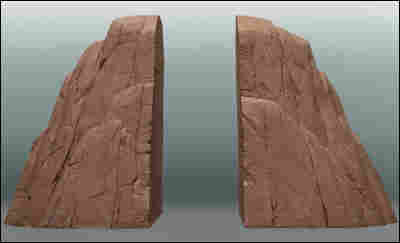 Sculpted "Mountain of Despair"

Side Profile of Sculpted Stone of Hope
All Photos Courtesy of The Washington D.C. Martin Luther King, Jr. National Memorial Project Foundation
I don't know about the Memorial, but I sure would like to hear Mike Myers give his opinion about it, especially that the Alphas couldn't manage to find a black person to sculpt it. I've got a N&N Roundtable cup of orange juice and I need to drink it. Bring back the Roundtable PLEASE!!! Without the roundtable, we are stuck with nothing but BET and its hot ghetto mess.
I don't really like it that much to be honest; the sculpture and "mountain" are not as thought provoking as the man and his legacy. It is a little cartoonish and not really reverent enough for me. Other similar memorials (the civil rights memorial for example) are much more moving. This borders on Madam Toussand's....maybe in real life, bigger, with plants and water, its better but from what I see here..sorry I would not have picked this design.
I think they'll get the money but hopefully they'll go in a different direction....This is for the ages and for people from all over the world. Is this the best we can do?
It is astounding that one would continue to refer to this artist as "Master" when without any stretch or reservation, Ed Dwight is a "Master". As a sculptor his work clearly demonstrates this honorific title. It is bewildering how Ms Chideya, you would not broaden your understanding and knowledge of Ed Dwight's masterful skill as an Artist and emblematic protraitist of African American pride, dignity and above all historical figures and events of world significance. Further that you simply use "Master" as if master is the Artist's name.
Additionally, to allow Harry Johnson to portray Mr Dwight as some sort of wounded attention seeker and not press him to establish, with fact, how Mr. Dwight wishes to continue to be involved in this project, if in "fact" Mr. Dwight has been officially severed from the project by AKA or the Foundation.
The entire manner in which this issue has been addressed is far below your often even handed presentation of issues.
The overarching issue here is the shabby manner in which Harry Johnson and by extension the Foundation has dealt with Mr. Ed Dwight and the MEMORY of Dr. MLK, Jr. This, as Marvin Gaye has noted really "makes me want to holla!!!! SHAME SHAME SHAME!!!!
I am sure Dr. King is as distressed with this "memorial" as can be from the place he now resides.
Respectfully,
Napoleon Jones-Henderson
8-14-07
I heard the interview that Farai did with Mr. Dwight and it is very clear to me this is another dismissal of the African American aesthetic. Mr Dwight's objection was not that a Chinese artist would create the final sculpture. His objection was that creative control of the project was handed to someone who could not possibly understand the cultural historical nuances of being Black in America and then portray that cauldron of experience in stone.
I know this won't be P.C. but Dr. M.L. King himself said that a man should be judged by his character. Seems Mr. Dwight feels that only a black man is capable of making this monument to Dr. King. Now that is the very racism Dr. M.L. King fought against.
SHAME ON HARRY JOHNSON, the Alphas, and the Martin Luther King, Jr. Memorial Foundation for a SELECTION PROCESS that raises suspicions and questions. We really shouldn't be sidetracked by issues of race or nationality for this historic sculpture or putative charges that a sculptor was chosen so that China might be encouraged to donate $25 million. All those involved had to do was have artists, regardless of color, gender, or nationality, compete for the honor of sculpting such an important tribute. It was unfortunately kind of backwards for non-artists to go looking for the color of the granite they wanted rather than finalists for the job. The Foundation, Design Team, and others... did the right thing for the Memorial design in 2000 AND after charging an entry fee of $75 which some 900 artists paid, made $67,500. But more importantly, the selection of the white San Francisco ROMA Group was never questioned BECAUSE the blind selection process provided a semblance of fairness. So what has been going on since 2000 regarding the STONE OF HOPE? Was it not included in the original design for the memorial? Here's the message to the MLK Memorial Foundation in 2007 - do the right thing - have a competition and let the public see the five finalists' marquettes or models in granite and clay! (www.thegibsonreport.com)
Quick... who is the artist who did the rendering of Dr. King crossing his arms above for the STONE OF HOPE above? Was it done by the new Sculptor of Record (Lei Yixin), Ed Dwight, or someone else? Who is Geoffrey Bennett (the name under the following)? Profile of Sculpted Stone of Hope
All Photos Courtesy of The Washington D.C. Martin Luther King, Jr. National Memorial Project Foundation
Geoffrey Bennett
Hi Gloria,
This is Geoffrey Bennett, the Web producer for 'News & Notes.' My name appears above because I wrote the post. This is the correct photo credit: All Photos Courtesy of The Washington D.C. Martin Luther King, Jr. National Memorial Project Foundation
No way AKA. You can't backdoor your way out of the political mess you created by the overt exclusion of Ed Dwight. Man Up on this "boodoggle." your pedigree just dropped a few notches. Don't bring your black tie fund raising machine to Houston until you come clean with your "backdoor" hustling.
Great spot for a memorial for a great man.
I just hope they don't have to dig up the cherry blossom trees!!!
regardless of who does the sculpture; neither will be invited to dinner at the white house on a regular basis. both people are minorities. i don't like the statue. looks cheap
What is this admiration society for China, while they continue to dehumanize their own people; send us toxic product; foul the planet's air & H2O. They are not friends. How can the Chinese artist interpret an American blackman of Peace? Put an American to work. There is plenty of stupidity right now. Do not make another mistake.
It amazes me that a African America Hero's sculptured is being done by a non African America, it's being done in China, come on. I know that White America would not allow a non white to do any of it's great hero's in the national mall, but again it comes back to who benefits from the work????? I will not be visiting and if I would of has any idea that the few dollars I contributed were going to enrich a non black I would of never given.
Where is the portrait of a loving Dr. King, who champions those who have endured so many hardships? Dr. King was more humble than stoic, and more righteous than self righteous. The mountain of despair is flat in character as well, and does not inspire contemplation, insight or dialogue. As far as the comment by Gregory Glass, Kudos! for the cheap shot on an artist who was used as a "token Black" by the committee. And yes, I feel that someone more closely associated with the issues surrounding a commissioned Art piece will have a more informed and sensitive view, which will imbue the work with feeling that will resound over time. Art is not just technical mastery... And just so you know, I am a college educated sculptor, part Chinese, with an African American father. Leave it to our failing government to once again go the easy money route rather than do things right. I bet that 25 million Americans would have donated 1 dollar each to raise the additional money for the project rather than farming it out to the highest bidder. Excuse me while I PUKE!!!!
To: Napoleon Jones Henderson
I would like to discuss your comments further if you would be so kind as to contact me.
Now if you look carefully at Dr. King above holding a pen in his LEFT HAND... can you see what is wrong with the picture? For the answer go to www.thegibsonreport.today.com...
HINT... someone wanted Dr. King to point to the promissory note on the side of the sculpture. The result is an historically inaccurate picture.
I sculpted one like this not long ago.
Its a powerful pose, but not all that original. Rodin did it before me in his sculpture of Balzac.
I dont like the sculpture of Rev. Dr. King. The pose should be more like a living image pose you remember seeing King when speaking or marching. When did you ever see Dr. King just stand still and look to see who's doing what. (which is what I see in this sculpture) He went to get it done himself.
I have been a Artist for 20 yrs. and this reminds me of the socialist type statues that are common to China and Russia. The pen in his hand..what does this symbolize...the pen is mightier than the sword?? Martin was a great speaker and visionary, a great kind man who saw the future the way it should be.