Got a Dollar Bill, Y'all?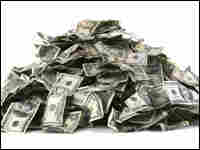 The House approved a $146 billion economic stimulus package today, which calls for one-time tax rebates for many Americans.
More from the Washington Post: "Under the House [economic stimulus] plan, most workers would receive $600 from the government, $1,200 for couples, plus $300 per child. Eligibility for the full check would be capped at $75,000 in adjusted gross income for individuals, $150,000 for couples. Workers with at least $3,000 in earned income last year but too little earnings to pay income taxes would receive $300, along with $300 per child."
So ... if you got a rebate from Uncle Sam, what would you do with it? Would you spend it? If so, how?
If I were to get $600 tomorrow, no, I would not spend it. It would go into a high interest savings account (such as ING). In all honesty, that just may happen in May or April as well.
I could flirt with donations to
the sen. Obama and sen. Clinton multi
million dollar political war chest,
but I guess these backed up bills
will have to suffer with this
$600.
What I do with any windfall: Save for the most part and treat myself to a pair of shoes.
Help support Candidate Ron Paul and pay some irresponsibly accrued debt of my own. Thanks for posting my comment. Your organization is great. Mabey Ill use my rebate to support NPR also.
once upon a windfall...NOT!!! ...ok...i am suppose to report by 15 April 2008 by 2007 earnings, right? if i paid too much i get a refund around 60-90 days after filing, right? So, technically, tis rebate thingie would mean maybe two refunds...stop! is the IRS capable of issuing two refund checks within 60 days of one another to the same party and not be confused and cancel one [da bad dream]? How come this rebate was not just a line item adjustment to the bottom line of everybody who is eligible current tax filing for 2007? Is this "stimulant" rebate to be considered as taxable income for 2008 on state filings beyond normal sale taxes if spent [i.e. the whole amount]? Better read the finer print before investing it...Wonder what would happen if I purchased a new Dell laptop, and then donated my old one once stripped and scrubbed. If I got a letter back from the recipient, I could take the whole rebate as charitable gift contribution against 2008's filings huh? and net a technology upgrade in the process to boot. humm thinking...better check the IRS section on gifts..otherwise WFP for Darfur, Kenya and Congolese food relief for my ID brethren... thinking..if this is to be economy enhancement, why is to be delivered at the start of summer when the kids are outta of school? Savings are investment, spending on meaningless entertainment is waste..and if the intent is to spend it on meaningless services, is it a band-aid on the busted vein crisis situation that will not be cured? How is spending on services or 'Made in China" goods helping the economy really? Since the amount is too small to qualify as durable goods purchases and these are the only type statistically monitored for comsumer spending purposes... what is the truth behind the rebate and why?
wow hay how do i know if i'm going to get on of thoses checks i pay my tax can you help