Michelle Obama Gets an Image Makeover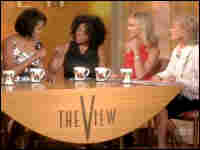 Potential First Lady Michelle Obama appeared on The View today.
The New York Times — in an article about her "image makeover" — says her guest hosting stint was done "with an eye toward softening her reputation."
But a new ABC News poll shows Mrs. Obama leading "the less well-known Cindy McCain" in favorability ratings:
Forty-eight percent of Americans in a new ABC News/Washington Post poll see Obama favorably, vs. 39 percent for McCain, a 9-point Obama advantage. Slightly more, though, also view Obama unfavorably — 29 percent vs. McCain's 25 percent.
To what do you attribute these numbers?
Take our poll:
Flashback: Michelle Obama on American Pride
Michelle Obama is an exciting, beautiful,and brilliant mother, wife, sister, and daughter. She has class and style and is one of the best models for our future that we've had in a very long time.
Michelle needs a makeover but, not because she comes off as aggressive. She needs a makeover just to look a little more like a woman that is concerned about her appearance. She has been at some public engagements looking a mess. Hair everywhere, dress not looking right etc.
Is Christian for real? Michelle Obama looks beautiful all the time. I'm so proud of her. Her clothes are simple and elegant and her healthy hair looks great. The purple/mauve dress she wore when her husband locked up the nomination was absolutely georgous. I was noticing her arms today on the View. I want to know what kind of exercise regimen does she have to look the way she does. All eyes were on her -it was as if the other women didn't exist. Anyone who says she doesn't look good is just jealous.
Marilyn, I second your emotion! About the hair - I guess some folks are just used to seeing the hairspray-laden (80s to 90s anchor women) look. A healthy head of hair that bounces or moves while windy should be OUTRAGEOUS.
I don't know that much about Mrs. Obama's personal/political beliefs to be honest with you. It doesn't matter to me.
I have to agree with Christian though, sometimes when she's in public it looks like Barack dressed her. I believe she's as recently hired the services of Jennifer Hudson's stylist. Let's keep our fingers crossed.
This african woman dont knew no make up or over... what would be nice would be a 1970s natural hair afro or just let it be like macy gray [spelling?].
Some folks spend too much time and waste too much money on trying to anesthesizing their lack of self-esteem with cultivating pre-fabricated images that are core based on other folks that dont even look like them nor are respected by them. What is the point? Who do you need to appeal to besides yourself and after that does it matter?
to Christian W - you try criss-crossing the expansion of this nation in a jet plane with dry pressurized air for more than one trip a day and see if you look like you did when you walk out of your door in the morning. Get real!! your commentary is rather patronizing and sound like you are performing a comparsion against a runway 2 minute on and off model. This is a mother with two little girls she is suppose to look the way she does especially if she has no nanny!
I hope Ms. O gets an afro and gives the black power fist salute come judgment day!
Because this is one african man who is tired of looking at these for want of better words "black-white colgate invisible sheen" women with fake hair in this way or that and coloured blond, red, whatever and thinking that I should like it because a magazine told them they should like it or their girlfriends playing "image keep up". Happy is nappy and kinky shows me you might be real thinky and not weak minded to follow a image trend. And on that page, we might have a opening chapter to begin.
We need to constant in our fight against the systemic attempt at decimation of African-isms and African imagery in trying to "bleach" it into what is deemed acceptable Eurocentric norms. Instead of striving to make some folks comfortable, I feel we need to make them feel most uncomfortable and by default graviate towards the more acceptable truth instead of the appeasing lie.
Is Moji for real? I am a Black man. If you think my only point of reference for Black women's hair is the '80s anchor woman look, then I suggest you study up on Black men.
I'm not sure where the preception of her being agressive came from. I have never felt that about her. I think the media is trying to bring such a false perception about her being agressive and angry to the forefront. What does she need to be angry about?
Hollywood and the media have always tried to dehumanize and sterotype Black women as angry b--chs who are mad at the world. The media should lay off her and talk about the many qualities and great attributes she will bring to the role as first lady.
NTL
Is Christian for real? The fact you're a black man should make you appreciate what various weather conditions can do to a sister's hair.
Also, I wonder why you pinpoint me as if I was the only person who made a comment about Michelle Obama's hair - my name got you huh? But I digress :-)
And for a black woman like Michelle Obama with an itinery filled with travel schedules in different climates not to talk of being a Wife and a Mom, I admire her still keeping a stylish and healthy hair - and by your post, I see beauty is really in the eye of the beholder.
Also, too late on the study on black men . . . I grew up with a bunch of them.
P.S. I can't believe I'm making a point on a person's hair when I'm a huge proponent of someone not being his/her hair. And to reduce a potential first lady to her choice of clothes (which I agree with Vogue are very chic) and her hair rather than her brains and grace is RIDICULOUS!
She's fine the way she is now. What do you want? A First Lady or a supermodel? She's smart, beautiful, intelligent, mother, and she supports the heck outta Barack. That's good enough for me.
Shake those hatahs off, Michelle.
Is anything for real?
I'm sorry, but I didn't want to be left out of the new catchphrase ;-).
So long as everyone focuses like a laser beam on the candidate's families (as if somehow we are electing them and NOT the candidate), they will always be in need of makeovers, be they based on appearance or attitude.
Again, why does nearly everyone else care so much about the candidates' families? There's nothing in the Constitution regarding First Ladies, First Daughters, First Goldfish, or First Mercats. These people or animals may be nice and all, but they have nothing to do with the governance of this republic. So stop talking about them as though they're running.
BTW, does anyone else realize that, given the number of elected offices and the number of office seekers, just about everyone one of us is within 3 generations of being related to a political candidate? That's not an empirical study, just a mathematical calculation. It should give you pause to think regarding judging political families.
Oh, in the interests of full disclosure, my second cousin by marriage is the former president of Ireland. No doubt my wife is related to some Kenyan politician; which one I don't know. I guess that means I need a makeover, too.
Michelle is incredible, She can dress it up or dress it down. Most of all she is physically fit. she has no blges and has the black woman's butt. what else does she need? Nothing. For the convention he hair and dress were flawless, What I liked about her dress is she didn't wear red or blue she wore green and that was different. Then on the big speech night her feet were tried so she wore flats, what else do you need silly women. She is down to earth and superbly classy, just because your'e dressed up everyday doesn't mean your'e all that. The person makes the clothes, not the clothes make the person. I hear people love the target dress, it was cute.
Michelle is a great inspiration to so many women including me. I admire her down to earth disposition. And yes, working, mothering, wifing, and the whole nine is a very tough task and she has held up tremendously. If I had the responsibilities that she has, I would not look half as good as she does. Being a wife, mother of a 5 year old and working full time takes up all of my energy and I have very little time to always look good. You go Michelle!