What Lies Beneath The New York Times? A Lively Morgue And Its Lonely Keeper
If you want to venture into New York City's subterranean nether circles, let Jeff Roth be your Virgil. To a basement two levels below the bustling streets near Times Square, for example. Just past some leaky pipes, a hole in the ground and through some heavy metal doors, he led me to an unexpected morgue.
This was my destination a few months back, and the experience was nothing short of a time warp. For one, when I met Roth, the morgue's sole custodian, I felt remarkably underdressed. His neatly combed hair, wingtips, navy suit and pocket square were of another era — especially in contrast to the dazzling LED-light lobby of The New York Times, where we met.
If it isn't already obvious — this morgue, as Times employees call it, is the newspaper's archive.
By the numbers: It's 4,000 cabinet drawers of newspaper clips, according to Roth, and 5 to 6 million photographic prints and contact sheets, cross-referenced by card catalogs made on typewriters and amended by hand. The scope is downright unfathomable, the system impossibly antiquated.
Down here, there are no windows; there's no natural light. It's forever fluorescent, and time seems to stop as you crank open the rickety filing cabinets and sift through photo after never-ending photo of who knows what.
Darcy Eveleigh, a photo editor at The New York Times, recalls having missed meals and lost countless hours to the morgue's magnetic pull. She and a few others have somewhat recently begun sounding its depths for an online project called "The Lively Morgue" — both a unique Tumblr site and a blog series — in which they resurrect random found photos.
A Selection Of Photos From 'The Lively Morgue'
Hide caption

Aug. 2, 1976: Doreen Haviland (front) rides a roller coaster at Coney Island at the 40th annual Police Anchor Club outing for the widows and children of deceased police officers.

Barton Silverman/Courtesy of 'The New York Times'

Hide caption

Nov. 17, 1976: "Paul Chin paints billboards," reads the article accompanying this photograph. "Every weekday morning, provided it is not raining, snowing or dangerously windy, the 5-feet 6-inch Mr. Chin, a native of Hong Kong, climbs to the roofs of buildings and into his narrow studio — a scaffold." Chin, art director for Artkraft Strauss, created this King Kong billboard towering over Midtown.

D. Gorton/Courtesy of 'The New York Times'

Hide caption

April 1, 1976: Alfred Hitchcock in his suite at the St. Regis Hotel in New York. A note on the back of the photograph clarified who was directing the photo shoot: "The picture showing Mr. Hitchcock creeping his way through the plant in his room was his idea."

Jack Manning/Courtesy of 'The New York Times'

Hide caption

April 28, 1948: This photo ran as part of a two-page photo essay about the "Washington scene." The hats, piled on an 8-foot mahogany table in the lobby of the East Wing of the White House, were deemed "a barometer of presidential activity," the caption read. "This collection was deposited by a delegation of magazine editors who obtained an appointment with the president."

George Tames/Courtesy of 'The New York Times'

Hide caption

Oct. 7, 1956: Yogi Berra's hands were the focus of an article titled "Hands of Catchers Take Battering," published five days after the photo was taken. "These catchers' hands will win no beauty prize," the reporter wrote, "but as functional implements they rate special awards."

Courtesy of 'The New York Times'

Hide caption

Dec. 17, 1970: "Roundup time on a ranch in New Mexico," began the caption on a business article about farming and the recession. The article concluded with a word of caution: "The watchword for the great feed grain-livestock industry in 1971 is uncertainty. High risk is normal, but it will be 'superhigh' risk this year."

Gary Settle/Courtesy of 'The New York Times'

Hide caption

July 21, 1993. "Where Sharks Face Off With Gentler Souls" was the headline on an article published about the New York Aquarium in Coney Island. "If you were to mix one drop of blood with a hundred million drops of salt water," the reporter noted, "a shark could detect that drop of blood as far as a quarter mile away."

Andrea Mohin/Courtesy of 'The New York Times'

Hide caption

July 30, 1931: A field of crops ravaged by grasshoppers in the Great Plains. According to an Associated Press article published a few days earlier, one South Dakota farmer, "hearing that turkeys would eat the grasshoppers, sent his flock into the fields." In something of a David-and-Goliath tale, the turkeys came back without feathers.

Courtesy of 'The New York Times'

Hide caption

March 1940: Before spring arrived in New York, the Times ran a photo spread of circus performers putting the final polish on their acts in their winter quarters in Sarasota, Fla.

Courtesy of 'The New York Times'

Hide caption

1928: This image was used in the Mid-Week Pictorial on Aug. 18 to illustrate a treatment in Paris for children "suffering from rickets or other maladies common to city children unable to have the healing rays of the sun."

Courtesy of 'The New York Times'

Hide caption

Nov. 26, 1974: Fulton Street off Church Street in Manhattan on a 30-degree day with wind speeds reaching 43 mph. The photo ran with the headline, "Gusty Decision: Hold On Or Let Fly."

Eddie Hausner/Courtesy of 'The New York Times'

Hide caption

July 29, 1971: A Penn Central train on weed-choked tracks along the little-used Upper Harlem Valley line. The railroad's plans to eliminate service north of Dover Plains in Dutchess County, New York, were met with opposition. But the end of the line came anyway, in March 1972.

Donal F. Holway/Courtesy of 'The New York Times'

Hide caption

Nov. 23, 1968: The Times wrote about White House photographer Yoichi Robert Okamoto (right), who produced most of the photos of President Lyndon B. Johnson at the time. The reporter wrote, "Some persons are appalled by the size and expense of Mr. Johnson's picture operation. Others believe the price is little enough to pay for pictures that will be priceless to historians."

George Tames/Courtesy of 'The New York Times'
Though most of us associate a morgue with death, Roth describes this one as a "living, breathing" thing and celebrates the serendipity it fosters.
Case in point: I asked him to pull a random selection, and there we were, thumbing through disheveled prints of William Faulkner, taken by none other than the celebrated Henri Cartier-Bresson. Info on the photo's verso is almost more interesting: The cost of 10 prints in 1951 is tantamount to a photographer's entire day rate today.
That price tag is a vestige of what was once a thriving business. Roth himself is something of a vestige, too: When he started working nearly 20 years ago, he had 12 full-time and eight part-time co-workers. These days, it's just him and the stacks.
Not to get overly sentimental about it. The fact is, with digitization, there's just no need to continue clipping and cataloging at the same rate.
"It's a swell gig, but I just can't get too emotional about this," he wrote in our ongoing correspondence. "Could be gone tomorrow."
And what about the archives themselves? The task of maintaining such a monumental swath of history is no easy (or cheap) feat. And what do you do when someone like Roth, a living, breathing archive himself, is no longer there to be your guide? He is quick to brush it off. It's "not rocket science," he says.
But the fact is: No one else in the world knows how to navigate these Dewey Decimal boondocks.
"I'm just the last guy working a job, maintaining a collection, answering requests, carrying folders, taping them together, fixing cabinets, shifting boxes, refiling, sweeping the floors, placing boric acid around the files for the water bugs and of course finding nuggets that no one else has found before."
So can they just digitize it all?
As the The Lively Morgue site reads: "If we posted 10 new archival pictures every weekday on Tumblr, just from our print collection, we wouldn't have the whole thing online until the year 3935."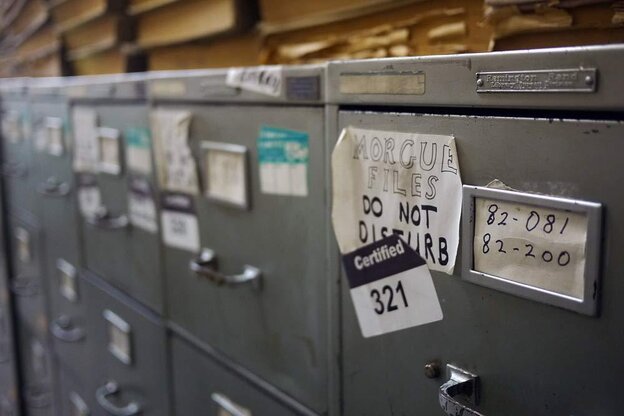 Fortunately, for now, they've found a way to breathe life into a few files that had been resting in peace. And you can follow the serendipity as it unfolds in real time — or whatever kind of time it is.