VP Nominee Sarah Palin Growing Up in Alaska
What do you think about Senator John McCain's choice? Most of us news producers were surfing the internet Friday afternoon looking for any and all information on Sarah Palin's background. I came across her biography, "Sarah: How A Hockey Mom Turned Alaska's Political Establishment Upside Down." The author, Kaylene Johnson is a writer and long-time Alaskan who lives on a farm outside Wasilla, Alaska. I gave her a call at 8:00 p.m. ET to set up a radio interview. We also got permission to post photos from the book as well as an excerpt: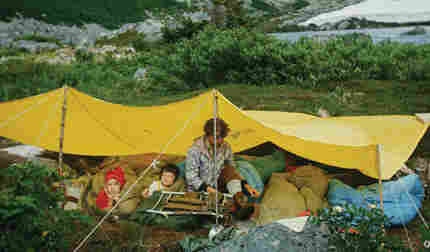 Here is an excerpt from Chapter One:
GROWING UP SARAH
Sarah was two months old. Chuck took a job teaching school in Skagway. Her older brother, Chuck Jr., was two years old, Heather had just turned one, and Molly was soon to come. Chuck Jr. vividly remembers the days in Skagway when he and his dad ran a trapline, put out crab pots, and hunted mountain goats and seals. The family spent time hiking up to alpine lakes and looking for artifacts left behind during the Klondike Gold Rush. "Dad never stopped lining up new adventures for us," Chuck Jr. said. The kids caught Dolly Varden off a nearby dock. Chuck Jr. loved to catch the Irish Lord, an ugly, creepy-looking fish, for the pleasure of holding it up to his little sisters' faces and making them scream. In 1969, the Heaths moved to southcentral Alaska, living for a short time with friends in Anchorage, then for two years in Eagle River before finally settling in Wasilla. The family lived frugally. To help make ends meet, Chuck Heath moonlighted as a hunting and fishing guide and as a bartender, and even worked on the Alaska Railroad for a time. Sally worked as a school secretary and ran their busy household.
In 1974, Wasilla incorporated with a population of barely four hundred people. The Heath house sat a few blocks from the center of town, north of the railroad tracks and south and east of woodlands of birch, willow, and spruce. The woods were a wilderness playground—the kind of place where kids play out the imaginative adventures of childhood. They had a white cat named Fifi and a German shepherd named Rufus, a canine sidekick to the kids who shows up in many family photos. The children often hiked the "Bunny Trail" to the home of a distant neighbor who had kids the same age.
In both summer and winter, most of the family's activities took place outdoors. Sarah said that she appreciates the many outdoor adventures she had as a child. Fitness was a big part of
family life. "My parents jumped on the bandwagon of the '70s running craze," she said. The whole family ran together, competing in five- and ten-kilometer races throughout the summer. When the family wasn't running or hiking, it was hunting or fishing. "We could literally go hunting out our back door," Chuck Jr. said. Sarah shot her first rabbit at age ten not far from the back porch. In her teens, she hunted caribou with her father. The family's freezer was always full of fish and game. Chuck Jr. said he didn't eat a beef steak until he was a senior in high school. Gardening helped fill the family larder.
In summer, Chuck Jr., Heather, Sarah, and Molly spent long sunny days building tree forts, riding bikes, and playing with friends. They took swimming lessons in Wasilla Lake—a pond with water so cold that they huddled around a campfire on the beach afterward to silence their chattering teeth. During the summer, their father put away the television. For entertainment, he put up a basketball hoop with a dirt court in the back yard. The Heath kids and their friends spent many hours playing ball. Once a year, the family accompanied Chuck Sr. on a weeklong class field trip to Denali National Park, where camping in view of majestic Mount McKinley left indelible memories with the Heath children. The family often packed up and drove fifteen miles to Hatcher Pass, a scenic expanse of alpine tundra tucked between jagged peaks in the Talkeetna Mountains.
An excerpt from: "Sarah: How A Hockey Mom Turned Alaska's Political Establishment Upside Down" by Kaylene Johnson
I like her.
I am not supporting any candidate so far this year, but Sarah impresses me. She seems to have intelligence, experience, and spunk.
Also, she is the only candidate of the major four to have actual executive experience in the government. She may be better qualified to run the Executive branch than either Presidential candidate. If she were a Democratic candidate, the press would be fawning all over her.
Give the lady a fair shot.
Sarah "Barracuda" Palin will make mince meat of Biden when they debate as VP candidates. She seems smart, tough, yet feminine! McCain needed some high octane is his campaign tank. This lady is it!
I agree with Mr. Fiedler about Governor Palin. I believe her nomination just broke this election wide open.
Her experience will be forefront in the media, but let's break it down:
- Governors historically have been more electable than senators because they have demonstrated experience as a chief executive, not just as a legislator.
- Palin entered politics in 1992; Barrack Obama entered politics in 1997.
- As Mr. Fiedler noted, she has more executive political experience than McCain, Obama, and Biden combined.
- Joe Biden went straight from his law degree into the Senate, representing Delaware, and has no other experience.
- Biden represents a state of about the same population as the one Palin runs.
- Alaska is second only to Texas in energy production in the United States.
- "Between Biden, Obama and McCain, Palin is the only one who can spell 'energy.' The rest of these guys are completely clueless," says David Pursell, an analyst with Houston-based Tudor Pickering Holt & Co., an energy investment and research firm.
- "She has shown an independent streak and has been anything but a patsy in dealing with the oil industry in Alaska," says Bruce Bullock, director of the Maguire Energy Institute at Southern Methodist University in Dallas.
- Amy Myers Jaffe, an energy fellow at Rice University's James A. Baker III Institute for Public Policy, said Palin represents a departure from past Alaskan politicians in how she has motivated the oil industry. "She's taken much more of a 'knocking-heads' approach," Jaffe said. "She has stood up to the big players when she didn't like the process."
At first blush, some thought Palin's pick was simply a counterpoint to Hillary Clinton. It is not.
This woman brings much more to the election than simply being female. Over the next 65 days I think that will be recognized.
I am a middle-aged, independent-voting male. And Sarah Palin just energized the election for me.
I'm so impressed. She's fantastic. I can't wait to discover more about her with the rest of America!
Does McCain take women supporting Hillary for idiots? Palin opposes the progams Hillary is for.
Apparently his advisors thinks Dan Quayle in a pants suit is all it takes to fool them. He may be surprised.
McCain has gone stone cold senile.
Sarah Palin looks like just the ticket to energize the pro-life, middle of the road Christians who thought they wouldn't be represented - here's to strict constructionists et al. Dave.
I've lived in Fairbanks, Alaska for 6 years. Sarah is dynamic, not afraid to stand up to "politics as usual", and has incredible strenth in character. I've never seen a politician that has impressed me and at the same time warmed my heart. I've the UTMOST faith in her and McCain. She will be a bulldog w/ class.
1) Creationist.
2) Anti-abortion in cases of incest.
3) Husband works for BP.
4) Under investigation.
5) Wants polar bears off endangered species list for the purpose of opening up potential Alaskan oil fields.
6) Does not know what a VP does.
7) Has no foreign policy credentials.
8) As for executive experience, Obama's campaign has more numbers than the state of Alaska. (Just kidding... maybe not).
9) Mocks Hillary -- complained about her 'whining'.
10) If something awful were to happen to McCain, would you want a 'hockey mom' who admits to not knowing much about what's going on in Iraq answering the phone at 3AM?
Sarah "Barracuda" Palin will make mince meat of Biden"
yeah and then they will start asking questions about foreign policy...How much do you think she can learn in 30 days? last interview on the subject Mrs. Palin stated she doesn't have much interest in "foreign policy" so she couldn't tell you either way about Iraq...
Sarah Palin is a breath of fresh air. The country will embrace her, and McCain will win. I can't stand Joe Biden. He's a stuffy old Washington insider who made some terrible comments about Obama during the primaries. Like we won't remember that???. I was disappointed with Obama's pick. Obviously, he is trying to use Biden's experience. Joe Biden always appears cynical and bitter. Let's put an optimistic go-getter like Sarah up in Washington. I like McCain anyway. So, it is a good match!
We don't know who she is, what she knows, or how she works, and neither, I think, does Mr. McCain. And we should be comfortable picturing her running the country, if need be? So much for McCain's vaunted good judgment. Personally, I am shocked.
I like what I read, what I hear, & what she (and how she) says it. She will bring more than just a bit of excitement to the McCain adventure. Kudos to her parents for rearing a daughter who has standards for life. USA4McCain/Palin!
About time! Finally a woman. Hurah for Mc Cain. Wise political move I think, but time will tell
Great move John....
Go Sarah, Go!
Boys and girls, Lets get ready to rumble
If Washington really wants to change, they need people like Sarah. Good pick, Senator McCain!
Us juneaunite are a bit miffed at how Sara moved the state capitol. She held her inaugation in Fairbanks. She does not live in the governors mansion in Juneau. She does not use the govonors offices in Juneau. She uses the offices in Anchorage and has expanded the footage of rental office space there. Shehad the legeslature meeting all over the state. While running for office she said she suported the capitol in Juneau. She said she suported reinstationg the Longevity Bonus for elderly seniors who stay in Alaska. She blew off that election promice too.
I agree....the Lady appears to be a remarkable individual....She will definitely make the Election Electric! I am definitely IMPRESSED with her.
She is under investigation. She is believes in creationism. She only has a BA. She is suing the federal government to get the Polar Bears off the endangered species list. Her husband works for an oil company and she received financial backing from VECO (the same company who gave Ted Stevenson's home renovations.)
I don't think there is anything feminine about her. She shoots assault rifles, doesn't support woman's rights, and 3 days after having a child she returned to work.
I think this pick was clearly calculated-- McCain met her once before picking her.
Why pass Romney or Crist up? Romney has the executive experience, the financial experience, and was very popular.
Brilliant! What a gift to the Republican ticket...& to the nation.
I was supporting McCain, but this pick scares me. Mayor of a town of 6500 people then governor for 20 months. Met her 1 time before selecting her... Something is not right about this. Now I can't believe I feel Obama/Biden is the safe choice.
I find it shocking and irresponsible that someone who could unexpectedly become our president in a crisis was chosen without McCain having met her more than once, and phoned her once more.
Why is John McCain playing dice with the future of our country? I thought his brand was putting the country first.
Notes from Alaska about the new VP choice.
John McCain's choice for Vice President spent her first few minutes in front of the nation misleading the public.
She proudly proclaimed that she told the Congress "no thanks" regarding the funding for the famous bridge connecting Ketchikan, AK to its airport. The facts are (1) that she supported the project when she was campaigning two years ago, and fact (2) she accepted all the funds and has since parceled it out to transportation projects around the State.
That is not the only problem with Gov. Palin. Her Administration has been plagued by her lack of experience in choosing and retaining her top personnel, including her Dept. heads. She is currently under investigation by the Legislature on her firing of the Public Safety Commissioner. She left the largest Dept. without a Commissioner for several months.
The fact is, she hasn't cut the Budget in Alaska -- spending has gone way up. She only vetoed capital projects that she didn't like.
A respected State Republican -- Sen. Lyda Green has been quoted as saying "she's not prepared to be Governor, how can she be prepared to be Vice President or President."
I was shocked at this choice. There are many women with solid domestic and international credentials within the Republican Party. Sarah Palin is not one of them.
A. Stanton
This is from my mother a two term first woman Mayor of Ketchikan, Alaska Pop 15,000.
L. Stanton
With the likes of Sarah Palin teaming up with McCain, should they win in November, any hope of women finally being able to achieve equality and secure our rights is lost. She is the antithesis of everything the women's movement is about.
Key lesson from Bush 43,choice of personnel with expertise is paramount. Remember "Good job Brownie"? Harriet Miers choice for Supreme Court?
VP is not the 10-week game show with the name, "Americas Toughest Jobs" . We all have a lot at stake.
Ha, ha, ha, ha, ha, ha, ha, ha.......
All the Republican perception management (and NPR comment loading) in the world can't turn the "barracuda" into a legitimate candidate. "Maverick"?? you mean like going it alone to trash the planet and suck-up to big oil? Americans know John McSame has voted with the Bush regime at least 90% of the time. That's not a "maverick". Palin is just as wedded to the Bush cabal, in fact she's WORSE than them!
Will someone at NPR please check to see if this candidate owns a passport and if she has travelled to any countries outside North America?
I know she's been to Idaho & Alaska, but .....
Just another example of how the republicans are trying to the throw the election and get out while the gettin's good. It's clear McCain has no chance, but just in case, Rove brings in Palin. They probably did not seriously consider Romney, because they might have won with him. Since 2006, with the change in Congress, with all the retirements on the right... the republicans have clearly been trying to jump ship. They have all they could have dreamed of, like the Supreme Court, the Patriot Act, tax breaks, wiretapping, the oil money and Halliburton/KBR money...and they have two wars they cannot end. It's time to get out and let the Democrats fail at trying to fix this fine mess. The republicans can then come back in four years and claim the Dems have failed. Then it'll be easy for the republicans to get back the White House and Congress and take us all further to the right for another eight years.
Perhaps we should all stop marketing to ourselves! By now we should all be aware that Presidential candidates do not pick their running mates! In most cases anymore they don't even run the country! George W. on his own is a great guy with solid principles. Yet we only get to see that side of him when he's not being handled by autocrats like Chaney and Rove.
Palin is the type of woman that many, many Gen X, and Millenial women are starting to regret having admired. While its impressive to read her rise to VP candidate in such a brief political history...I'm sorry but city council doesn't count as "Political Experience"... What does it say about her morals and her "commitment" when she has 5 children, heads back to work after 3 days of having an autistic child, and her solution to their future resource problems is to push for further exploitation of the very land her father taught her to respect. Being a a short skirt, with a long jacket, name taking executive woman tends to leave you lonely and pittied.
Biden is also obviously that "party whip" choice. The big hurdle there is going to be his instinctual cynicism or apperant disdane for that which he disagrees with...How do you sell that along side Hope?
Let's face it, this election more than any other represents not just the need for a strong independant and morally solid President, but a need to have VP's that really could lead the nation. No one wants to say it, and we sure as hell don't wish for it, but either candidate stands the greatest likely hood of not completing his term since FDR.
We have an Executive branch that has spent 8 years grabbing and centralizing authority. The next President could make or break our Democracy.
Surprising but refreshing choice! I think McCain and Palin can run on the "Change" mantra more honestly than the Obama ticket could ever hope to; Obama has no executive experience in "changing" things, and Biden represents the antithesis of change; the same old-same old inside the beltway Washington establishment. This will be very interesting to say the least. With McCain and Palin "Yes We Can" make the changes this country is looking for.
Sound like John McCain is desperate and running scared.
Palin has been governor for less then two years in a state that ranks 49 in population. How does that make her have
experience? She has a degree in journalism. Has she even traveled to any other states?????
After John McCain she was definitely my number one choice for running the country. I'll be praying McCain doesn't make it to 82 so Sarah gets the top job.
Not only do I like her, I am completely confident she is the most qualified and suitable person for the job.
What a fantastic choice! Who better than someone with the executive experience of being a part-time mayor for 6'000 people?
I expect Sarah to show the dedication and planning demonstrated during her time as Governor of Alaska by getting pregnant just over a year into her term as Vice President.
It's too good to be true. America must truly be the envy of the rest of the world with such sensible, and wise leadership choices.
The Germans rang. They've got Brandenburg Gates and want Sarah to speak there. Seriously, those Germans absolutely love her, just like the rest of the world. They're expecting 100'000+. It's amazing how her vision for American over the past 2 days has not only captured America but the rest of the world.
Sarah Palin is a gift to us Democrats! Apparently the Republicans think any woman will do! Hillary, Sarah, whatever--
Anyone who can take creationism into the classroom should be disqualified from any public office.
Can we just have Sarah? I hope this lady sticks around til after the Obama whitehouse years.
With this brilliant pick McCain just won the election.
Bye-bye Obamanation.
Since McCain and nobody else knows much about her, it's another example of how the Republican political machine is trying to simplify the election by saying, "look, we have a woman so everyone that was going to vote for Hillary should vote for us." Meanwhile, once again, no substance from the Rupublicans, just another ploy to dupe the American public.
I wonder about "conservative values." If I had chosen to have a child with very special needs, I'd also have chosen the responsibility to raise him myself,not stand in line to be president at a moment's notice.
As an Alaskan of 26 years, I'm shocked at the choice of Palin for V.P.. Palin was barely qualified (if at all) for Governor, and certainly puts the U.S. at risk should McCain's health fail while in ofice. Also, Palin shares Geo W. Bush's dogmatic approach to governing -- not a team player and refuses to listen to advice/reason.
Has this woman even been to D.C.? First, it is insulting that the republicans even consider her the same species as Hillary Clinton-- as though- "Well, they want a woman-- here's one! and she's kinda purty!" So tell me, was Elizabeth Dole just too darn smart for them? Picture McCain meeting his demise a month into it-- not a stretch for a 72 year old man under extreme stress- and this woman as president?? Oh, are we doomed if enough fools fall for this.
My very first thought was, "How crass John. How low class." He picked someone he'd met once and spoken to twice (is that vetting?). He picked someone who has zero experience outside her own small state. The sum total of her political experience is as the mayor of a town of 8000, and 20 months as the governor of a state with a population less than many small American cities. Am I cynical enough to think that the fact that she's a physically attractive woman and a life member of the NRA were her major qualifications? Yes, sadly, I am that cynical about McCain and the Republicans. McCain is clearly scared (as he should be) that despite what the polls currently say, the November election is likely to be a walk-away for Obama & Biden.
As for making "mince meat" of Joe Biden in a debate - I'll take your bet on that. Just because she was a 'barracuda' on the basketball court (the genesis of that name) doesn't mean she's going to eat Joe Biden alive in a debate on issues with which she has zero or less experience.
This woman's politics are somewhere to the right of Barry Goldwater, which is clearly *not* what America (or the Republicans for that matter) want right now. I think McCain has just put the final nail in his political coffin. And given the changes I've seen in McCain in the past few years, good riddance.
John McCain shows how out of touch he really is with the problems we face in America, by choosing someone even more out of touch.
McCain continues to prove to me how transparent he is. Sure, there are things that I can appreciate about Palin (definitely not her environmental record), but she is no Hillary Clinton. I find it very shallow for McCain to think that women will vote for her just because she is a woman. I would much prefer to elect a president who choses his/her VP based on what is best for the country, not just to try to get votes. What ever happened to voting on the issues?? Also, how will the McCain campaign criticize Obama about his experience with this pick.
I was a supporter of Hillary because I felt a woman's voice was needed, even though I did not agree with each of her positions. I am enthusiastically listening, to leawrn about Sarah Palin; so far, I like what I hear. I believe in principle, not party. I simply do not have the faith in Obama that one must ahve to support a person for President. I think Mccain has the character and integrity that I seek - although I do not agree with each of his positions, either. I think that Mccain's choice of Gov. Palin has re-opened the discussion in a positive way. It seems thatthere has been a presumption that all African -Americans will support Obama, yet to think that women will support Palin because of her gender is anathema to the DNC. Is that not a bit hypocritical? I think Sarah Palin is a most interesting candidate, and a most interesting woman - independent, strong, and principled. I'm listening...
We Alaskans win no matter what happens. If Sarah wins we have an Alaskan VP watching out for us, if she loses we get our keep our great governor.
Gov Palin has been in office for two years, and she still hasn't clearly articulated or implemented her vision for the State of Alaska. I believe that the production taxes would have been revised by the state legislature no matter who won the governorship. She's been a champion of AGIA; which is a whole lot better than the gas line deal championed by the former governor, but still a questionable proposition. I remain skeptical.
John McCain throws a hail Mary pass which will land incomplete. Ridiculous...Mayor of a town of 4,000 and 2 years as Governor ? This selection shows a serious lack of judgment. I think Hillary fans will find the McCain campaigns appeals for their support laughable.
I was shocked to see McCain's selection of Sarah; however, after reading about her and listenting to her Governor's acceptance speech on NPR this morning, I think that Sarah is fantastic!
I believe we have to be careful of the rhetoric.
1. If you listen to the interview you will know that Gov. Palin did not say Sen. Clinton was whining. She said Sen. Clint had to be careful that she accused of whining.
2. Washington, Andrew Jackson, Abe Lincoln and others didn't even have a degree. The fact that she doesn't have a masters is a non issue.
3. She has the attributes of a leader and is getting the job done in Alaska w/80%+ approval rating. Every day she makes decisions that affect peoples lives and she's making good decisions. The facts in this instance speak for themselves.
4. She has excited the Republicans and conservative Democrats.
5. She is a true federalist as is McCain.
6. The Catholics in PA will love her.
I think that McCain looked at what she is accomplishing and sees what he wants to be. He's pragmatic to be sure but she is the real deal.
People are talking.
People are excited.
This is what I call politics!
She reminds me of that rugged, tough, take no bull Teddy Roosevelt but better looking.
Palin is a very scary choice. Inexperiened, intolerant & ignorant with a lot of energy. Will truly represent the republican party. McCain is old as the hills. She is now next in line. Is this all this party can offer? I thought Bush was bad. Obviously the need to pander to the evangelicals won out over our country's needs.
She does not believe in global warming but does believe in creationism. Science is not her strong point. Against a woman's right to choose even when rape or incest is involved. God help us all if this woman ever becomes president.
I am a 63 year old woman who works in healthcare in middle management. I resented the fact that people automatically thought I would support Hillary Clinton because she was a woman and I'm offended that McCain thinks women will vote for him because he has made this very poor choice for a running mate. What happened to McCain's "experience argument" to convince people he was the only choice in this election? This choice shows very little introspection and thoughtful consideration for the long term consequences of this decision, only an immediate effect to save his candidacy.
Just considering the MaCain ticket's probable Supreme Court appointments if elected, should leave any supporter of Hillary Clinton's with the best choice....a vote for Barak Obama for President! I will pray daily for this election to show the world our country could not elect another George Bush for a third term.
Good God, what is this country coming to? With all the qualified women available for the VP choice, especially moderate women who would actually provide the obvious balance he was hoping to attain for Hillary supporters, and he chooses the inexperienced, environmental exploitative, bible thumping "pretty face"??? Come on, Rove, give us a break. FOR ONCE, AMERICA, prove to the world that we are not as stupid as they think we are (after rehiring W )!! And, uh, McSame, how bout respecting fellow POW's by hoping for an ending to this war in the name of humanism??? Oh, and um, Cindy, how bout sharing some of your fortune, with your daddy's first family (who NPR reports got a whopping $10,000 upon his death). Hopefully, some of your charitable contributions include alcohol rehabilitation programs!!!! Please, America, don't blow it again! We are not mere pawns!!
Remember the separation of church and state? Palin just brought them closer together...aagh! God will be at her side - when will we get over these invisible friends to lean on?
This pick is one of the worst that could have been made. I was hoping that most other people would be able to see through McCain's attention-grabbing, but obviously not.
Here are only a FEW of the reasons she is a completely irresponsible pick for the number 2 spot in our great nation:
She carries only a Bachelor's Degree... in Journalism.
She has been in her 'executive position' of governor for only 20 months... for Alaska.
Before that she was mayor of a town of 9000... in Alaska.
Alaska, while a valued part of the United States, faces hardly any of the normal problems of the lower 48, thus leaving her unprepared to handle the problems of the country as a whole, regardless of how long she's served.
Think about this: Alaska is the largest state in land area, and Delaware (Biden represents it in the Senate) is the second smallest, and yet they have the same number of electoral votes!
She believes abortion is NEVER OK, not even in cases of rape, incest, or when the mother's life is in danger.
She wants to drill in ANWR, and opposes adding Alaskan polar bears to the endangered species list, because it will encroach on oil and gas industry development in what will be a protected habitat for the bears. (I personally believe the governor of a state with as much natural beauty as Alaska should be working to preserve that beauty, not to destroy it)
She does not believe in the theory of Global Warming. She will not accept that human actions have caused the climate change that is producing disastrous effects throughout the world.
God forbid this woman sees the inside of the White House as a workplace.
I am from Idaho and am a Republican. I like John McCain but not his decision concerning a Vice Presidential running mate. Sarah's resume is weak. Although she has potential, being elevated to V.P. is premature. I will support the Harvard graduate and the Foreign Policy Specialist. This election is not some joke.
I don't want a "soccer mom" for Vice President. I don't identify with people who think that is interesting. I am tired of being hit on the head with right wing Christianity. I don't really feel that I am a Christian anymore. I believe, or want to believe in reincarnation. I don't admire people who think there is something admirable about choosing to bring a severely mentally handicapped child into the world when they had the option not to. Maybe if they didn't, that soul would go back into the pool and come back in a healthy body where it could have some potential. I'm sorry if that sounds heartless. I am not, but I still feel that way. I don't beleive there was any inspiration in the choice of Sarah Palin. Just a cynical ploy to push right wing buttons.
The PEOPLE CHOSE Barrack Obama time and time again to WIN the nomination. He wasn't picked out of a straw hat by the DNC as it appears Palin has been by the Republican "brain trust." Just because Hillary wasn't selected, don't have sour grapes. Maybe there is a positiion for her (Hillary) in Obama's cabinet where she would make a great Secretary of State. I'm all for a woman's move into higher political office. Let's not forget that African Americans received the right to vote before women. That doesn't make it right but it certainly made it a step in the right direction for all Americans regardless of race, color, creed, & sex. If Obama wins it will say a lot for the direction of this country that they are finally over the race issues that have plagued it for centuries. If Palin becomes VP, she'll be...well, in about the same spotlight as Dick Cheney has been for this president. No accountability and invisible. Is that where you want women to stay is behind the curtain?
I'm very disappointed in NPR for touting this housefrau turned politician.
What an obvious last ditch effort on the part of the Republicans. It's really insulting of them to think they're going to get the women's vote by picking some woman nobody's ever heard of whose only claim to fame is that she paves the way for oil interests in Alaska.
I've nothing against having a woman in the Whitehouse--there are many hardworking, intellingent women on Capitol Hill that have the kind of credentials a VP should have and deserve a shot at the office. How about picking somebody who has actually been to the lower forty-eight states, not to mention has some idea of what's going on in the rest of the world?
I've got my passport ready to go. If McCain and Palin get in, I'm out of here.
For me personally it is an insult to Hillary Clinton to say that her supporter's will now have someone to vote for. Palin is a token nomination and has not added to the cracks in the glass ceiling but has just caulked a few of those cracks and set the women's movement back. Hopefully we will not fall for it.
It's astonishing to me that 72 year old Senator McCain--who frequently criticizes Obama for putting political aspirations before the good of the country--would put Sarah Palin, a woman he'd met only once and spoken to on the phone only once, within a heartbeat of the presidency. This is a political move with Karl Rove written all over it and to justify it by saying she represents "change" and has "executive experience" is just another example of Republican spin. She's supported by big oil, has no regard for the environment (suing the federal government to take the polar bear off the endangered species list because it hindered oil exploration) and is currently under investigation for abuse of power. (Google "Troopergate".) She's had massive turnover among her department heads and left a key position vacant for months. Where have we heard all this before? Claiming a year and a half in the governor's office as "executive experience" can't be offset by her own comments--i.e. in a CBS interview several months ago, she stated she'd be happy to discuss her pick as VP if someone could tell her "what a Vice President does all day." Respected Republican legislators in her own state say she's not prepared for governor, let alone to be Vice President. The last eight years have taught us that we have to be smarter than Karl Rove thinks we are. We have to do our homework. We have to be informed. We have to realize that the stakes are far, far too high to be manipulated by political machinations such as this. Sure, "give the lady a break." Just don't give her your vote.
I love the manner in which the left attempts to dismiss Sarah Palin with remarks about her connection with a traditional life style (hunting, sports, religious values, suggesting she's abandoning her infant, even disparaging her for only having a Bachelor of Arts degree!!! etc.). Unfortunately, their psuedo-intellectual elitism has left them jaded and unable to see a person for what she is: genuine, hard-working and faithful to her beliefs. These are are the traits of a person who is strong at their core. The left is uncomfortable with this personality type and would prefer someone who wouldn't challenge them to take responsibility for their own lives. I comprehend how the vaporous Obama has exploited their desire to find a vessel to deposit their utopian dreams. Refreshingly, Sarah is as real as you can get.
Umm...
Bad judgement on Mccain's part. Really hypocritical choice. He gets at Obama all the time for being "inexperienced." Then he goes and chooses someone with less experience than Obama does! And Mccain is pretty old. If something happened to him, would you trust Sarah Palin to successfully run the executive branch?! I mean, she's only been in politics for 2 YEARS! She doesn't know that much.
I think John McCain hit a home run (or, more fittingly, a winning goal) in his pick of Gov. Palin. With her executive background (the only member of the top ticket with), her life experience, and obvious strong demeanor, I see her as the very possible first female President of our great country. Good wishes to her and Senator McCain.
Is a life only important when it is unborn. What sort of political aspiration would allow a woman to bring into the world a severely handicapped baby while waving good-bye to another going off to an illegal war? Oh well, nanny and doctors will be taking care of one, hopefully the other returns home alive.
Sarah Palin may become the President elected by one.
She is the only candidate with executive experience and appears to be a quick study with a strong sense of ethics.
Home run McCain!
I am baffled by the number of positive posts about her record and that of the Republican's. I think her choice was cynical and transparent, an attempt to shore up the Republican's right wing base and women. It won't work. Sarah Palin is a pro-gun, pro-oil, anti-nature, religious fanatic creationist. She doesn't believe in anthropogenic climate change or evolution. She doesn't believe that climate changes are effected by mankind's greenhouse gas emissions and she wants to drill in the Alaskan National Wildlife Refuge rather than pursuing renewable energies. She actively campaigned against the petition to get the polar bear included on the Endangered Species List, and sued the Secretary of the Interior when that decision was made, saying that the climate change models cited by scientists that predict melting of Arctic ice due to climate change are "unreliable." Oh and by the way her husband works for British Petroleum who is drilling on the North Alaskan slope.
Do we really want another religious fanatic in the White House that bases important security, social welfare and economic decisions on faith and doesn't invite debate and science? We have seen first hand how successful that approach has been under the Bush administration. Her Republican party has tried couched her as a maverick. Maverick is defined as:
1. a person of independent or unorthodox views
2. (in the US and Canada) an unbranded stray calf
Well she has unorthodox, even delusional views not based in science or the public and international reality. However, she is definitely branded (Inexperienced Socially Conservative Republican) and is a stray calf on the fringe, wondering the Alaskan wilderness in search of oil, with her rifle, hunting polar bears and moose.
I am sure the former mayor and city council of a tiny town in Alaska knows what your average suburbanite needs - more guns, more war, more children, more fossil fuel pollution, more storms, more uncured disease. What does the future matter if the world is destined to end in Armageddon anyhow? Please let's not go down this path again, we need a White House that looks towards the future and utilizes America's ingenuity and intellect to improve our economic and international standing - from stem cell research to green energies to diplomacy. No more faith based government please.........
I think that putting Sarah Palin on the ticket may get him elected, but i'm not sure what she'll do for him once he's in the office and does more aging.
it's common knowledge that being President ages a person quickly, so please -- review what you know now...
her Husband is in big OIL,
i say N-O- NO to big OIL in the
White House.
I heard Geraldine Ferraro speak at my college in 1984 and I felt pride that a woman had been picked for Vice President but I also knew at the time that the only reason she was picked was because SHE WAS A WOMAN. That saddened me and I feel sad again, because now so many years later after a real woman ran for the presidency and lost after giving the other guy hell - McCain picks a woman for his vice president based on the fact that she is a woman. How truly sad, history repeats itself and I only hope the fate of McCain and Palin is the same as Mondale and Ferraro; a footnote in politcal science history books.
She's a lightweight. Just because she's pretty does not mean she can function in the position. I am so disappointed that so many people think this is good. What are you thinking? If those two get elected our country will be very vulnerable. Vote on the issues, folks, not on her looks and "spunk." Give me a break.
I just hope that your columnists can be strongly opposed to Sarah Palin as a potential representative of this country. Hillary Clinton has extreme intelligence and know-how in working out arrangements in Congress. To think that women will gravitate to Palin because she is a woman is cynical and absurd. Women are more sensible than that. Sarah Palin captures the fundamentalist imagination but I doubt that McCain could get anywhere with it in office. Sarah Palin represents ignorance and ignobility in her being.
After doing intense research into Sarah Palin - I am impressed. This is a lady with balls, someone who can take on the White House & assist in making historic changese in government. I am a registered Democrat - but this time I'm voting for the candidate not the party!
Who is Sarah Palin? Here's some basic background:
She was elected Alaska's governor a little over a year and a half ago. Her previous office was mayor of Wasilla, a small town outside Anchorage. She has no foreign policy experience.1
Palin is strongly anti-choice, opposing abortion even in the case of rape or incest.2
She supported right-wing extremist Pat Buchanan for president in 2000. 3
Palin thinks creationism should be taught in public schools.4
She's doesn't think humans are the cause of climate change.5
She's solidly in line with John McCain's "Big Oil first" energy policy. She's pushed hard for more oil drilling and says renewables won't be ready for y ears. She also sued the Bush administration for listing polar bears as an endangered species--she was worried it would interfere with more oil drilling in Alaska.6
How closely did John McCain vet this choice? He met Sarah Palin once at a meeting. They spoke a second time, last Sunday, when he called her about being vice-president. Then he offered her the position.7
Palin is what tipped me into the McCain camp. Brilliant choice!
If Americans want to see desperate women having to resort to back alley abortions, if they want drilling in our most pristine national park for a few barrels of future oil, if they want our children to believe that global warming is a myth and that God created the world in 7 days and a talking snake led to mankind's downfall, then McCain-Palin is the clear choice.
I've read comparisons to Tom Eagleton; but personally believe a comparison to Judy Martz is more apt.
While it is a welcome reprieve from their whining about not getting as much news coverage as Obama, the choice of Mrs. Palin seems more reactive to the "energy" in Denver than her having been under consideration a serious and qualified candidate. While she may have done some noteworthy work in her two years as governor of a state, Alaskan issues do not neccessarily prepare one for those of the entire nation. Besides which this ticket would keep a military man and an oil man (albeit the first gentleman) in the whitehouse - PLEASE not more of the that disastrous course.
What was the point of that interview? Please tell me what any of that puff has to do with her alleged qualifications to be a heartbeat away from the Presidency?
I'm serious, please explain the point.
This is a historic election on all fronts. I am concerned all we know about Gov. Palin is she opposes a woman's right to choose; she can shot a gun (perhaps she will not shoot a friend);she is religious; a mom; and her husband works for an oil company. So far she reminds of Dick Chenney with the exception she has never engaged in the rigor of national politics. Being a former beauty contestant does not qualify one to be one heart beat away from the Presidency.
Big Oil? Sarah Palin's husband may work in the oil industry in a non-management position, as many do in Alaska but he is a UNION man.
Todd Palin is a member of the United Steel, Paper and Forestry, Rubber, Manufacturing, Energy, Allied Industrial and Service Workers International Union.
Already the whackos, both left and right, begin their character assassinations of the great citizens we have on both tickets. This is the type of politics both Obama and Palin oppose.
Hey, wasn't Bobby Kennedy a strict catholic?
I must say I'm impressed with the choice. Palin's had the gusto to stand up to corruption and hard-line critics like none other. She supports conservative values such as being pro-life. She brings experience to the Energy debate, and is now the only person on either ticket who's actually BEEN to ANWR to see how drilling could affect it. She's for drilling for new oil resources, which is my major deciding factor this election. And if you ask me, she's a better choice than Hillary would have been, as Ms. Clinton doesn't have the respect for our military that I would expect to see in a potential Commander-In-Chief.
Some would say that she's as inexperienced as Barak Obama, but that's simply not the case. When has Barak stood up to gross corruption at the risk of termination? Has Obama ever actually governed anything? No. He's sat on a chair in the Senate for the last 4 years, never actually achieving any real legislation, and has voted Present (not Yea or Nay) for the majority of the votes. Palin's been in the hot seat, made the tough choices, pushed the tough people, and made things happen.
Good job, Mr. McCain. I wish you the best of luck.
I think that people need to understand how truly radical right-wing Ms. Palin is.
Others on this blog have noted her ultra conservative stances on abortion, equal pay, minimum wage, guns, and creationism, etc. and I second their concerns.
With respect to her qualification for national office, she has been quoted as saying "I don't know what the VP does every day."
In my opinion, not a good choice, not a chance worth taking.
I am INSULTED that John McCain could think that 18 million Americans, women as well as men, voted for Hillary Clinton solely because she's a woman, and that, therefore, all he had to do was nominate a woman, any woman, to be his VP, and those 18,000,000 voters would just hop into the Republican column. Another sign that John McCain just doesn't get it. No Way McCain!
HA HA HA!!! She has more executive esperience than Obama and Biden combined.
Her principles, values and leadership creds are nothing like Hillarys. Which is why we love her so much!
Go get 'em Sarah!!!!!
Leanne's puff piece about Sarah Palin with Kaylene Johnson was an outrage. Would you ever here a piece like this about Biden? No, because he is a public figure and it is assumed that people know who he is. People don't know this woman, so it is important to educate them quickly (we've got about 30 days). A story about a girl picking blueberries and playing basketball - gee sounds like it could have been written about me. But I'm not running for VP. And it has NOTHING TO DO with running for VP. How about a discussion about this woman's credentials. Or some coverage of her firmly asserted views: Ending the right to an abortion for rape or incest, Teaching creationism in school, Taking polar bears off the endangered species list so that they can open up more land for oil drilling in Alaska.
A female version of George Bush? I call that a gimmick, not fresh air, and it reeks of Rovian machinations. I also call it a cheap and very irresponsible political stunt by a very scared McCain campaign (we could also discuss how insulting it is to all the qualified women he might have picked, beginning but not ending with Sen. Olympia Snow, but that would take awhile...). She is NOT prepared for the national stage, and certainly not for the international one. She has given positively incoherent interviews concerning Iraq (but then of course McCain is planning to stay, so what she thinks about is it probably moot...), and has actually stated that she "has no idea what a VP does all day." Let's hope she doesn't get the chance to find out.
As a 30 year resident of Alaska I did not vote for Sarah Palin for governor and am scared by the potential of a president that would consider her qualified to be vice-president. We live in a time that the U.S. needs to be conscious of our role as a world leader. Sarah Palin has no knowledge or experience with foreign policy. With John McCain's age and history of health issues, I want a vice-president who can handle all aspects of the presidency. We need elected officials with knowledge, experience, and ability to compromise. Not a candidate whose main qualities is that she is young, female, and for a few years has been looking for change.
I dislike most thinks people like about Sarah Palin. She has 5 kids, so she doesn't care about overpopulation. She used the word "God" often in the an excerpt I heard. I think she would find it difficult to maintain separation of church and state.
Let's see . . . Sarah Palin is utterly inexperienced and unqualified. She's got no foreign relations resume. While it's unnerving to imagine McCain's finger on the nuclear button, it is downright terrifying to imagine Palin assuming that role. And her education consists of an undistinguished bachelor of science degree from the University of Idaho, ranked by U.S. News and World Report as a third tier school.
So what's up? The pundits have climbed aboard the "McCain truly wants to be an agent of change" bandwagon. I'm not convinced.
Pardon my skepticism, but weeks ago McCain sold his soul to Rove Co., the slick, oily, without-morals-or-conscience propaganda machine that miraculously found a way to market Bush's second term. Can McCain possibly hand his campaign over to the moral bankruptcy of Rove Co., and still plausibly lay claim to being a "maverick" or "agent of change?" Highly doubtful.
BUT, Rove Co. certainly knows how to MARKET such perceptions, however false. Sarah Palin is very possibly Rove's latest, cynical, politico-marketing, "stupid American voters will buy anything I put on Fox News," ploy.
Now, please indulge my paranoia, but might not Palin be the perfect, overly-ambitious, do-anything-to-climb-the-Republican-political-ladder shill to fulfill Rove's dream of continued behind-the-scenes domination of the party? Is it at all implausible Palin will gladly trade political exposure and generous future Republican Party favors not be willing to take one on the chin for the GOP, in trade for the exposure and future Party favors, for "taking it on the chin" by serving only briefly, then stepping down at Rove/McCain's bidding so the Rove/Cheney/Bush/McCain cartel can name a replacement of its choice -- who, of course, would not need to win approval of the public?
Like I said, the thought is admittedly paranoid and conspiratorial. But if you were Rove, trying to determine how to market McCain in the face of growing odds stemming from his deserved association with the Rove/Cheney/Bush power cartel, isn't it at least plausible you would select a salable, disposable someone such as Palin in order to fulfill your ultimate marketing objectives?
Remember, we're talking about Rove and Cheney. Conscience and morals are not factors we need consider.
I thought I would never vote for a "girl" for anything other than PTA president. After watching how our "boys" have messed up the good nation that our forefathers started, I'm ready for this "WOMAN" to bring us back to the America that our forefathers envisioned. She may have to take a few "good ol' boys" by the ears, back to our Constitution and our Christian moral roots. I think she is the breath of fresh air that we need to survive AND turn around the consistent decay of our America. I bet she knows ALL 4 verses of the Star Spangled Banner; even the line in the last verse "...and this is our motto. In God is our trust..." http://americanhistory.si.edu/ssb/6_thestory/6b_osay/top6b.html
Her manipulations behind the scene to fire her ex brother-in-law cast doubt on her ethics. Her acceptance speech was full of the treacle evangelicals love to espouse (though they ignore in practice).
For those of us who believed in John McCain, the "maverick" - this is a truly sad time. I for one am shocked that McCain has become the ultimate flip/flopper. After standing up to the devisive right of his party in his race against George Bush in 2000 - on Friday he demonstrated how easy it is to cave and simply crumble to their demands. Of all the well-qualified Republican women from which he could have chosen - Kay Bailey Hutchinson, Susan Collins to name a few - for McCain to have chosen someone so woefully inexperienced in global ideas is just plain shocking. Where has he gone Joe McCain ...the nation had its lonely eyes on you! How terrifically sad. As a woman, I am offended. As an American, I am disheartened.
Do intelligence and education have any value in this country anymore? Quirky and perky are not qualifications for the Presidency. Women are not interchangeable and nobody with a brain is going to accept a know nothing Palin as a substitute for H Clinton. This choice just shows McCain's poor judgment.
I'm disappointed in the GOP VP appointment. Not only does this candidate lack the breadth and depth of political experience, but her ethics are all ready in question. additionally, her extremist religious beliefs put her in an awkward position -- how can she represent the intelligent thinking people of America? she can't ...
just a very very poor choice
mcCain's choice is an appeasement to the religious right. Palin was catholic who left her church for a Pentacostal church; she was a "beauty queen"(so was Cindy McCain;coincidence??);she had a child at 44(downs snydrome)maybe the handicap kids vote?? She increased the tax on BP(no tax neocons);What was he thinking, if anything? Has senility set in already?Do we need the POTUS changing diapers in the Oval Office when the RED PHONE IS RINGING??At least Joe will know how to answer.
I am beyond thrilled that Sen. McCain picked Gov. Sarah Palin as his running mate. I truly believe she is the right choice for this job and also believe she has more executive experince than Sen. Obama and Sen. Biden combined. This lady is a true "Annie Oakley" and I admire her for all her accomplishments.
I would suggest it might be in their best interest if the Dems quit picking at Gov. Palin's experience. From her experience or lack thereof, Barry pales by comparison, Biden pales by comparison and even McCain pails by comparison.
I'm amazed at the comments on this blog regarding Sarah Palin. I've lived in Alaska for over 22 years and I love this land. It is the most amazing place in America and precious. However, to suggest honestly, and without blinding partisan passion that Sarah Palin is ready to step in as our VP and possibly President is absolutely ridiculous. Two years ago she was the mayor of what Alaskans know as the most dysfunctional town in Alaska, a town of 9000 people. She's been a reasonable Governor but in just two short years she is already involved in ethics violation issues of her making, and has done nothing remarkable in the office. Pundits and citizens who do not take an honest and critical look at this inexperienced and naive candidate are doing themselves and the country a disservice. Just like they did with George W Bush.
What A Joke!! My sister in Germany has more foreign rel. exp. Do my fellow republicans take us women voters as being robots, just vote because a woman is on the ticket??? A VP is supposed to help and be a sounding board for the president. This female has NO exp. in middleastern affairs, economics, etc. etc. etc. She will be used to attend state funerals and ribbon cutting ceremonies. What a waste of a presidential bid. I am especially concerned that a 'hockey mom' may someday have her finger on the nuclear button. I wish that NPR would quit fawning over this 'girl' and ask responsible questions. The difference between Sarah & Hillary is like a pin oak to a giant sequoia. I'll be voting democrat for the 1st time in my life.
This country is in serious trouble. And we need hardworking, qualified people to tackle the myriad of challenges that the nation is facing. As a registered Republican, I have watched in horror as the Bush administration has engaged in distructive cronieism, viz., hiring persons for federal service based on their political stripes and not on their qualifications: Michael Brown and Joe Allbaugh at FEMA, and Monica Goodling at the DOJ. Sarah Palin is not qualified, and she is not a serious candidate. Shame on Mccain for asking. Shame on Palin for accepting. Ignorance and Pride were the vices of the Bush adminstration. Mccain's ingorance in hiring the prideful Ms. Palin signals that we are in for more of the same. I'm sure Sarah "Brownie" Palin will do a heck of a job.
The cyncial old farts are deliberately attempting to create the impression that all a woman has to do to become a star is refuse to irresponsibly control her fertility, spend 20 years as a housewife, then present her completely unqualified self before the powers-that-be and she will be rewarded.
Doesn't work that way and WOMEN KNOW IT.
This is a total sham. A farce. The woman is a toy, a puppet and a prop.
50% of real women who make the choices this woman has -- quit job, get married, have five kids and do no paid work for 20 years -- end up helplessly dependent on the whims of a husband. The other 50% end up divorced and ON WELFARE.
This woman makes choices which have a 50% chance of landing her ON WELFARE and these cynical, reality-show-fantasists present her to us as a VICE PRESIDENT?
She has no valid experience other than her two years as Alaska Governor, a job she got because Alaskans are a bunch of Libertarian wackjobs who decided to smack their corrupt Republican overloads upside the head with a wet diaper.
From THAT, which was excellent, to THIS?
Hardly!
As a feminist, I find this choice insulting and infuriating.
As an environmentalist, I don't want anyone who has 5 kids running anything.
The men are at it again -- deliberately creating bizarre, highly-improbably storylines to confuse and frustrate the women's movement.
Any woman who votes for her because of her plumbing is an idiot. The women who vote for her because of her extremely conservative positions are would not have voted for Obama anyway.
The Republicans are going to lose by underestimating the intelligence of the swing female vote -- AGAIN.
Sarah Palin came to Homer to sign a bill that Rep. Paul Seaton put forth. While here she took the time to meet Homerites at the local Islands & Oceans visitor center. I took a man from long term care, who was a supporter of Sarah, to see her. The place was packed! I managed to weave the wheel chair as close as I could and when the time came for Sarah to depart she came by and signed a copy of the book "Sarah" for this man. Talked to him and thanked him for his support. She was so sincere & loving that it brought tears to my eyes and this fellow. She is the real thing. God bless her! I believe she is God's gift to America at this time. We need the real thing again in this fractured warped society to show us that love is still the answer and hard work and respect is never a waste.
The choice of Sarah Palin was purely political. McCain is appealing to the neo-cons and religious "right". At the same time trying to co-opt the Hillary supporters that are still upset. I hope that women can see Palin for what she is--an idealogue just like the Bush administration. At least, McCain and Palin have something in common. They are both PANDERERS!
Huge plus for the Republicans: WASHINGTON OUTSIDER!! Woman. Intelligent, well-spoken, Governor with EXECUTIVE EXPERIENCE. Not a lawyer! As for lack of foreign policy experience.....it reminds me of another Governor elected President.....Bill Clinton. By the way, isn't Obama inexperienced in foreign policy as well? And he is running in the #1 position! Someone who believes in God, and is open about her Christianity, is something I find positive.
What a breath of fresh air...Sarah Palin! She's got integrity and a fighting spirit so tough that she's willing to go up against her own party..who on the Democratic ticket can say they've done that? All this talk about change...Sara's actually brought it about! I see a real person here with honesty and integrity and so what if she's from a small town; it's the small townsfolk that make America Great. You go girl!!
Sarah Palin may have more executive experience than Obama and Biden, but she also has more than McCain. It still doesn't make her qualified to be VP.
McCain's choice has galvanized voters - Clinton supporters previously unmoved by Obama who now see that he's a rational, intelligent choice. Count me and my husband in as two new votes for Obama.
Ron Elving said it best in his "Watching Washington" analysis of August 30: "But the essential question to be asked right now is this: Is Palin the person McCain would have chosen to be vice president if McCain were already president?...It is not only unlikely, it is all by inconceivable."
NPR might want to vet its interviewees in the future. What relevance does a biographer have when she is unable to identify any shortcoming or flaw in her subject? I guess Sarah Palin is perfect -- how fortunate we are that McCain decided to pluck her from her remote state and bring her to Washington. What poppycock.
I am a mature woman who voted for Clinton in the primaries on issues and her abilities. I have no intention of voting for McCain and Palin, a woman so antithetical to everything that Clinton stood for. How is it possible that one man can pick such an inappropriate person to run for VP who could (God forbid) just possibly become president by February of next year?
You asked for comments about how listeners felt McCain's choice for VP. It SCARES me because of what it says about John McCain.
I'll be honest. I don't believe in trickle-down so I could never vote for anyone in the GOP. But it was a Republican who asked the question on CNN: What does her selection say about John McCain's decision-making process? By all accounts, he met Governor Palin only once. This means, cold political calculations aside, he made a decision based upon his gut feeling. This should sound like another politician whose held high office for the past eight years. So not only has John McCain voted with George Bush over 90 per cent of the time, we now learn that his decision-making process is much the same.
I also feel McCain just blew up his maverick image and his campaign slogan "Country First." Hard core conservatives (the very people assailing him for his maverick positions) are drooling over the choice of Ms. Palin. One of the reasons he chose her was because she reminded him of himself. This is not the mark of an independent thinker. The conservative David Brooks had said the Bush Administration suffered from a lack of internal dissent on numerous occasions. Obama is on record as not wanting a Yes Person as his VP. McCain has clearly chosen more of a clone.
Two Alaskan newspapers have questioned Governor Palin's qualifications. There are also Republicans (David Frum, to mention one) who do NOT believe McCain made a responsible choice in wanting to place Governor Palin a heartbeat away from the Presidency. Governor Palin may well be a nice person, but I also think McCain's choice is utterly irresponsible. Therefore, in his first major presidential decision, I am not the only person who believes McCain did NOT put "Country First."
I am VERY disappinted that NPR would allow a flack like Ms. Johnson on the air. When asked what Palin's weaknesses were, she demurely responded "Oh..I am just at a loss to think of any." C'mon...a serious biographer who can't think of ANY weaknesses in the person they have have been researching and writing about? Right. As a lover of NPR, this was painful and embarrasing to listen to.
Stephanie IFR said:
"This pick is one of the worst that could have been made. I was hoping that most other people would be able to see through McCain's attention-grabbing, but obviously not.
Here are only a FEW of the reasons she is a completely irresponsible pick for the number 2 spot in our great nation:
She carries only a Bachelor's Degree... in Journalism.
She has been in her 'executive position' of governor for only 20 months... for Alaska.
Before that she was mayor of a town of 9000... in Alaska.
Alaska, while a valued part of the United States, faces hardly any of the normal problems of the lower 48, thus leaving her unprepared to handle the problems of the country as a whole, regardless of how long she's served.
Think about this: Alaska is the largest state in land area, and Delaware (Biden represents it in the Senate) is the second smallest, and yet they have the same number of electoral votes!
She believes abortion is NEVER OK, not even in cases of rape, incest, or when the mother's life is in danger.
She wants to drill in ANWR, and opposes adding Alaskan polar bears to the endangered species list, because it will encroach on oil and gas industry development in what will be a protected habitat for the bears. (I personally believe the governor of a state with as much natural beauty as Alaska should be working to preserve that beauty, not to destroy it)
She does not believe in the theory of Global Warming. She will not accept that human actions have caused the climate change that is producing disastrous effects throughout the world.
God forbid this woman sees the inside of the White House as a workplace."
Let's look at the Democrats.
Obama/Biden: NO JOB exerience period! Neither has governed anything, ran anything, managed anything. No business background and both attorneys. Obama has spent 147 days in the senate. The rest of the time he has been campaigning. What do senators do? They vote. There assistants craft the legislation. If you think these two buffoons have any foreign policy experience, show me. Biden has served on the Senate Foreign Relations Committee. He has never written or issued any policy. That is reserved for the executive branch.
They are both pro-abortion because that is the democrats platform.
Palin has more executive experience in her 20 months as a Governor than both democrats combined in their entire lives.
Global warming? Prove that humans have caused it. You can't. Other than a bunch of alarmist saying it, there is no scientific proof to back it up.
And if you think drilling will "destroy" Alaska, you obviously have never been there and it is apparent you have never been to ANWR let alone know where it is on the map.
Polar bears? they are not endangered. Their population continues to grow. What Kool-Aid are you drinking?
The fact is that you democrats couldn't field an intelligent, attractive, articulate female candidate. You are offering the standard democrate label: Liberal!
In her speech Governor Palin came across as dynamic and engaging, but by her side, Senator McCain looked uncomfortable and uneasy. And rightly so, with such brief vetting.
As more and more facts emerge about her actions in office, as opposed to her claims, I predict the initial "wonder woman" mystique will wear away.
The McCain campaign and the GOP will likely come to regret this choice.
She is genuine, ethical, smart, and tough. She was my neighbor for years here in Wasilla, and I can tell you, it is not a facade.
As a 40 year Alaskan resident I was apalled at her firing of Walt Monegan. When Walt refused to fire a trooper who was involved in a divorce with her sister she fired him. It proves to me that beyond the shadow of a doubt it was as a result of her sisters divorce.
Mr. Monegan was the best Chief of Police Anchorage ever had. After he retired and moved up as he's been equally as good a Commissioner of Safety. She's the one who ultimately fired him and she can't hide behind a staff member and let them take the fall. It's just another cheap republican trick that the present administration has been using for years... Still NO accountability for the outing of Valery Plame. Disgusting! I can see through it, when will the rest of the republicans open their eyes?
As mayor of Wasilla (population 9000) and a year and a half of being Governor, and NO experience at international politics, no thanks. Her support and involvement in the oil industry is also proof that she's more of the same last 8 years. No thanks, we need Obama and Biden to work to provide clean alternative, renewable energy, freedom from foreign oil and also end the war in Iraq.
I'm proud to be Alaskan for Obama and Biden
I know, I know - I finally remembered where I have heard the story line of Sarah Palin before. Wasn't it "Gidget goes to Washington."
Adding Sarah Palin to the the ticket shocked me. If Mr. McCain thinks he can win an election by moving so far to the right that he can't see the middle, he'll get that with Palin. If elected, the two of them will launch an all out effort to repeal Roe v Wade; their thinking will not attract Hillary democrats so I don't see this move enticing undecided women to them.
As an Alaskan, I respect and appreciate her assault on corruption, back room deals and the good ole boy network. However, she has demonstrated from day one, her favoritism for one area of our state over another. She has repeatedly denied badly need public funds for southeast while supporting funding for our northern communities. She reinforced this during her acceptance speech when she again referred to our need for improved transportation to our airport as a "bridge to nowhere". That airport is not "nowhere". It contains a regional facility used by passenger, freight, & medivac flights, and it's on an island that contains the only land we have for future municipal development. Our economy is already strained in southeast Alaska and no one is going to establish new business and commerce when their choice is land they can only access every half hour for part of the day. Palin's version of cronyism may not be a style we're used to recognizing, but it's still cronyism.
I have been reading blogs trying to get a feel for how people are thinking with the nod going to Mrs. Plain.
This place is blanced most others are not. They range from thinking she was sent to McCain directly from God himself to Questioning wheather Mrs. Palin was the birth mother of treg. Many believe No one in their right mind would do what she did risking a baby that already was at high risk. They are also reporting the oldest daughter had been pulled from school for 4 months due to Mono.
Balance is a good thing ..
Alaska politics are unlike anything you find in the "lower 48" or in "the states" as we refer to the contiguous U.S. up here. Opportunities arise in this vast and sparsely populated state that allow people to start a business, try their hand at jobs and careers, or run for political office, where they have no experience whatsoever,(you can also come up here and try spending the winter in an abandoned bus, but I wouldn't recommend it). This is, in many ways, refreshing. It is also frightening when a member of Alaska's throwback, hyper-conservative, turbo-religious ultra-right wing is suddenly elevated to a position where she could potentially occupy the White House. I have to admit, that I've admired her ability to stand up to the blatant corruption IN HER OWN PARTY, but for a Democrat like myself, it was like watching a high school cheerleader/church camp counselor who suddenly realized that her football team was made up of gang members and her father was Tony Soprano. She seems to have the ability to reduce issues to very simple black and white terms, which is typical of those of her faith (and, coincidentally, of the Taliban), but her wide-eyed enthusiasm for executive office does not equate to responsible leadership. In Alaska, it wasn't difficult to improve on the Gubernatorial inadequacies of Frank Murkowski, and I'm sure that the same will be true when we replace the Bush administration - but trust me - if you believe in the ideals that this nation was founded upon, if you believe in freedom, equality, truth and justice - we have a much better choice in Barack Obama.
Finally a strong woman in high office with
-character, character, character
-USA before self
-real world executive experience
-more time in politics than Obama
-governs more people than Biden represents
-could probably take both Obama and Biden at the same time in a fight.
I wish she were running for president.
Maybe in 4 years, McCain will decide to
not run for re-election.
oh happy day!
I wasn't sure who I was going to vote for until McCain chose Palin as his running mate. No question in my mind now -- Obama and Biden will definitely get my vote in November.
When I read all the comments,those who oppose Palin have exactly the same issues with her as the other side does Jr. Sen. Obama. She actually outshines Obama and if their careers were put side by side she would be more qualified for Presidant than Obama. Funny how the Democrats cannot hear what they are saying. Same song but a different party. Funny
As a woman I am kind of insulted at John McCain's pick. Of course I want a woman in the White House but I won't take just any woman. It appears on the face that the McCain campaign expects some women will vote for a woman solely on her gender not on her policies. For me this is untrue and patronizing.
Sarah Palin is a fluke similar to Jessie Ventura. How appropriate that the Republican convention is in Minnesota!
Palin is lucky to be the governor of an oil rich state. She recently was able to give everyone a $1,200 check for an "energy rebate". It was a total gimmick to keep her high approval rating up here!
Sarah Palin "reported" an illegal moose kill 2 years after it happened during a bitter divorce hearing between her sister and Alaskan Trooper. Ethics reform? Why didn't she report it at the time? She was too busy enjoying the moose meat.
Palin wants to close the door to all abortions. We won the right to vote 88 years ago. We won Roe vs. Wade 35 years ago. Palin is a GIANT STEP backwards for women rights!
Sarah Palin, the republican presidential backup, still points to one of her greatest political achievements is the time she talked the Alaska Bike Center into donating a $58 dollar helmet, with cage, to the town of Wasilla.
I'm still in shock that she is on a national ticket!
You have to be kidding???? VICE PRESIDENT
Guess what, Allison Allen? (post of 8/30/08) - the same could be said about Obama. "We don't know who she (he) is, what she (he) knows, or how she (he) works, and neither, I think, does..." anyone else. Obama is a public speaker....that's all. He's spent less than 200 days actually in congress. All he has done is run for office.
From all that I've seen and heard of her I think she is one heck of a woman! regardless of your political leanings she seems to be a person of great intelligence & integrity. What more can you ask of a leader. No president or Vice president knows it all and if they say they do, RUN. She sounds like a genuine person not a DC phony. Like so many. I think McCain should be the VP and lets move her up to president! LOL I'm extremely impressed and I look forward to her debates.
I think that Republicans now have more reason to think Independent, that is, Bob Barr
In one night, the old man will have a massive coronary and her birth control will fail.
Ha aha ha ha haha ha
Help! There are really serious problems with McCain's VPselection other than young, woman, pretty. Sarah's "strengty" makes her as choice all the more frightening.
Like most Prolifers, she assumes that the choice fo have legal abortions is a given. Prolifers forget that no one is Pro-Abortion, but rather they are Pro-Choice which gives women a choice to determine the best procedure for their individual case. Pro-Life is NOT a choice. It is an order that comes from a tyrannical and dictatorial system of thinking. Pro-Choice does not dictate. It allowes the individual to determine the best course to take for their life's decisions.
The Pro-Lifers base their ideas on religious thinking--once again they assume that anyone who does not embrace their fundamentalist religiouys view is immoral. But here too we have a case of tyrranical and dictatorial thinking that should NOT exist in a "free" country and totally ignores the separation of church and state.
I have bnever understtood why foetuses and embryos were so much more important than fully grown men and women that are sent to get butchered in ill-advised wars, under the guise of nationalism, patriotism and of course "god"' blessing. Sound like the Crusades?
All of this frightenes me no end. I am 85 and may not be around to see the results of such a misguided vice presidential choice, but younger generations will be here to suffer the results including of land, climate and endangered animal species.
I hope good sense and science prevail over myths and creationisn. Please..... not Palin whose sense of geography and intellect are dangerously circumscribed.
I am also a woman. I will not vote for Palin!
I think McCain's selection is gteat. We need someone with some common sense instead of Congress Experience. I am ready for Congressmen to start thinking
of the people they represent instead of
their own private interests.
What ever happened to McCain/Bush concern for national security and foreign policy experience in a VP choice??? Palin has no experience and no credentials and no background that qualifies her to step in and be the leader of the free world. I think McCain is putting the country in grave peril with this choice if they get elected. It shows his lack of consideration and poor judgement when there are any number of far better qualified Republican women he could have chosen. The country is already in dire straits. If they get in, I fear we are going down....
I can't believe how many ignorant people live in this great country. I am definately a McCain Palin supporter. Governor Palin is a very remarkable woman. I had to laugh when you Obama supporter's were quick to criticize someone you don't know within 2 hrs. of her nomination to the Vice Presidency. I believe you people would have to look up information on anybody that John McCain would pick, Only to find fault with anything they did. The women are especially jealous of Sarah Palin. She's a great mom! She probably spends more time with her children than you do, and can go up against the big boys in the process. She has more experience than Obama, and she's a very pretty woman. She came from this is my town, to this is my state very quickly and very quickly she will go to this is my country, that she will put her whole heart into keeping it safe for your children and your children's children. And you people that are criticizing her for keeping her down syndrome little boy, are the cruelest of the cruel. That little boy has a right to live. I have spent alot of time around children with down syndrome and they are more loving than you hateful people. I have lived here in Alaska for 30 yrs. and know what is happening with Governor Palin. You don't. Please don't edit this as I mean every word I said. Please post this. I have read other peoples' comments here, and if you post theirs, then this one REALLY needs to be posted.
I learned years ago experience does not always mean a lot, sometimes but not always. In my line of work as a young man I ran circles around my superiors. Determination, vision, character, ambition, loyality to the cause moves people to the forefront.It did for me it wasn't long at all before I became my superiors superior. People with heart, real, passonate about what they believe will always advance. Obama caught my attention and now Governor Palin has as well. Fill Washington up with Palins and Obamas and you will see things get done. And I must say it is amazing that experience matters now but didn't last week.
I had a dream the night after hearing of John McCain's VP choice. In the dream, a multitude of older, wiser women and I linked arms and formed a protective circle around Sarah Palin and counseled her as only women can do for each other. We said "Sarah, Sarah - don't do this. Don't do this to yourself, don't do this to your family. Don't do this to your baby."
While this pick does call into question John McCain's judgement, I'm struck by what her acceptance of this offer says about HER character.
It's the same problem I had with John Edwards. There are times in your life when you just have to put your personal ambitions on the back burner and take care of business at home.
Let me get this straight... You are offended that McCain picked a qualified Governor of a state that borders two foreign countries, who took on the Republican establishment and rooted out corruption, who had made her living with honest labor and who's husband currently does the same, who is raising a family and working hard for her constituents because you see it as tokenism.
Seems to me that the people obstructing women's progress are the very people who claim to be supporting womens rights.
Get out of the way and watch a highly qualified woman do a great job of reforming washington corruption and fulfilling the promise of the true womens liberation movement.
I am a diehard Hillary Rodham Clinton voter. I am pleased to say that I am voting for John McCain and Sarah Palin in November.
I had hopes that Hillary Rodham Clinton would be the Democratic Presidential Candidate. However, as the election continued to turned into huge amounts of black voters voting for a black candidate instead.
After than, Barack Hussein Obama stated out of his own mouth that "Hillary Rodham Clinton would be on anyone's short list for Vice President." Then, Barack Huissen Obama NEVER even contacted Hillary Rodham Clinton as Vice President.
I don't trust Barack Hussein Obama and Obama was very disrespectful towards Hillary Rodham Clinton. However, before it is over that old saying "What Goes Around Comes Around" - Obama will truly know what that means.
After reviewing John McCain and Sarah Palin more - the two of them are a real team. With Sarah Palin, she appears to be a very hard worker, ready to deal with whoever to produce change, reform, and hope for all American People, eager to put 'COUNTRY FIRST', focused on the ENERGY CRISIS and WAR - her own son is in the military as well. The two of them, McCain and Palin, make a real team.
GO---JOHN MCCAIN / SARAH PALIN
GO---JOHN MCCAIN / SARAH PALIN
"THE REAL TEAM - PUTTING COUNTRY FIRST"
JOHN MCCAIN AND SARAH PALIN --
You have me diehard Hillary Rodham Clinton vote!!!!!!!
The VP Palin choice is utterly terrifying. I am not sure McCain (the GOP)could have made a worse selection. Given the opportunity, she could do even far greater damage than Cheney has done. As a woman, I am disgusted that this woman could have a possible chance at the presidency and destroy the choices that women currently have. As far as her AK Legislation of gunning down wildlife from a plane as sport, she should be called "The Wildlife Butcher". She is absolutely ignorant. I will pray every night that Obama wins this election!
Laura
This lady is what the country needs and the elites can't run her down fast enough. I'd like to see what she would do to Pelosi. If she's good at eliminating corruption and nonperformers, she'll start there. GO SARAH!!!!
SHE TOOK ON HER PARTY'S CROOKS AND BEAT THEM INTO SUBMISSION. DID OBAMA EVER TAKE ON THE DEMO CHICAGO MACHINE. HELL NO! BUT JUST WENT ALONG WITH WHATEVER WAS PROPOSED.
I respect Ms Palin, but It will have no effect on my vote, I am a Disabled Veteran and McCain has turned his back on us all in his single minded willingness to abandon his principals and everything else to become president. This picking of any woman I see as just another example of his williness to do anything that might get him closer to the White House,
I am a life long Republican, and did not support Sen Obama, but I'm sure as heck going to vote for him, because I love my country and am concerned about it's future.
Sarah Palin is a breath of fresh air! Finally, a candidate who can clearly articulate the issues. She has a resume that reflects initiative, leadership skills, experience that many of us can relate to, and good character qualities. To achieve what she has while being a wife and mother of five is extraordinary. Wouldn't you hire a person like her if she showed up at your door looking for employment? She appears to have the energy, intelligence and communication skills needed to initiate and foster innovation and improvements regardless of the situation. Fellow Americans, I think we need to step back and take a serious look at Sarah Palin. I think we may have someone who could actually help operate the government like each of us must manage our own households - with responsibility and accountability. NPR, thanks for sharing the story.
I only read about half the comments so far, so please forgive if this is redundant.
I'm not all sure that it's Clinton supporters that McCain is trying to woo with Ms. Palin. Given her record, as I know it so far, she is the pollen with which McCain hopes to attract the conservative fringe of his own party. Anti-abortion under any circumstances, NRA member, familial big oil connections, supporter of creation science in the classroom: supporters of Clinton are not likely to be drawn to this candidate's views, and I can't believe that McCain and the RNC thought they would.
As a registered Republican who frequently votes otherwise, I find both McCain and Obama to be good men who would probably make good presidents. I was eagerly waiting to see whom each would select as a running mate. In this unsettled world, where there are no guarantees that a president of any age or physical ability will finish his term in office, it is mandatory that a truly worthy vice president be able to quickly, firmly and intelligently pick up the reins of power. Adequate won't do, nor should personable or gutsy or cute define an American president.
Hillary supporters were not campaigning for her simply because she was a woman. Most could see her as an accomplished president of the United States, one worthy of being the first female in that office. No other woman will satisfy in this election year.
Each candidate has faults as well as virtues. They're human. I'm sure Sarah Palin is a nice lady in spite of her lapses already being pointed out, but she's simply too lightweight to be the first woman president of this country. Bad choice, Senator McCain.
Palin as VP candidate for USA, the most powerpful country in the World ? You got to be kidding ! Very very poor judgement on McCain and his party leaders (Bush/Rove); She got 5 kids and does NOT care for enviroment and very religious. She has less experience than my home town Bridgewater, NJ mayor Flannery with excellent experience with 5X population. Hope Obama wins with landslide majority and teaches a lesson to republican party. We need change this time. God Bless America !
I was worried who will win the election. I can now stop worrying. This goes to show that McCain is making one mistake after another.
McCain is reckless or crazy. Even he does not know this woman. She has no education in science, technology, law or economy. Forget about any knowledge of foreign politics, diplomacy or trade agreements. China? We are faced with significant problems and two wars.
Why do you gamble with our future and future of our children, Mr. McCain?
I like McCan. His choice is great! Sarah is an outstandig match. We need people like Sara who don't make-up things.She is realistic,honest,and I can trust my feelings about both in the presidency together.I'm looking forward for it.I love you guys and GOOD LUCK!
It's about time ! Finally, someone who is plain spoken, experienced and understands God and Country.
I am a registered Independent voter from Arizona who is flabbergasted by John McCain's frightening choice for VP. What is this - a high school popularity contest? Get real! Our problems are deep and signficant: our economy is in shambles; we have NO energy policy; health care and social security are in crisis; we are hemorrhaging in a false war in Iraq. When does it stop? And now we are treated to moose burgers and "executive" experience from a town of less than 10,000. PLEASE!!! This seals it: I am voting Obama-Biden - thanks for making this an easy decision, John.
I have to wonder about the intelligence of a person who doubts (after all of the scientific evidence) that global warming is not human caused. How can a person with no understanding of ecology and/or biology have a say in what goes on the threatened and endangered species list. It seems it would be more ethical and christian to want to take care of this one and only planet we have been given to live in. What about family values? Wouldn't you want your children to grow up in a good environment? I just don't understand these mixed messages that the republican party gives the country.
I am only hearing the same thing coming from Sarah Palin as what we have been hearing for the past 8 years. Drill, drill, drill and keep drilling, but no thought or word of renewable energy. When are people going to realize that drilling at home is not the only answer to energy independence? Gas prices seem to only go up with the republicans in office. I don't know about the rest of this country, but I am ready for a change.
***...she/they talk about family values. at what point, with a 5 month old baby with Down Syndrome and a 17 year old who is pregnant, will questions of neglect arise. This is not a Democrat being facetious, I am the sister of a mentally handicapped adult and a mother of 3...this is compassion for children who I can't believe don't need more from their mother.
If she were VP, or president, who would take care of Governor Palin's young children, including her four month-old baby with special needs? The Whitehouse should not be a part-time diversion from parenthood. Where are the true, conservative family values? Children should come before politics.
...more from their mom and less of the kind of attention, national and international, that will be focused on them. Sarah Palin and John McCain must know that it can be merciless. Diane of Minnesota
Sarah Palin appears to be a "real" Person; a citizen of this (city. state), country who wants to make it better , by taking part in the political process: not another power hungry egotist with an Eastern school law degree who thinks all Americans need their brand of "I'm smarter than the common person" leadership so that the Govenment can make their lives better. I'm an INDEPENDENT voter, (with a brain good enough to earn a MS degree in 5 years and start and operate a successful small business for over 30 years). In politics, I like independent thinkers who don't cave in to the latest popular opinion. She'll have plenty of informed minds to help out with council in areas where she lacks experience. All sucessful businesses operate on this model. We need leaders who are not afraid to make the "right " decisions based largely on a good dose of common sense. I think that is what John McCain sees in this person, who happens to be a Woman.
I think Sarah Palin was a shrewd choice for McCain. Many in the Republican base are fed up with Washington in general and weak willed, liberal and corrupt republicans in particular, Sarah Paylin salves all of that.
Reagan Republicans a generally regular John & Jane Q Citizens who have been waiting for a party leader that can be trusted; that is Sarah Paylin.
While Paylin has not enjoyed much interest in wider media outlets, conservative and Republican blogggers are very familiar with her and laud her selection.
Unlike most Republican and Democrat politicians today, Sarah Paylin doesn't just 'talk the talk' she also "walks the walk'.
To sum it all up, had she not been selected by MCain as his running mate a lot of Republicans would not necessarily have made too much of an effort to get to the polls in November. Now we'll be there in force.
Be well.
Some of the most ignorant people I know graduated from Harvard. To the snobs on the Left...well I don't want to cuss.
Well there we go again. Those on their high and mighty horses, as recently as yesterday, saying that teen pregnancy is a social disease brought on by a myriad of issues that the democrats don't just seem to see as a problem. Now look at what they are saying: Governor Palin's family is like any other family and should be supported. Hello, one day you are saying that the right way to support a family is to be there with your children, support abstinence education, and act the "Christian Way". The next day, OH! it's OK to have a 14 year old date a 23 year old, a 17 year can get pregnant, a 16 year old who can get birth control (with her mother at her side?), a mother that can return to work within 3 days of giving birth to a beautiful, but challenged child, and a husband that can continue to be, pretty much, a unengaged, not too interested or non-supportive fatherLet's look at the Republicans, while it is OK to be critical, don't throw stones when you yourselves live in glass houses. Let;s name a few folks over the last year or so with some problems, and then the Republicans, can sit back and allow at least 30 Democrats the right to misbehave, without recourse:Vitter, Craig, Stevens, 2 sex perverts and 1 crook to name a few. If you want to stand the higher moral ground, then clean your own closets first. And yes Larry Craig is still in there, or so he believes!Palin is as unqualified as any one could be. Children that have no moral guidance (or if they did, they had lousy teachers, another reason she is a bad pick), a working mother that cares only for her job (3 days after giving birth she is back at work), a disengaged husband, a supporter of "Pork" (just ask the town of Wasilla how much return they got for the lobbiest they paid for - It was millions, not to mention her support for the "Bridge to Nowhere", which she stilll supports but in a less expensive mode. Flip flopper, she is, as she has changed her position on several things as she has risen to the rank of Governor of a pretty backward state. What is McCain thinking, 3 electoral votes? Women's votes? Yeah his senility is showing, Mike Huckabee or Mitt Romney would have been much better picks and they bring along many more states. The candidate for the Republicans has made a poor choice, and I for one, will not vote for a small town/time local politician who has never had a national leadership job, probably can not spell Darfur or Chechnya, let alone even been oversaes vacationing, where she shops at the local dock to pick up dinner off the boat. What in the world does Palin know about biofuels and the impact on food availability, the financial markets and where they are located, let alone how they are run and what impact there is on just the tiniest things happening, etc. Prove to me that she has a global knowledge and can show us where Tbilisi is located and what concern Russia has there, then I might think to vote for the Republicans. NO I THINK NOT. Someone needs to be gentle and tell her to go home for the good of the country.
bischo4 5:27 PM
Again, you people are going to fall for a mask. What about are children...whos mothers cant afford health care and an education. Again your gonna give a tax break to billionaires instead of putting it into your own pockets. Let the billionaires run are world instead of us and then complain about it as usual.
John McCain has the gall to talk about Obama's "inexperience" and how he cares more about the campaign than the nation, and then he picks Palin for VP. McCain is pathetic. Not only does she have no foreign policy or security experience, her experience of public economics is Alaska, where they don't even have to tax people because of the oil gravy train. She is not educated or prepared for our nations' problems.
I used to think that the right wing talk radio fans were the least intelligent group of people in our electorate but they have been replaced by the Hillary bitter enders. Even the talk radio fans are able to identify and vote their perceived best interests. The Hillary bitter enders are less intrelligent than Limbaugh fans.
As I shared with my wife tonight, I like Sarah not because she's a woman or even because she's a "conservative" (although it does help that she is both). Rather, the crucial thing is that she has the reputation of actually creating significant change for the better--she's already done what Obama merely talks about
- "Between Biden, Obama and McCain, Palin is the only one who can spell 'energy.'
HA HA HA !! But can she spell (or for that matter say) NUCLEAR ...wait or is it NUKELAR ???
Palin for VP...it's laughable...my 11 year old gets it !!
She,s got BALLS ! go getem, Sarah!
She's a lightweight....most mayors of mid-size American cities (with a similar population as Alaska)have more executive experience than this current insult to our common sense.
Palin is absolutely antithetical to everything that characterizes true women. She is reproductively irresponsible; environmentally disasterous; and politcally unreliable. The earth is hugely over-populated with humans; ANWR, as home to over 13 MILLION birds, 3 MILLION caribou, and uncounted varieties of Arctic plants, is ANYTHING BUT "barren" as she characterizes it. Moreover, there is no oil there, and every iota of damage done to the land by the passage of vehicles does not repair within many lifetimes. It is as fragile a bio-fragment as exists. Right-to-life does not only refer to humans. It refers to every species The Great Holy made & put here to share the web of life. Palin accepts Big Oil's money and then turns on them when it suits her agenda -- this is not a "maverick"; this is someone whose word is not to be trusted. Being a Traditional spiritual person of my Indigenous People, I wouldn't vote for her or John McCain anyway because he flipped from his usual stances to these repugnant theosophomorists in order to get their money for his campaign. His selection of someone like Palin underscores it. The Christian "right" is WRONG about just about everything & antithetical to the First Amendment of the U.S. Constitution. True "mavericks" & "reformers" don't embrace such people or their anti-Constitutional, anti-religious-freedom agendas. I doubt he'll get any votes from us Ndns.. Certainly not this grandma's, nor those of any other ITI I can persuade. Sarah, you ought to be ashamed of yourself - but I don't believe you have the class.
Sarah Palin & John McCain & the Christian Wrong crowd carry on at length about "abstinence is the only "right/Christian" way to behave.. Then Palin's 17-year-old daughter comes up 5 months pregnant & these same people laud her 'courageous' decision to birth the baby & get married? Um - in what order is she going to do this? Then - What's 'courageous' about it? (Nothing..) In a world outrageously over-populated by humans, there is nothing 'courageous' about her actions. There is something insulting & offensive about it. But wait! - There's more! She's 5 months along! Sarah didn't notice anything? Her husband didn't notice anything different either? This is a suprise?? HAH! It's only a surprise if these people don't pay attention to their children the way they claim to. It's one thing to walk your talk & another entirely to merely pay it lip service.
Accidents make people & have 'since forever'. Abstinence hasn't worked in thousands of years, so claiming a religious orientation isn't going to make it work now. Sarah Palin & her family prove this plainly. Again - the emperor isn't wearing any clothes at all, let alone new ones.
I'm a little tired of hearing what a wonderful mother she is. What kind of mother subjects her 17 year old pregnant daughter to this kind of scruity? What kind of pregnant woman travels to TX in her 8th month knowing that she is carrying a special needs child that may need intensive care when born? Most drs recommend that women not travel far from home in the last trimester of a NORMAL pregnancy. I certainly refuse to blame her for her daughter's pregnancy, but I DO blame her for accepting McCain's VP offer knowing the scrutiny that her daughter would endure. From her children's names (who names their kids "Track" and "Trig"?), to her hunting, much less troopergate, I honestly think she must be a nutcase. I'm sure we haven't even heard it all yet. As far as Palin being a reformer, did anyone ever hear of Elliot Spitzer?
If teenage pregnancy happens to a right wing family, they're "human". It it happens to a left wing family, it's because they're immoral.
It is just too funny that some people denigrate Palin's husband for working for an oil company. Try filling in some of that void between your ears with some facts on what products are produced from oil.
Female or male, we don't care. We just wanted someone who commanded respect as a leader and as a person(that's real), that my wife and I could relate to as middle class conservatives. She's
perfect!
She's frightening! Out of control family problems and governor of a state that has fewer people than the county in which I live. Add to that a running mate who has had cancer and a stroke, and could use some serious therapy for anger management. Are these the people fit for the highest offices in the US? If your answers are affirmative, heaven help us all.
Sarah Palin, background only relates to just her own Parents and sister and brother. We need to know Sarah Palin schooling background and how she got to be where she is today? I feel she needs to stay on top of her own family. Her own childrens needs a mother to be close to them. She has a young family and they would need the love from her. To be a VP is going to require allot of time away from family. I don't know if Sarah Palin can handle the job as being a VP ?? She would have to work with the many people in this world.
she was a very nice cchild
Sarah Palin is adequately educated and properly schooled in the important things that matter to people when it comes to a President. Bill Clinton was more educated but was an immoral person who did lewd and shameful acts in the Oval Office. Washington, Andrew Jackson, Abraham Lincoln didn't have a college degree but served with honor and courage. I am amused by the selfrighteous intellectuals who complain that Mrs. Palin only has a B.A., is against abortion, believes in creation and enjoys hunting. My guess is that our greatest past Presidents would share her views.
My view is that she is smart, courageous, hard working, faithful, patriotic and honest. I think she is a good representative of the majority of American voters. I will do everything in my local area to get her elected.
I am pleased a woman of faith is running for office, but I wonder about the decision making ability of a gun-totin', NRA member who supports running a pipeline through protected lands while trying to get the polar bear taken off the endangered species in order to do so. Does this show empathy and dedication to Christian ethics and God's creation, or has the pursuit of black gold become the focus in Alaska? In this nuclear age, it is frightening to think the aggressive McCain/Palin team, two impulsive personalities (maverick and barracuda as they are called), may be inclined to involve us in conflicts without sufficient thought, negotiation and clear direction. Also, I find it incredulous that a financially stable mother of five would voluntarily leave a four month old baby with Down's Syndrome and a young pregnant daughter who may need her support to travel on the grueling election circuit. This is definitely not a 9-5 job. I question where her priorities lie, and I don't feel she is representative of the majority of women in our country. I am a registered Republican, but this time I am leaning toward the Democratic candidates who appear to have a specific platform with the willingness to seek the opinion and knowledge of others and actually consider their ideas. I don't like the thought of unyielding dictators leading our country.