And The Nobel Goes To...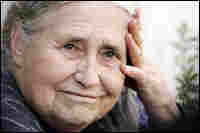 This morning, we learned that Doris Lessing is this year's winner of the Nobel Prize in literature. Professor Horace Engdahl, Permanent Secretary of the Swedish Academy, made the announcement this morning. The New York Times reported that, "Ms. Lessing learned the news from a group of reporters camped on her doorstep as she returned home from visiting her son in the hospital." Surprise! Well, maybe it wasn't totally out of the blue.... Motoko Rich continues,
perhaps she was not entirely surprised, because 'this has been going on for something like 40 years,' a reference to the many years when she had been named as a potential honoree. 'You can't go on getting excited every year about this,' she said. 'There are limits to getting excited finally.
The Prize citation calls Lessing, "that epicist of the female experience, who with skepticism, fire and visionary power has subjected a divided civilization to scrutiny." Are you satisfied with the Swedish Academy's decision? What other writer deserves the award?
I am so thrilled to hear of Doris Lessing winning the Nobel prize for literature. It's about time. Her work is vast, complicated, varied, brave and beautiful. I have tried to read everything that she has written during the 33 years since I read The Grass is Singing in HS. I love the way she "speaks" the truth through the many genres that she has explored. I am looking forward to reading the Cleft. Her books should be required reading in high schools and colleges... might actually inspire young readers to put down the computer mouse from time to time.
I think she has her finger on the pulse of humanity but not the intellectual capacity to acknowledge it as facts that cannot be changed.
We are hard-wired to behave the way she descibes our behaviour. She only has the ability to moralise about it.
i like this woman
oh christ ! :-)
maybe she shoudl win years ago and in 2007 another writer but things dont go as we want
isnt it
ciao from italy
viola