Solamente Cheech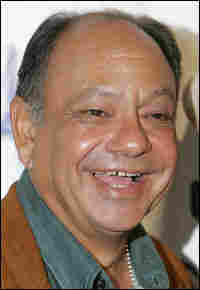 Cheech Marin's done it all: movies, television, a reality show, voice-overs, stand-up, and has even recorded on actual vinyl*. No matter where you first encountered Cheech, you probably know him as half of the stoner duo Cheech and Chong. He's been around forever (n.b. In an interview with Tavis Smiley for NPR in 2002, he credited their success on the road to their fitness regimen. He says that in every city they checked into, they would "work out, lift weights, go to the hotel, sleep, get up, do the show, party as much afterwards... we saw our contemporaries and/or rock'n'roll guys, man, they would stay in the... hotel and order porno and they burned out quick, man." Fact or fiction? You be the judge.), which he credits to a ease with changing mediums, but that sounds like modesty to me... the man is incredibly talented. He's also a giver, and his latest collection of Chicano art is touring the country for audiences now, with free admission (and you can see some of it here!). Hazy hours spent in college dorm rooms, watching Cars with your kids, what's your favorite thing about Cheech?
*Full disclosure: I own quite a few LPs and a fully functional record player.
I am mixed Latina, raised in San Jose and I am an artist whose work is hard to define. People who see it say that my work looks Chicano - but I am not Chicano. What little box do we fall into? What happens when art falls outside a label?
While I am aware that there is a big Chicano community in the US that deserves recognition, I am very saddened to see total ignorance in the cultural field of the So, American countries. There is a tremendous wealth of artistic talent and work that goes unnoticed in the US. The American Continent doesn't stop at the south end of the Mexican border.
My name is Andres Esparza
I am a Chicano Artist(SPLART.com) in Kent, Ohio.
I am curious as whether Cheech is aware of Chicano Art in the midwest or east coast of the U.S.