$188 Laptop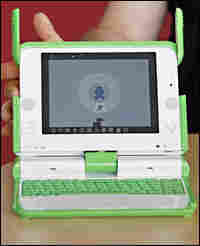 In 2005, Nicholas Negroponte, who founded the groundbreaking MIT Media Lab, announced that he and several colleagues aimed to design, manufacture, and distribute laptops that would cost, at most, $100 each. The so-called "$100 Laptop," Negroponte said, would help millions of poor children cross the growing digital divide.
Now, more than two years later, Negroponte's nonprofit, One Laptop per Child, has begun to sell computers to the developing world. But they're not taking off like he'd hoped. According to reporter Steve Stecklow, of The Wall Street Journal, education ministers in several countries have decided that they won't buy the inexpensive laptops after all. (You can read his article here). Some wonder why the computers don't use ubiquitous Windows software.... Others ask why the laptops cost more than $100 (They sell for $188, plus shipping). And several companies, including Microsoft and Intel, have introduced competing products.
What do you think of Negroponte's idea, to put a laptop — with a long battery, high-resolution screen, and open-source software — in the hands of every poor child on the planet? And why don't you think the project has taken off? Steve Stecklow and Nicholas Negroponte will be here, to answer your questions, in the second hour.
It hasn't taken off for the same reason people don't want to read anymore. Computers are used for entertainment rather than learning.
Technology is not a substitute for ambition OR education. You have to have be taught how to use a tool like a computer. That's how Bill Gates made his billions, showing you how to use your computer without YOU getting a Master's degree in Computer Science first.
Then what do you do? You play Solitare for eight hours a day!!!!
I would've bought one if they hadn't removed the promised crank-up handle.
I've been looking forward to getting an XO laptop of my own ever since I got to play with the first prototype at a UN event two years ago. The initiative has taken a lot of hits because of the whole $100 controversy - most media coverage never seemed to understand the nuance that the goal was to get the price point of the laptop down to $100 over a period of time, rather than starting off at that price.
It's interesting you also note that some people wonder why it's not using Windows, since most folks involved in technology initiatives in the developing world would have never countenanced a Windows-loaded laptop in the first place.
For one thing, they'd argue that Windows is expensive and a memory hog, which would have raised the price of the laptop even more. Perhaps even more germane is the idea that this laptop needs to be productive for young people, some with limited literacy skills. That's why Seymour Papert and others involved in the early formulation of the project long argued for an interface that's intuitive from a kid's perspective. Assuming you can get that type of interface right, and make it open source, it could have a huge impact for low-literate adult populations around the world as they also struggle with overcoming the digital divide.
Anyway, I ordered my XO a couple of weeks ago. I should get it by Christmas eve, while the other one I bought will hopefully be in the hands of a kid in Cambodia or somewhere else in the near future. I look forward to seeing her first blog. :-)
I would've bought one if they hadn't removed the promised crank-up handle.
Yeah, the crank was my favorite part of the original prototype, too. Unfortunately, when that first prototype rolled out in November 2005, Kofi Annan was demonstrating it and accidentally ripped off the crank. It wasn't really a functional crank yet, and was mainly there to show people the concept, but once everyone saw it come off in Annan's hand, it was pretty much doomed. Too bad, really, since wind-up radios and flashlights are commonplace and surprisingly hardy. By the time the XO laptop went into production, I'm sure they wouldn't have gotten it sorted out. They later incorporated a pull-string for recharging the battery, but what fun is that - unless it came with a program that could imitate a See 'n Say. ("The cow says moo!") :-)
I think that the Talk Of The Nation story really glossed over the real point of the One Laptop Per Child (OLPC) Project. I have been closely following the OLPC project from the beginning, and as Mr. Negroponte pointed out, he is not in the business of selling laptops, but is in the business education, by getting laptops into the hands of children. From the beginning, companies who ARE in the business of selling hardware & software (Intel & Microsoft, for instance) have been quick to dismiss the project. The fact that those same companies are now trying to compete with the OLPC Project only serves to validate Mr. Negroponte's vision. It was quite apparent that Steve Stecklow completely missed the point. He talked about the project in terms of "winning" and "losing", but didn't seem to be able to see beyond his narrow capitalist viewpoint. If laptops are making their way into the hands of children, whether they be the OLPC laptop, the Intel Classmate, the ASUS eeePC, or a similar machine, Mr. Negroponte's vision has been realized, and he has has already won.
I am an elementary education student at the University of Michigan. I have been following the laptop for some time and am a major supporter of the idea. I have used the laptop in multiple mock grant proposals in various classes and it is amazing how inexpensively you could potentially equip a classroom with laptops. If school districts would stop for a moment and consider all their options when buying new technologies, all our nations children, in the poorest districts, could have their own laptop.
I spent two years in an African village without electricity, paved roads, or running water. And when I hear people complain that students shouldn't have an OLPC laptop because they don't have, say, shoes (which is often true enough) it's clear that they don't get the point of this project. Education, exposure to the wider world, or even experience using a keyboard that would allow one to work in an office one day -- these are all ways to solve that problem of no shoes. It seems to me that what the naysayers are really saying is either "How can this computer be any good -- it doesn't run PowerPoint" or "This is a useless extravagance." They are wrong on both counts. Ask any child who receives this laptop and she'll tell you the same thing.
The brilliance of these laptops is that they are designed to teach kids about computers by encouraging them to play with them - even to the point of showing them the raw code behind the games, so they can get an idea of how their toy works. This is the same way kids have played - and learned - since they were given things more complex than wooden blocks to mess with. I strongly believe that if these computers end up in the hands of the kids they were intended for, they will do their job, and the OLPC program will succeed. That faith comes more from an understanding (or more accurately, a recollection) of how kids learn about technology, than from extensive research about the prototypes or the people involved in OLPC. Who can't relate to tearing apart something they shouldn't have as a child, just to try to figure it out? But these kids in developing countries don't even have the electronic trash that western kids are getting to tinker with - the old IIGs or IBM Thinkpad that dad threw away to do whatever to, and get away with it. I bet if you ask most of the kids working at Google these days they'd have all kinds of frankenstein motherboard stories to tell from their childhoods. That's a huge gap in tech exposure, and somebody has to do something about it, fast.
My points, finally, are these: A, that technology fascinates kids - especially those who don't get to see much of it - and along with the multi-featured, play-to-learn approach that the XO obviously takes, that's more than enough to make this a worthwhile endeavor. (By the way, anyone remember how great that project with kids and cameras was??) And two: kids are not demanding. If they can make a learning experience out of popsickle sticks, yarn and glue, they can learn from this XO thing. It's what they do. And they certainly don't need some suit from Microsoft to TRAIN them how to do it. If all goes well, they'll have all they can handle of that BS in adulthood.
I guess if Intel thinks children are a "market" then maybe I'll buy AMD. I bought a Playstation and not an Xbox. I can make my point that children are children and every one of them deserves to be a "mission" by deciding where I spend my money and who's stock I to buy.
If Intel and Microsoft would balance their moral responsibility and their fiduciary responsibility - for just a few millions of dollars - think of how they could make the world a better place. Does one person really need an annual salary of $13 million - that would buy about 65,000 laptops.
Intel posted $885 billion last quarter, what would happen if they asked the stockholders if they could take say a half a billion dollars of that profit to help get laptops to poor children because children are important - I wonder how they would vote, I dare them to give it a try. Microsoft, care to step up and give it a try.
I want to order one or two for my grand children but do not know where to place my order, will some one please send me the web address or the email address?
Thanks
@H.J. Harper: Here's the link for the OLPC "Give 1, Get 1" program, which is the only way U.S. & Canadian residents can acquire a laptop:
http://laptopgiving.org/en/give-one-get-one.php
But you might want to read this review by PC Magazine first (at least see the first couple paragraphs), to get some perspective:
I signed up for the Give 1, Get 1 on November 12th. I was first told about the project by a middle school child who joined our "Energy Garden" project at Sandy Spring Friends School. Weeding is a great time to talk and somehow we got to talking about solar energy. Harry beamed, "have you read the article about these cool, new laptops that can run on solar, or with a crank?", and the next day had brought in the article about the OLPC. I am so excited to give my son his for Christmas, and can't wait to find out which children across the globe are going to be using theirs, too. This is the kind of project that my son and his friends at school would love to be a part of... hoping he can showcase his laptop, and see if we can look at the xogiving.org project as a possibility for our "Energy Garden" for a global lesson in sustainability through education and sharing.
I ordered one during the "give one, get one" program. The laptops are fantastic or at least I should say they are much better than I expected. It is durable, intuitive in design, and the wireless network works great. They are well worth the cost if they extend the give one get one program.
I am researching these laptops to be able to get donations and send about 20 to an orphange in Pristine, Kosovo. Any donations and help will be greatly appreciated. Please contact Trudy.l.duhon@usa-spaceops.com
that is a great lap top and i am going to get that for certain well done!!!!!!!!!!