Phones Free at Last?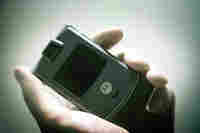 Verizon got some good PR with their announcement yesterday that they plan to open their wireless network by the end of next year. But, what this really means for people like you and me is still up in the air. In theory, it should work something like this: You buy a CDMA-compatible phone (CDMA is the technical standard used by Verizon, Sprint, and others... as opposed to GSM which is used by AT&T, T-Mobile and most overseas carriers) from anyone or anywhere, and you can use it with Verizon service, or not. In other words, you don't have to buy that BlandPhone X4 and sign up for a dozen years of service anymore, it's more like buying a new PC and then deciding on an internet provider. If you buy a phone direct from the manufacturer, or on eBay, or even if you switch from Sprint to Verizon, your phone should work. And with a little imagination, you can see lots of devices OTHER than cell phones that you'd want to connect to a wireless network down the road...
MP3 players, handheld game systems, digital cameras, smart phones, etc. Of course, Verizon knows this, too, and sees profits in an open network. Tom Krazit wrote yesterday at CNET:
Carriers such as Verizon are drooling over the potential revenue from data usage fees, and while Verizon executives seemed to still be kicking around how much to charge for this open-access service, CEO Lowell McAdam said on a conference call Tuesday that it would be akin to reading a utility meter and charging a price per bit.
And over at Wired, Bryan Gardiner points out that in some ways Verizon is playing catch-up:
Three weeks ago, Google announced its Open Handset Alliance (OHA), which is comprised of a group of handset makers, carriers and silicon manufacturers.... That announcement undoubtedly played a major role in Verizon's new stance on openness, as the wireless provider remains one of only two U.S. carriers (AT&T being the other) that hasn't committed to the open source alliance.
Don't forget, Google also said it would be bidding at the FCC's next auction for a portion of the wireless spectrum, basically making Google a Verizon competitor. Since the FCC likes openness, and Google says they're all about openness, this could put Verizon on more equal footing when it comes time for the FCC to award the spectrum.
Whatever their motives, in the long-term this is probably good news for the rest of us. In order to be competitive, a major wireless company just agreed to tear down their protective wall. It's just the latest step towards more openness, more portability, and more freedom when it comes to wireless. Remember, it was just last month when Walt Mossberg in the Wall Street Journal slammed the big wireless companies for refusing to take this step:
A shortsighted and often just plain stupid federal government has allowed itself to be bullied and fooled by a handful of big wireless phone operators for decades now. And the result has been a mobile phone system that is the direct opposite of the PC model. It severely limits consumer choice, stifles innovation, crushes entrepreneurship, and has made the U.S. the laughingstock of the mobile-technology world, just as the cellphone is morphing into a powerful hand-held computer....That's why I refer to the big cellphone carriers as the "Soviet ministries."
Who cares!
I bought a cell phone to use it, (as a tool), for talking. Not as a fashion accessory!
You people are WAY TOO VAIN!
Does a "cool looking" phone make-up for the outrageous bill???
i believe that phones are needed for basic things like talking and i do admit that i do like text messages. however, i really don't want my phone to be capable of everything under the sun. i really don't need to use a word processor on the go, and i still prefer an old fashioned day timer than scrolling through a tiny screen with a stylus to find out where i need to be and when i need to be there.
As an American who has lived in Europe for the last 20 years, I must admit my astonishment at the wireless phone market back home.
I think Walt Mossberg makes the point best. The infrastructure should be open and standard - within the limits required for innovation. I applaud Apple's and Google's forays into this space. Apple, in my opinion, shows that the carriers are not the ones who are best able to provide the user experience.
Granted, many just want a signal to be able to make a call, nothing more. Others want fancy gizmos that do everything you could never use. Hey, supply and demand. Who cares, the market will or should be able to provide that choice assuming there is sufficient demand... one day, maybe.
The US is not the leader here.
If you think about what is the next generation and the buisy lifes and also how lazy we are. It makes life easy for us college kids. Also this is smart marketing and planning ahead on verizons behalf