BotN Got Elfed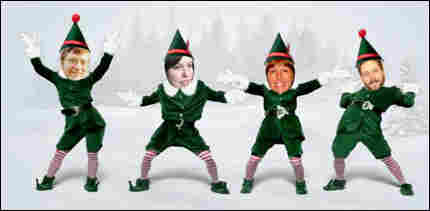 There's something hilarious about seeing your highly respected co-workers' heads dancing atop the body of a dancing elf. If you don't believe me, try it for yourself (don't worry, it's free)... and here's a little holiday hilariosity from all of us at BotN.
Just wanted to let you know that your Elvish dance inspired a colleague of mine to create one for his buddies at CNN:
Lou Dobbs and Larry King make for very intimidating elves, yet Anderson Cooper and Wolf Blitzer seem like they're totally in their element. Then again, so did Neal. :-)
Hahahaha!! I can't get over Neal's moves. Hilarious!
now *that's* worth a back announce. :-)