GPS This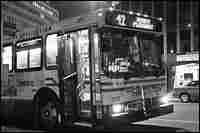 Though Scott might laugh at me, I adapt to new technologies pretty casually. Never the first nor the last, I usually get in somewhere in the middle of the pack... Or not at all, if it's something I really can't justify. As such, I don't have GPS yet... I love maps and figuring out routes, so I don't think I need it. Of course, I don't think that's true for everyone — I'm house hunting (well, condo-hunting) right now, and my agent has a system. (They're a match made in heaven). The other place I'd love GPS is on the DC Metro buses. The devices can predict train arrivals... Why can't they do the same for busses? Turns out they can (and in DC, one day they will). Where else do you want to see GPS? And do you worry about its spread?
If there's a GPS in my phone for 911, how come I can't access it to use with map software on my phone?
I love how you can track your dog using GPS on collars (I'd hate to lose my furry friend). As a runner, I also like using GPS to track my runs - this helps me monitor speeds and distances. As a mom-to-be, I think I'll also be tempted to give my kids cell phones with GPS so that I can make sure they are okay in case of an emergency. If they want a phone anyway - might as well add the safety feature. The company I work for (TeleNav) develops GPS for cell phones (for adults though) - services like turn-by-turn navigation for driving and tracking services for businesses.
It will be fun and interesting to see how GPS technology advances in the next couple of years. With more and more cell phones now including GPS capabilities, I think you'll see some very creative services launching.
Dan - Great question! The CDMA carriers (Sprint, Verizon) implemented GPS-based solutions to Wireless E911 call location. With the exception of the former Nextel (now part of Sprint), the wireless carriers traditionally did not expose the location capability to the consumer. Rather, the focus was on E911 call delivery. Recently that has changed and Sprint and Verizon now have GPS-based navigation applications. While this link is somewhat acronym-heavy, you may find it informative.
http://www.gpsworld.com/gpsworld/article/articleDetail.jsp?id=311439&pageID=1&sk=&date=
Jon - to your point, most of the wireless carriers have GPS navigation applications now. AT&T, TMobile, Alltel, etc. all have navigation along with Sprint and Verizon. They don't offer on all phones (yet) however but there will likely be a point in the future when all phones have this capability.