Snubbed By Oscar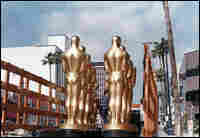 There was no red carpet, no flashy dresses yesterday morning, but the Oscar nominees were announced in California. Of course Johnny Depp is in there, Cate Blanchett, Sweeney Todd, and No Country for Old Men. What caught some people's eye, though, is who was left out. No Sean Penn, or Keira Knightley, no Tim Burton, or Enchanted, and the list goes on. We'll have to wait till next month to find out who wins Oscar in the end, but today we'll talk with Matt Singer, from the Independent Film Channel. And we want to know: What or who do you think got snubbed by Oscar this year?
Living in Denver, the film "Into the Wild" struck a cord with alot of people. Everyone saw it and was quite moved. After my screening, I walked out of the theatre knowing that was the years best picture. I felt the same way in the past with 'The Departed' and 'Crash.' I was shocked to see it wasnt one of the films nominated. It's even still playing in local theatres in the metro area. Emile Hirsch in the film deserved a nod for best actor. I also thought the years best perfomance was Ryan Gosling for "Lars and the Real Girl" because he had a very challanging role of being in love with a doll, and pulled it off. Both performances were equally my year's favorite but I guess the actors were too young and the roles too edgy for the stuff academy.
The Best Picture nominations this year and the films dominating most of the other categories are of the bleakest subject matter in recent memory. Does this reflect the present psyche of American culture or Hollywood's writer's strike? Why so dark?
I was happy to see that Marion Cotillard was nominated for her fantastic portrayal of Edith Piaf in the French film La Vie en Rose. But I'm confused as to why the film itself wasn't nominated for Best Foreign Film. Why on earth would the Academy ignore such a wonderful film?
Paul Dano not getting a Best Supporting Actor role for There Will Be Blood was shocking to me, as was Johnny Greenwood not getting a Best Original Score nod for the same movie. Both were simply masterful works.
I think the film Rescue Dawn got snubbed both for the Director Werner Herzog and its' stars Christian Bale and Steve Zahn.
it's unfortunate that "into the wild" did not get more recognized, hal holbrook's nomination notwithstanding. in particular, it upsets me that eddie vedder's soundtrack to the film was not recognized, especially given that "enchanted" had three separate nominations all in that category. past that, both sean penn's adapted screenplay and, of course, direction, deserved to be recognized and were not. sad.
3:10 to Yuma got the snub. I thought it was excellent. ...How do you suppose it got missed?
I'm sorry to disagree with your guest and one of your listeners, but "Into the Wild" was the longest 6 hours I ever spent watching a 2 hour movie.
How did Richard Gere get overlooked for his performance as Clifford Irving in The Hoax. An amazing performance in an excellent film.
While I didn't expect to see "Hairspray" with a best picture nomination, I did hope to see some of its songs make the list.
My favorite movie of the year was "In The Valley of Elah." Why do you think it did not make it into the best picture nominees?
I thought Ben Foster should have been nominated for 3:10 to Yuma instead of Tom Wilkinson for Michael Clayton-he was too "over the top". One more thing, "enough already with films on Elizabeth" Cate is always good, but any time there is a film about Elizabeth, it gets nominated. How could Diving Bell be up for best directing and not best picture?
One of my top five movies of the year was Before the Devil Know You're Dead. Why so little notice from any of the awards for the movie, acting or directing?
What has happened to the musical? Did Once get any consideration. It will not be a "Sound of Music" movie for history, but it is far above recent musical offerings.
What about "Waitress"..not only a wonderful script but an amazing production.
The Diving Bell and the Butterfly, was a beautiful movie, gorgeously filmed, emotional, and wonderfully free of product placement (except for Elle Magazine!). Artistically, and otherwise, it goes way above and beyond what most movies don't even try to achieve. Kathleen Kennedy deserves kudos.
What about Frank Langella in Starting Out in the Evenin? He was definitely snubbed!
I think that "Before the Devil Knows Your Dead" and Albert Finney for Best Supporting as well as Ethan Hawke and Philip Seymour Hoffman were overlooked.
How about "The great debaters" & "Charlies Wilson's war"???
What about Once??? That was outstanding! Music was great and the actors made it appear like we were along side of them the whole time. 17 days to film. Incredible!
Speaking of being snubbed, why is the news of the death of 25 year old Brad Renfro taking a back seat to Heath Ledger. That's crazy!
Jonny Greenwood and Eddie Vedder's scores were disqualified by the academy as they were "diluted" since some of the material was not written specifically for those films. Once again the Academy's idiotic rules are in place to exclude anything new and interesting.
Into the Wild and Diving Bell were the biggest BP snubbs for me and they were snubbed in the best actor catagory as well. I think Eddie Veddar's songs were still elligible for best original song but for Enchanted to get 3 while he gets none is just wrong.
Mike Nichols and Sidney Lumet were overlooked for "Charlie Wilson's War" and "Before the Devil..." respectively. Wes Anderson's "Darjeeling Express" shouldn't have been forgotten either. Persepolis is a stunning achievement which deserved an additional nomination (adapted screenplay).
What about Gone Baby Gone? Matt Singer talked about Casey Affleck's role in Jesse James, but nothing at all about his outstanding performance in Gone Baby Gone. ...sad face... :(
Why didn't anyone call in to represent GBG?
How could Zodiac be overlooked? It surely was among the top five films of the year. It was multilayered, complex, atmospheric, and captivating. Zodiac was exceptional. It was unjustly and cruelly overlooked. How disappointing of Oscar to neglect it.
Also, snubbed is Sidney Lumet who directed Before the Devil Knows You're Dead. Again, an engaging film with memorable scenes, developments, and insights. Lumet deserves a nomination for this film for his captivating style and interesting presentation. Although not as powerful as Zodiac, Before the Devil too was unjustifiably neglected.
THE KING OF KONG is an amazing, hilarious documentary of 2007! The theater where I saw it erupted in applause when the movie ended!
Although "Wild" seems to be either loved or hated. It is litteraly unbeleivable to me that it did not get nominated for Director, Film, best actor, and especially original song...
This movie will be remembered as an epic beyond this year's Oscars. Sean Penn - You rock !!!!!!
The 5 best original songs should have been:
"Le Festin", Ratatouille
"Guaranteed", Into the Wild
"Falling Slowly", Once
"Come So Far", Hairspray
"That's How You Know", Enchanted
Hairspray should have also got a second nomination for makeup instead of Norbit.
Ben Foster in 3:10 to Yuma should have been nominated! His acting was phenomenal.
Black Book was one of the best WW II movies in a long time. Turned the cliched resistance pic on it's head. Why no Best Foreign Language Film nom.?
Paul Dano was overlooked completely. Holding his own with Day-Lewis - a man whose performance redefined the phrase "tour de force?"
Johnny Greenwood's disqualification was mind-boggling. Music is music. If you're altering existing music, guess what, folks! You're making new music. Ridiculous.
"Zodiac" was outright snubbed and "Waitress" deserved at least an actress nod or two.
But the most incredible snub to my mind was "Once." The acting was incredible, the screenplay/style simple yet masterful, the music amazing. It was one of the best reviewed films of the year. A much better film overall than "Juno," in my opinion.
I cannot believe "Enchanted" gets THREE song nominations and "Once" gets one nod for their single. I would hate to go on a long roadtrip with those Academy best song voters...their cd collection must be positively dreadful.
I'm sorry but I don't agree with all de Oscars nominations. I didn't like very much de movies and actors nominated but Marion Cotillard is wonderful and Daniel-Day Lewis is outstanding.
A more important question than who was snubbed might be who or what film was nominated that shouldn't have been. I believe Atonement was a horribly over-rated film that has somehow (and I can't figure this out) gotten several nominations. Don't get me wrong, this wasn't a BAD film and there were some nice performances but as a whole it was no better than mediocre. Did those who submit the nominations see the same film I did? I just really don't understand. It seems to me that nominations are most often related very closely to box office take and by that standard Atonement did very well and is still in the theatres but it was in no way worthy of an Oscar.