Mix Tape Love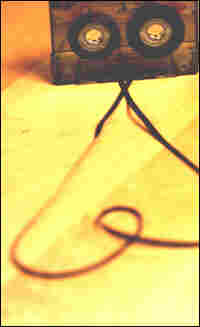 Few things inspire as much passion as a mix tape. On the one hand, it's an artifact virtually guaranteed to arouse emotion in both creator and receiver. But on the other, the rules are absolutely unclear, though every serious compiler has her own gospel, inviolable and inarguable. True devotees of the mix can argue the minutiae for hours — the best songs on a theme, the best format, the benefits of surprising the listener vs. keeping the flow, the most esoteric artist included... It's never-ending. I've been going through my old mix tapes recently in an effort to cull my belongings in advance of my planned move, and that combined with a request from a friend for my "Best of 2007" mix, which would be third in a series started in '05 if I'd actually made it, has the mix-itch agitated. Oh yeah — and Valentine's Day. Love mixes can be both the most inspired and the most tortured in the game, and it's been awhile since I made one. So here's the challenge, BOTNers: help us compile the Talk of the Nation Valentine's Mix. And fear not, this isn't just for the lovers: We want all your best love songs, be they songs of absolute devotion, chance encounters, loves lost, scorned lovers, whatever. We want them all... and in tomorrow's first hour, we'll talk about them all and let you know how you can get the mix for yourself!
I have a strong devotion to The Cure and firmly believe that no one writes a love song quite like Robert Smith. My top five Cure love songs are:
5. Friday I'm in Love
4. Catch
3. Mint Car
2. Close to Me
1. The 13th
For political and gestational reasons, "November Spawned a Monster" (although let's hope not this time) by Morrissey seems appropriate.
"We're going to be friends" by the White Stripes
"When I write the book" (about my love) by Rockpile, sung by Nick Lowe, is the perfect song about heartbreak.
"Question" by the Old 97's
gogol bordello, "start wearin purple"
George Harrison's "For You Blue" from the Beatles' "Let It Be."
"I don't really love you anymore" by the Magnetic Fields.
Definitely "Have You Really Ever Loved a Woman" by Bryan Adams & Paco De Lucia. My husband recently sent me this link while on a business trip, just to say, "I'm thinking about you, loving you, and missing you." How's that for romantic even BEFORE Valentine's Day?!! http://youtube.com/watch?v=lTEZ78t-zx0&feature=related
Bring it on Home to Me by the Animals
Elvis Presley's "Burning Love" will make you smile and get you dancin'. No heartbreak hotel here.
Funky Ceili by Black 47 - You find yourself feeling good about this song even before you listen to the lyrics and discover it's about forbidden love.
Blue Oyster Cult's "Don't Fear the Reaper" a song that means to not be afraid of love and that when you finally find it, hold on to it, and it will survive as long as time itself.
"It Makes No Difference" by The Band
The song "Mix Tape" from the musical Avenue Q should be included in the mix tape! It sets the stage oh so well.
"A Case of You" by Joni Mitchell
"In the Aeroplane Over the Sea" by Neutral Milk Hotel
The song "High Rise" by Vance Gilbert has the lyric "I love you just like thunder/Love you like Christmas Mornin'/And I want you to hold me like I'm going off to war" It gives me the chills and always makes me think of how I feel about my partner.
"Sweetest Taboo" by Sade. I tricked my wife in to falling for me dancing to that song.
My song is "Do you believe in magic" by the Lovin' Spoonful - my wife and I still enjoy this after many, many good years.
"Wonderwall" by Oasis. Proving the Gallagher brothers weren't all about drinking, fighting and swearing.
"Never Tear Us Apart" by Inxs
"Heart", another appropriate one by Rockpile (Nick Lowe).
For those of us who view Valentines Day through a jaundiced eye I recommend "H-A-T-R-E-D" by Tonio K. The ultimate break-up song with the classic verse:
I wish I were as mellow as for instance Jackson Browne
But Fountains of Sorrow my a** mother-****** I hope you wind up in the ground
From his classic first album "Life in the Foodchain"
"Wonder" by Megan McCauley.
pj harvey, two songs:
"to bring you my love" and
"the dancer"
beautiful love songs, if a little bitter
That Boy - Lloyd Cole and the Negatives
Must I Paint You A Picture - Billy Bragg
Last Time I Saw Richard - Joni Mitchell (live version from Miles of Aisles)
I Want You - Dylan
"A Case of You" by Joni Mitchell
just a reminder that the Police's "every breath you take" and REM's "this one goes out to the one I love" are often misunderstood - give them another listen before including them
Randy Newman - You Can Leave Your Hat On
Serious love song:
"You give me reason to live; you give me reason to live; you give me reason to live; you give me reason to live."
Who can ignore Frank Sinatra's classic, "My Funny Valentine"? Perfect for a gal who makes you "smile with your heart."
"Fly" by Sara Groves
"Blue Sky" by The Allman Brothers
"You've Made Me So Very Happy" by Blood, Sweat, and Tears
Dang! I could spend hours doing this. Where's my Room with A View DVD anyway?
My husband played Macy Grey's Freak Like Me and reminded me why I love him most. He makes me laugh, he makes me laugh, he makes me laugh!