Financial Tightrope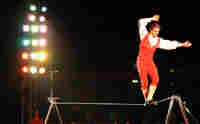 It's no secret that the economy, right here, right now, is in crisis. Banks failing, homes foreclosed, food and gas prices rising. But there's another creeping problem that makes all of these crises even worse — and that's the gradual eroding of corporate and social safety nets. The end result of this: we're just one crisis away from ruin. An unforeseen illness, job loss, or divorce, can wipe us out completely. Peter Gosselin's book High Wire: The Precarious Lives of American Families delves into the shifting financial sands, by telling the sometimes wrenching stories of families (some even quite affluent) who found themselves in disastrous circumstances. Laissez faire has become — not so faire after all. Has this happened to you?
One of the biggest differences between today's family and what I remember my parent's going through, is the amount of debt carried that is acceptable. My parent's never had credit cards and the idea of buying items--especially "frivilous" things like vacations or TV's--on credit was unthinkable. Today, the idea of "going without" is unthinkable. Perhaps it isn't the circumstances that have changed-- it is our responses to them.
The question of whether we are all responsible for the welfare of each other is to me the defining difference between Republicans & Democrats. Obviously, Democrats as a group feel we are, and Republicans as a group feel everyone should get their own. This has been demonstrated countless times throughout the years.
I recently returned from a trip to Europe (Slovenia, Italy & Spain). And one of the most startling things was the apparent lack of poverty and homelessness. In the US, one is constantly faced with poverty and homelessness, yet we become inured to just how bad things have become. It's not until one leaves that I realized the difference between a society that has a safety net (the EU) and one that has little or none (the US).
Hi Neal,
Your financial tightrope topic is extremely interesting and very pertinent to my life at the moment. I am a 28 year old attorney. I graduated law school in 2007 and have been unable to find steady employment since then. It has been an extremely stressful two years for me - I don't have insurance and I know that one health crisis would be devasting for me financially. The most frustrating aspect of my situation is the fact that I have done everything we as Americans are told to do. I went to school, got an excellent education, got good grades and graduated eager to work. Unfortunately, with the market the way it is today, most law firms are not hiring and corporations usually overlook my resume because they only want to hire people at the entry-level. As I said, it makes me angry at times that I have worked very hard and gone into deep educational debt on the promise that it would all be worth it when I graduated. At the moment, I'm finding my education a burden to my financial situation rather than a benefit.
Thank you,
Amy
I just wanted to address a point made be caller Harry about sub prime mortages being the result of people buying homes they could not afford. This is definitely not the case in Indiana. My fixed rate mortgage went from $800.00 a month to 1066.00 a month because of tax increases in the state. I am not the only person that this has happened to in Indiana. So for people to make the broad assumption that people are struggling because of greed is incorrect and a bit pious.
I'm a freelance advertising copywriter and was recently diagnosed with diabetes. I have health insurance (HSA)but it's amazing what my insurance company won't cover. I have a lot of out-of-pocket expense.
It's tough and scary. I have to keep the ball rolling without letting the stress of the entire situation get to me and make my condition worse.
But on the other hand, if I had a full-time/permanent job and was layed off...good luck on getting affordable health benies as a diabetic.
Are you kidding me? Millions of people have faced these exact problems on a day to day basis long before these upper middle class people fell on hard times.
What is amazing is that the producers of TNT have only found it necessary to discuss these basic economic issues when it affects middle class folk. This is a surprise to most people why? shame on NPR
your earlier caller left me shaking my head when he stated that "greed" was primarily to blame when one finds them self in a financial crisis- referring to people now holding a mortgage that they can not afford.
My husband and I looked into getting a home a few years ago. We encountered not one, but two mortgage brokers that did their best to talk us into a low rate adjustable mortgage that would have (knowing what we know now) spelled disaster. The point being, we were fortunate enough to have the background and education to know that this sounded "too good to be true". Wanting a better life for your family, particularly when someone you perceive to be an authority on the matter is telling you how easy it can be, is not greed-- In many cases, it is simply trying to have a little something of the American dream that has become so far out of reach. Using the word "greed" seemed harsh and even a bit ignorant to me.
It's amazing how much good fortune I've had with jobs and bonuses, buy-outs. These are the result of two degrees, some hard work, and some skills and knowledge. But, still, with a new job, a house with a mortgage that I still own in my prior city of residence, and an apartment lease, I don't have an emergency fund beyond 3 months. I have put about $12,000 per year in my 401K and that is money I really can't touch. Student loans took their toll although I'm done with those. I just don't understand how people with families and much lower salaries can get by. I don't even have "real" furniture yet at age 37.
I say Gen X and Gen Y are not the selfish generations. If you Google that, you'll find my blog post about it on a blog called Things I've Noticed. I blame much of our problems on the baby boomers.
What's wrong with living below your means?? We have a nice 2-bedroom co-op that is much cheaper to run than to rent a similar apartment. We also know that we could stretch it and buy a house, but what IF one of us loses a job.. That kind of stress is not enjoyable to us. We may not have a nice house like our friends do but we have much more peace of mind.
Most families are not covered by personal disability income policies. The disability coverage provided by employers yields generally only 60%-70% of gross salary. This amount is further reduced by taxes. A personal disability income policy is required to fill in the gap when disabled. Many insurance agents do not even mention this coverage. mention it to your agent! It saved our family! My sisters and I were able to finish college because our parents, one of whom was disabled, had this coverage.
Your guest has made a comment which I think has no ground. I just listened to the caller, a trucker that presented the situation of self employed individual. Your guest have said that he - truck driver is crazy enough to enter this room of having own business. Now, most of truck drivers that own truck(s) are owner-operators. No employees. A year ago US market was in need of hundred thousand new truckers. Within next 10 yrs we will need to fill a gap of half a million new truckers. This trucker, like me, is not complaining because he has problem him self. From shortage of trucks to surplus we went because people that have a security of pay check have no jobs any more and cannot buy what we supposed to haul in trailers behind. Your guest does not get it.
although I am retired and have been able to save enough to continue to live somewhat securely I feel that all are on the economic tightrope that is a result of governmental blindness to the effects that money dealing and unimaginable monetary reward given to the few at the expense of all. I understand somewhat the economic workings of the free enterprise system but when such freedom results in the chaos that we now see I am of the opinion that somehow the elected officials are not awake to what can happen or are part of the workings of a system that allows the very wealthy to continue to proceed in the usual way.
Two years out of college I find myself in a precarious situation. I don't think many people realize the effects - yet to take hold - of student debt on our nation's future economic prospects. I pay near 800 dollars a month for my loans...almost a mortgage payment! The American Dream to me is a sham. I feel no sense of pride toward my country but still try to maintain a philosophy of being my brother's keeper. It is hard.
The recent financial bailout(s) on Wall Street boggle my mind. Everything about a tax-payer funded bailout, which it would be, seems wrong. So, a business makes some bad investments and loses, or looks like it will lose a lot of money and I get to help pay for them to stay in business. Sure, 'I just don't understand the financial end of the whole thing.' Well, no one would bail me out if I were in the same boat. And yes, I surely don't understand companies making billions in profits and then not taking their losses when they goof up. I'm trying to pay off my own debt and no one is helping me.
I don't want someone (the federal goverment) taking my money (taxes) and and bailing someone else out. Do you think the $600.00 rebate bails me out? I think not. Put some more zeros on it. This bailout (and many other financial irresponsibilities -years and years of irresponsibilities- of the fed govt) really upsets me and reminds me of that line in the movie: "I'm mad as hell and I'm not going to take it anymore."
Can anyone say reform the Congress and the Senate and the entire way they spend our money?
When is it going to stop?
How much sympathy are we supposed to have for the union autoworker who made a good living in Detroit, then spent his money on a foreign car?
Stupid and greedy, we abandon our own manufacturing, our own true source of income.
We line up at traps like Wal-Mart to surrender our factories, jobs, money, and children to an adversary: The People's Republic of China--communist, totalitarian, but strangely committed to manufacturing.
Now, just to stay alive--perhaps--we borrow $ trillions from China and surrender our decision making and what little independence we had left.
Sleep well, my fellow Americans.
I think maybe the people saying we need a bailout have tipped their hand with the supposed urgency, we have to do it this week. Every salesman in the world uses this tactic. Get it now, this is a limited time offer, only so many are available, blah blah blah blah. I say wait, call their bluff. No way we were within five trades of a complete meltdown.