Rock Star Botany 202
Mahalo! It's another splendid day here on virtual Kaua'i ... of course I haven't been to the actual island in a while, but tuning in to the island's public radio station helps ...
First, allow me a moment of preemptive denial: I am not in the pocket of the National Tropical Botanical Garden (see? no hyperlink). The only reason my Morning Edition report and Talking Plants Kaua'i stories are filled with NTBG people is that the Hawaii-based botanists on my "Must Meet List" were already working for the Garden.
Can I help it if its staff rocks?
In fact, is was on the NTBG staff that I met my first so-called rock star botanist, Ken Wood, a self-effacing plantsman who, despite himself, does justice to the romantic term ... a term taught to me by future botanical rocker Clay Trauernicht, a field botanist tragically too cute for his own good.
(Yes, Clay, you are).
But enough flirting with jail bait, today's rock star botanist is Steve Perlman, who you might have heard hunting for the rare fringed orchid.
Posing just a wee bit self-consciously with one of his great plant finds, Steve Perlman shows off a blossom from Hibiscus kokio ssp. kokio, a plant he collected on the island of O'ahu. There was only kokio plant known from that island when he made the cutting and it wasn't a prolific bloomer. Baby, look at me now: hard to find in the wild but merrily flowering in cultivation.
photo credit: Ketzel Levine, NPR
Steve Perlman's daring hi-jinks to save Hawaii's native plants is now the stuff of legend among those in the know, as well as the subject of articles, books and an Imax film. He has risked his life so many times gaining access to endangered plants, he couldn't decide which story to tell me when I asked him to describe the scariest botanizing trip of them all.
"It's not thrill-seeking," says Perlman. "I'm there because the plants are there and I'm trying to get to them". His track record is astonishing; let's just say that if you were a betting plant lost in the wilderness, you'd be smart to put your money and your life on him. Not only will he get your seeds into cultivation, often — with the help of the world's best propagators — he'll see to it that your offspring make it into the nursery trade.
Brighamia insignis, shown here in her Mother Of All Plants pose, is a classic Dr. Seuss plant that comes in all sorts of rubbery shapes and breaks out into starry, fragrant flowers. Steve Perlman — along with Ken Wood — spent many years collecting the species, which has a penchant for growing on sea cliffs. "We've seen them all but die out in the wild," says Perlman. "But we got them into cultivation, and they're now being sold all over the world. That feels good."
photo credit: Ketzel Levine, NPR
Perhaps the best-known story about Perlman (Ken Wood is often featured in this tale) is about the lengths he went to in order to collect Brighamia seed in the wild. I recommend you hear Perlman tell it himself, but here's the gist:
Because these plants prefer life on the edge — that is, on windswept cliffs facing out to sea — Perlman had to rappel down to the area where they often grew only to discover they hadn't set any seed. So he'd dangle around, hanging off the cliff, until he'd located a male plant and could collect its pollen. Then he'd dangle around some more until he'd located a female plant, and dabble on the goods.
Months later, he'd return to see if the pollinated female plant had set seed. Sometimes yes, sometimes no. If not, he'd simply return again and again, as often as it took — rappelling off sea cliffs hundreds of feet above the ocean — to collect a few life-giving seeds.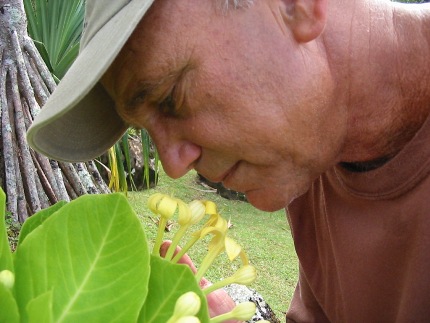 A rare angle of repose for field botanist Steve Perlman, with his nose in Brighamia insignis, one of his greatest success stories.
photo credit: Ketzel Levine, NPR
Well, I don't know what you've been doing with your life, but something tells me I might yet consider doing something more significant with mine.
9:30 AM ET | 01- 2-2008 | permalink