In Pictures: The Final Day Of The Health Care Debate, For Now
The passing of the historic Health Care bill this week means that advocates and protesters will be putting away their props and protest signs for a little while. We take a look at the final day.
First up...Nancy Pelosi's extra-large gavel.
By Chip Somodevilla

/

Getty Images
Mike: They look like the world's weakest street gang. The Gavels.
Eva: The gavel seems big, but really — just like actors — politicians are deceptively small people.
Peter: Turns out Speaker Pelosi was Thor, all along. No wonder she got the votes in line.
Ian: Somebody told her they installed a Whack-A-Boehner game on the House floor and she believed it.
Next up, the protesters...
By Brendan Hoffman

/

Getty Images
Ian: They're like, do we have the right House...of Representatives?
Mike: Most people forget the 9th wedding anniversary is the Angry Protest Anniversary. Not these two.
Peter: That man staring wistfully up at the Capitol looks suspiciously like Jimmy Stewart.
Next, somebody on the pro side...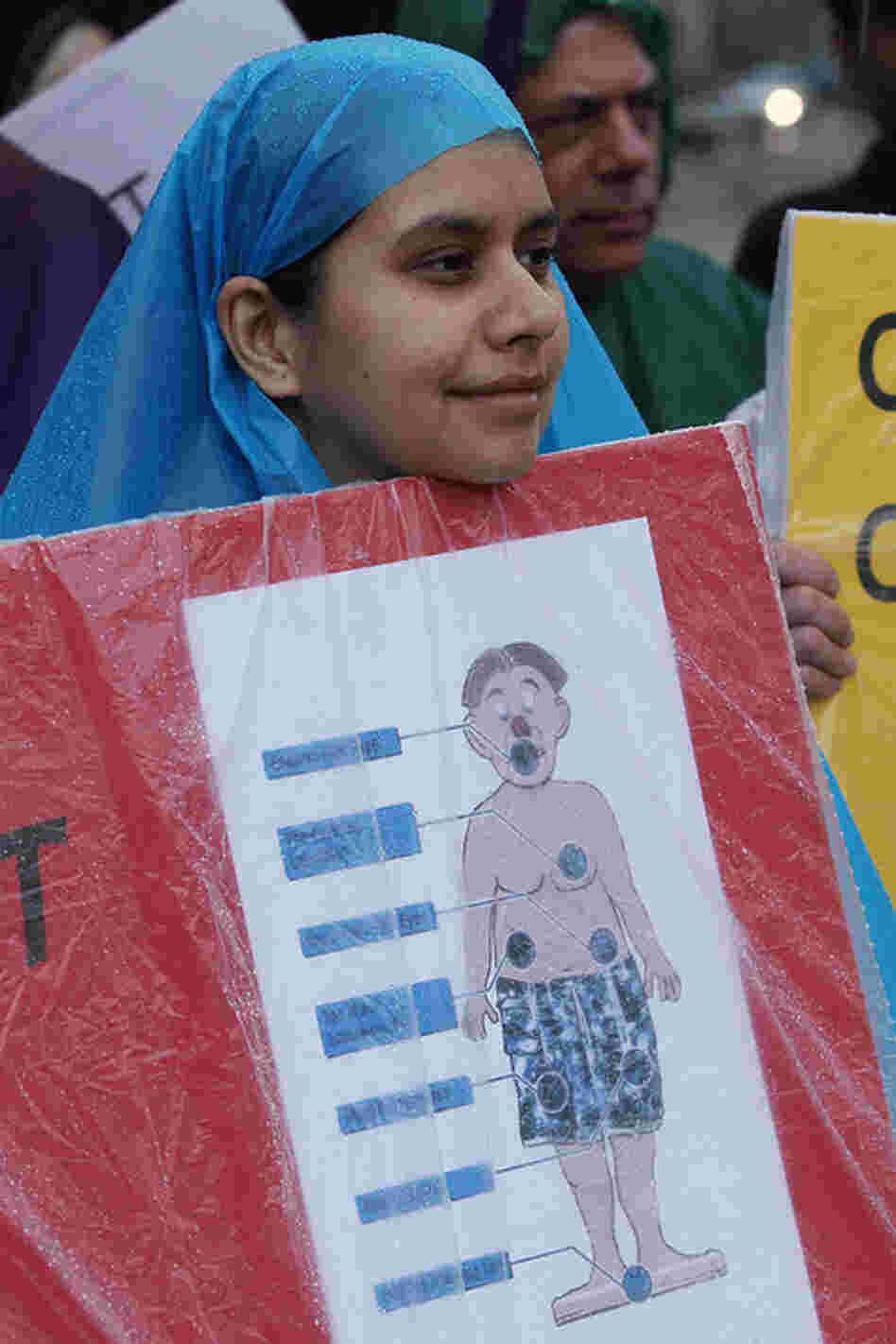 By Mark Wilson

/

Getty Images
Ian: This is actually really poignant, because Operation Man was once denied coverage when Butterflies in the Stomach was classified as a pre-existing condition.
Mike: This makes me nostalgic for another Milton Bradley favorite from my childhood: Hungry Hungry Death Panels.
Eva: Does this mean the new plan will only let you get breast reduction on one man boob?
Next, a woman who seems bored with the whole protest thing...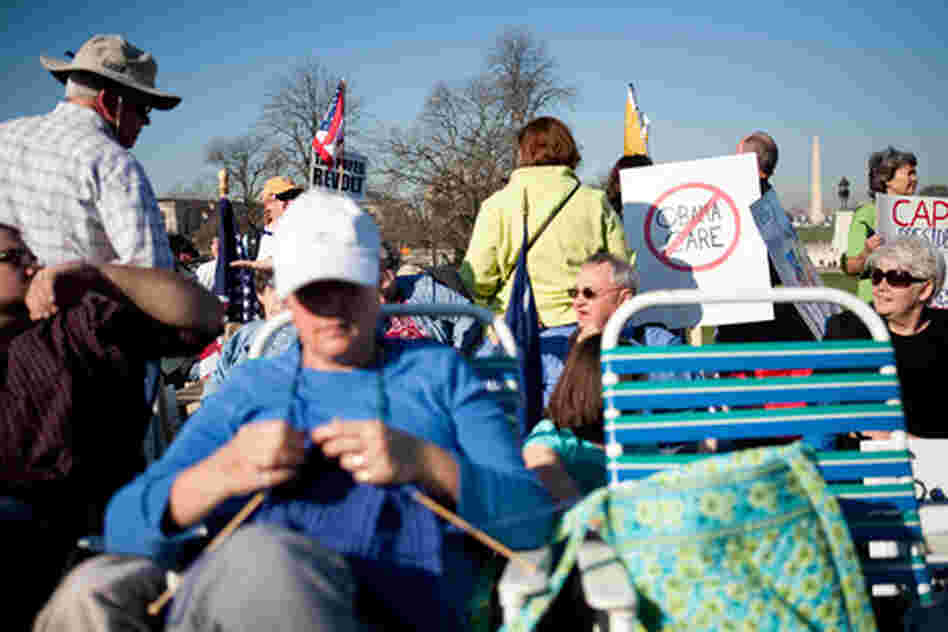 By Brendan Hoffman

/

Getty Images
Peter: That woman is knitting the names of the entire House Democratic Caucus, like Madame Defarge. It will be a Scarf of Retribution.
Mike: When she finally finishes it, her knit protest sign will not only be the most menacing, but also the most beautiful.
Next, an advocate from (we're guessing) New Orleans...
By Mark Wilson

/

Getty Images
Mike: The doctors did everything they could to resuscitate the protest signs, but it was too late.
Eva: That slogan's just gonna keep on not making sense whenever and wherever it's used.
Ooh! A prop: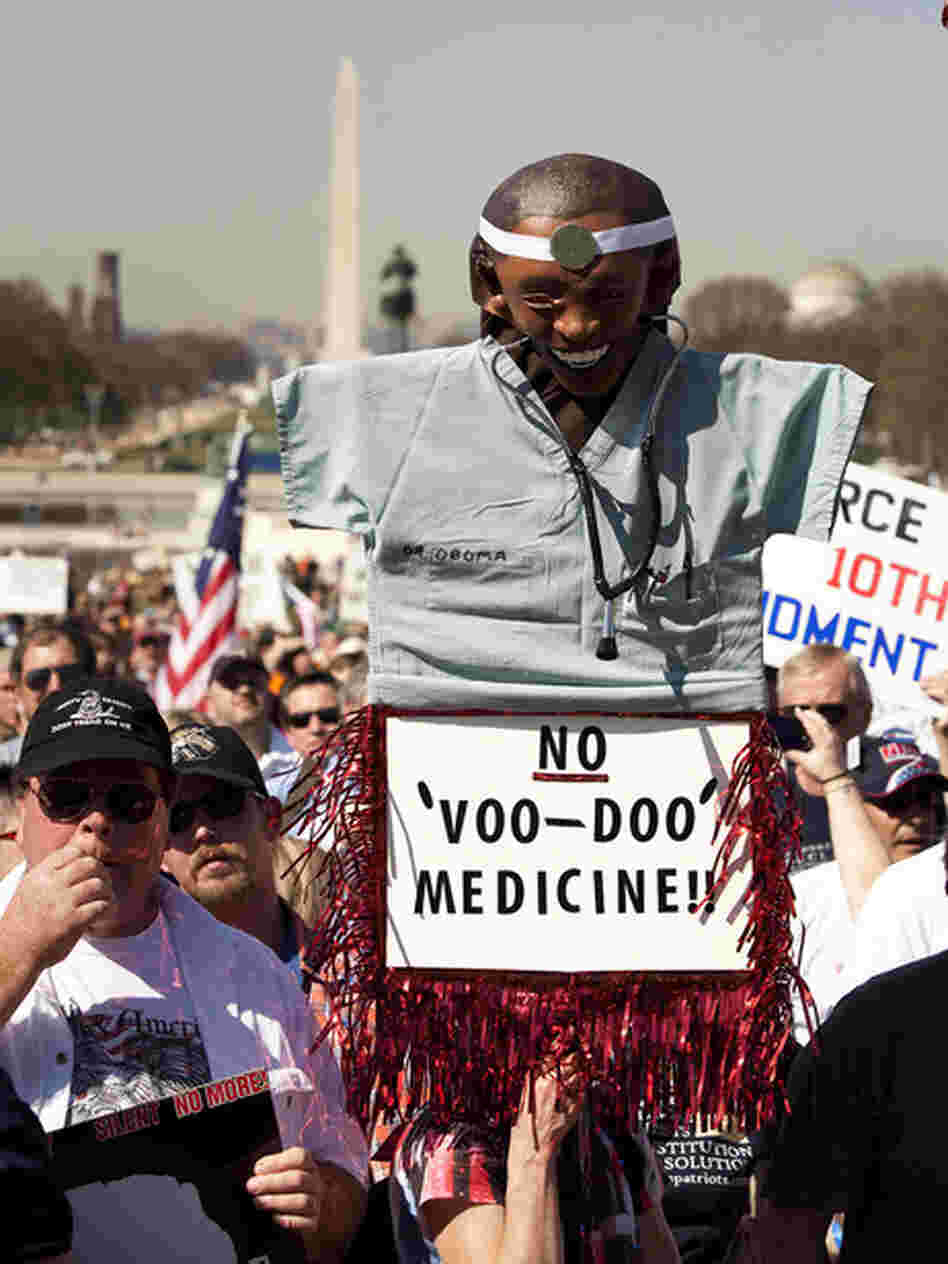 By Joshua Roberts

/

Getty Images
Eva: That Dr. Oboma looks like a pretty friendly guy.
Ian: Troubling to think that somewhere, there's a sexy doctor performing surgery topless.
And finally, possibly the angriest protester...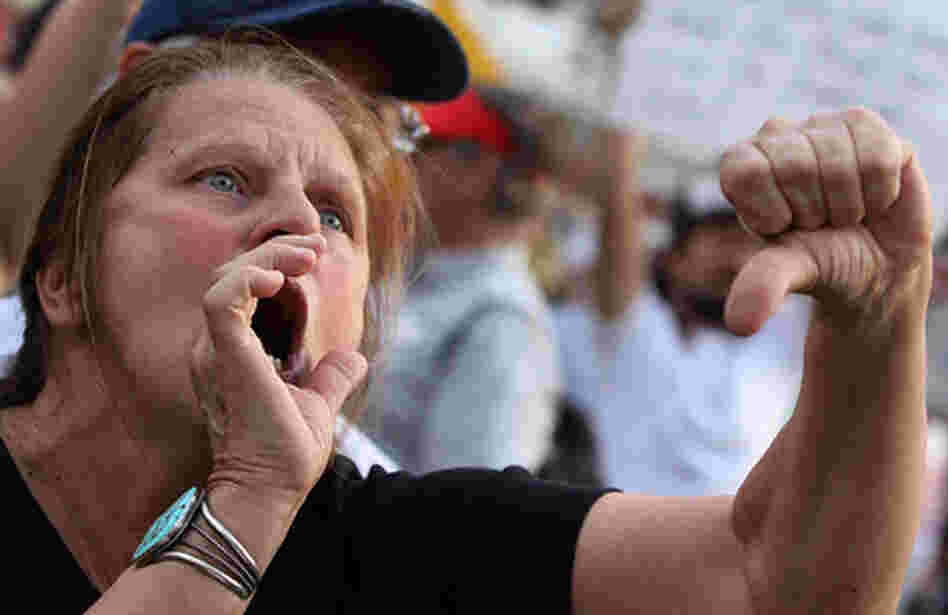 By Mark Wilson

/

Getty Images
Ian: Ah, I see Citizens With Imaginary Bullhorns Against Health Care Showed Up.
Peter: She's blowing up an invisible balloon animal, which when finished will be the Snake of Communism swallowing the Poodle of Freedom.