The Man Who Forgot How to Read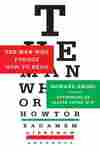 Hardcover, 157 pages, St Martins Pr, List Price: $19.95 |
purchase
Title

The Man Who Forgot How to Read

Author

Howard Engel and Oliver Sacks
Your purchase helps support NPR Programming. How?
Book Summary
The award-winning author of the Benny Cooperman mystery series recounts the loss of his ability to comprehend the written language after suffering a stroke, a devastating setback after which he learned to read again and renewed his commitment to his writing career. 15,000 first printing.
NPR stories about The Man Who Forgot How to Read
Note: Book excerpts are provided by the publisher and may contain language some find offensive.