The Legend Of Pradeep Mathew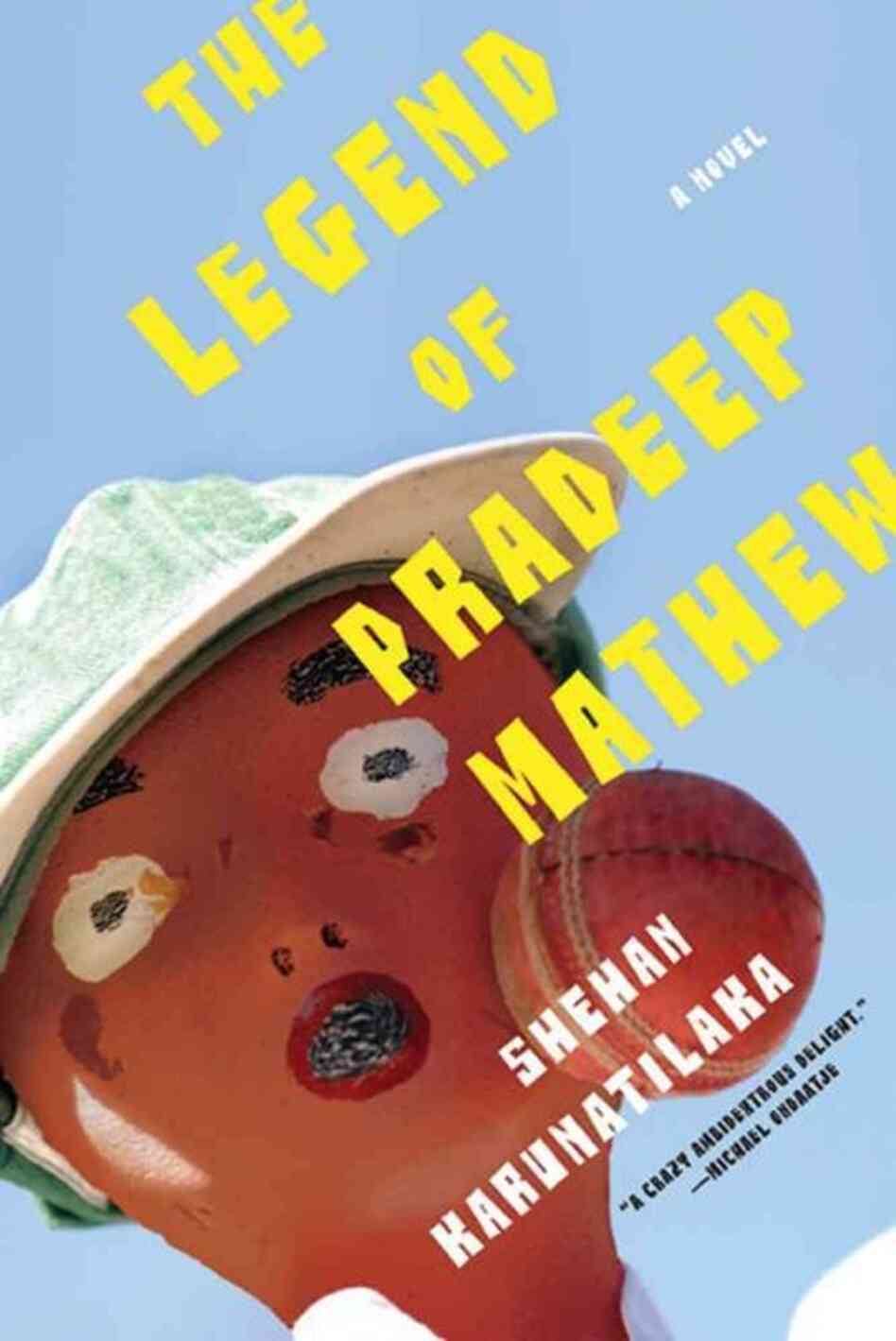 Paperback, 397 pages, Farrar Straus & Giroux, List Price: $16 | purchase
close
Purchase

Featured Books
The Legend Of Pradeep Mathew
Shehan Karunatilaka
Book Summary
Succumbing to poor health after years of drinking, aging sportswriter W. G. Karunasena and his friend embark on a madcap search for a legendary cricket bowler during which they encounter a mysterious six-fingered coach, a Tamil Tiger warlord and startling truths.
Note: Book excerpts are provided by the publisher and may contain language some find offensive.
Excerpt: The Legend of Pradeep Mathew
First Innings
I think the word 'great' is overused. It should only be used for the real legends of the game. We keep saying, 'It's a great goal', 'It's a great save', 'It's a great shot through the covers', when we are talking about orthodox, normal things that happen in every game. I think it denigrates the word.
Geoff Boycott, England batsman (1964–82)
Pradeep Who?
Begin with a question. An obvious one. So obvious it has already crossed your mind. Why have I not heard of this so-called Pradeep Mathew?
This subject has been researched lengthwise and breadthwise. I have analysed every match our man has played in. Why, you ask, has no one heard of our nation's greatest cricketer?
Here, in no particular order. Wrong place, wrong time, money, and laziness. Politics, racism, powercuts, and plain bad luck. If you are unwilling to follow me on the next God-knows-how-many pages, re-read the last two sentences. They are as good a summary as I can give from this side of the bottle.
Deadline
I made my decision in early 1995. The last years of my worthless life would be dedicated to a worthy cause. Not world peace or cancer cures or saving whales. God, if he exists, can look into those. No. In my humble opinion, what the world needs most is a halfway decent documentary on Sri Lankan cricket.
No one knows about this visit to Nawasiri Hospital. Not Sheila, who has begun to notice my falling hair, my swollen fingers, and the rings under my eyes. Not Ari, who has remarked on how my hand shakes as I pour. Not even Kusuma, the servant, who wakes up every other morning to clean up my acidic, blood-stained vomit.
The doctor is younger than my son and has a put-on smile that does not soften the blow. 'Mr Karunasena, your liver is being destroyed. And it will get worse.'
'At least I have my heart.'
My giggle is as pathetic as my attempt at humour. He ignores it and begins scribbling.
'Can't you give me pills?'
'I can give you pills for the nausea and the fever. I can also refer you to our alcohol counsellor.' The doctor tears off a chit branded by a pharmaceutical company I have not heard of. 'The rest, Uncle, is up to you.'
'How much time?' I keep my tone even and my eyes fixed, hoping the pup won't see that the old dog is ruffled.
'If you stop drinking and start eating, exercising, Uncle can bat on for another ten, twenty years.'
The things they don't teach you at school. How to love. How to die. How to stage a dramatic comeback.
Is it possible to hammer 3 goals in extra time after trailing 2–0? Or to land a knockout punch at the end of the 12th? Is it too late to score at 10 an over and turn a paltry 170 into a magnificent 300?
In my life I have seen beauty only twice. I'm not talking Tharuniya magazine front cover beauty. I'm talking staggering beauty. Something so beautiful it can make you cry. Sixty-four years, two things of beauty. One I have failed to cherish, the other I may yet be able to.
Sheila at the Galle Face Hotel 31st Nite Dinner Dance, 1963.
PS Mathew vs New Zealand, at Asgiriya, 1987.
'What if I cut down to two drinks a day?'
He doesn't look surprised. But at least he lets go of the smile. 'A year or two. Maybe more.'
Thus it was settled. I would attempt to do a halfway decent documentary on Sri Lankan cricket. There is nothing more inspiring than a solid deadline.
Sheila
'I don't mind you writing as long as you don't depress people.'
My beloved wife is making me sweep the kitchen. The last time I held a broom, Diego Maradona was a thin, teetotalling teenager.
'You used to be a poet, Gamini. Now you're just a grumpus.'
She says I cannot spend my retirement in my room reading about cricket and drinking. So I have chores, which at sixty-four, I find abominable. But as long as I am helping around the house, we are not talking about my drinking, and in my retirement such mercies are welcome.
'Don't talk rot, Sheila. When we were young anger was fashionable. Angry young man and all. Now I'm a grumpus?'
'That's not a cricket bat, Gamini. Sweep properly.'
It is true. The world has changed and I have not. As with everything, my fault entirely.
'Heard from Garfield?'
'Just go, men.' Sheila is cutting onions and not crying. She keeps jabbering. 'He's doing well. You better stop this business and talk to him. He's calling tonight.'
'Tonight I will be writing.'
'Do whatever the hell you want.'
She adds the red chilli to the dry fish.
I say nothing, keep sweeping, and decide to do just that.
Pradeep Why?
Another question. Why am I chasing a man who played only four test matches for Sri Lanka? A man who denied me interviews, delighted me on occasion, disappointed those he played with, and disappeared three years ago. A man whose name is remembered by a minority smaller than our tribal Veddah population.
I ask myself this right after my bath and my morning tea. My tea is taken milk-less with three teaspoons of sugar and five tablespoons of Old Reserve. As you will soon see, I take arrack with a lot of things.
So when did Pradeep Mathew stop being just another Lankan spinner of the 1980s? When did he become something worth obsessing over? A cause I would champion? To answer that I will take you to a boxing match between two men in dinner jackets. One was my dearest friend; the other, my oldest enemy.
From The Legend of Pradeep Mathew by Shehan Karunatilaka. Copyright 2011 by Shehan Karunatilaka. Excerpted by permission of Graywolf Press.