Hole in My Life
Paperback, 199 pages, Feiwel & Friends, List Price: $9.99 | purchase
Title

Hole in My Life

Author

Jack Gantos
Your purchase helps support NPR Programming. How?
Book Summary
The author relates how, as a young adult, he became a drug user and smuggler, was arrested, did time in prison, and eventually got out and went to college, all the while hoping to become a writer.
NPR stories about Hole in My Life
Some of you may know Jack Gantos as the winner of the 2012 Newbery Medal or as the author of the beloved children's picture book Rotten Ralph and the Joey Pigza series. So you might not know that when Gantos was 19, he went to federal prison for smuggling 2,000 pounds of hashish on a sailboat from the Virgin Islands to New York City. This is Gantos' memoir of those years, the story of a smart, passionate kid who makes the ultimate mistake and then makes his way out. The

—Lucia Silva
Note: Book excerpts are provided by the publisher and may contain language some find offensive.
Excerpt: Hole In My Life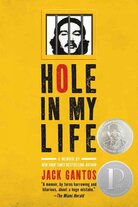 From Hole in My Life
From my cell window I could see a line of houses in the distance. All week the people had been putting up Halloween decorations. We didn't celebrate Halloween in prison . . . or, I should say, every day in prison was scarier than any Halloween, so there was no reason to do anything special on October 31st. But thinking of Halloween reminded me of a funny story from when I was in fifth grade. We were living in Kendall, Florida, right on the train tracks. One Halloween afternoon police cars flooded our neighborhood and announced that Halloween was canceled because there had been a prison break upstate at Raford. A couple of guys had hopped a freight and the cops thought they may have jumped off in our area. We locked our doors and turned on all the lights. We pulled the curtains. All night I scampered from window to window peeking out and looking for unshaven suspicious types in striped outfits. Every time a bush rustled in the wind my heart leapt. I saw rugged prison mugs in every shadow. It was the most exciting Halloween ever. The escapees were caught not far from our house and I was disappointed that I hadn't spotted them slinking around.
I wrote this story down in my journal. From time to time I wrote down other funny stories and memories about my family and my childhood. It was a relief to write stories that didn't have bars around them.