The Revolution Was Televised
The Cops, Crooks, Slingers And Slayers Who Changed TV Drama Forever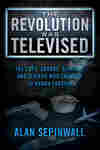 Paperback, 306 pages, What's Alan Watching?, List Price: 16.99 |
purchase
Title

The Revolution Was Televised

Subtitle

The Cops, Crooks, Slingers And Slayers Who Changed TV Drama Forever

Author

Alan Sepinwall
Your purchase helps support NPR Programming. How?
NPR Summary
The Sopranos. Oz. The Wire. Deadwood. The Shield. Lost. Buffy the Vampire Slayer. 24. Battlestar Galactica. Friday Night Lights. Mad Men. Breaking Bad. These 12 shows, and the many more they made possible, ushered in a new golden age of television — one that made people take the medium more seriously than ever before. The Revolution Was Televised is the story of these 12 shows, as told by Sepinwall and the people who made them.
NPR stories about The Revolution Was Televised
Note: Book excerpts are provided by the publisher and may contain language some find offensive.