Hyperbole And A Half
Unfortunate Situations, Flawed Coping Mechanisms, Mayhem, and Other Things That Happened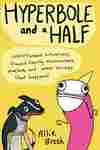 Paperback, 369 pages, Simon & Schuster, List Price: $17.99 |
purchase
Title

Hyperbole And A Half

Subtitle

Unfortunate Situations, Flawed Coping Mechanisms, Mayhem, and Other Things That Happened

Author

Allie Brosh
Your purchase helps support NPR Programming. How?
NPR Summary
Hyperbole and a Half began life as Allie Brosh's blog, full of crude sketches and absurdist rants about spelling, dogs, cake and the pressures of adulthood. But there's a serious side as well, in heartfelt, unsparing stories about her struggle with depression.
NPR stories about Hyperbole And A Half
Note: Book excerpts are provided by the publisher and may contain language some find offensive.