The Sandman
Overture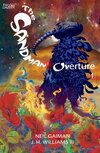 Hardcover, 19, Vertigo, List Price: 4.99 | purchase
Title

The Sandman

Subtitle

Overture

Author

Neil Gaiman
Your purchase helps support NPR Programming. How?
NPR Summary
Approximately 25 years after the debut of The Sandman, Neil Gaiman returns to the seminal comic book series with a prequel. In this mini-series, he offers a glimpse into the events leading up to the capture of Morpheus, the Lord of Dreams, which opens the original series.
Note: Book excerpts are provided by the publisher and may contain language some find offensive.