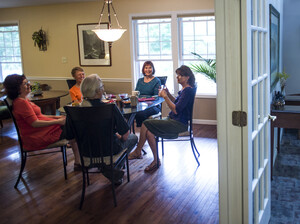 Group houses are becoming popular — again — among some single baby boomers, and not just for financial reasons. Marianne Kilkenny (second from right) shares her home in Asheville, N.C, with four other people.
View caption
Mike Belleme/The New York Times
()
Some single baby boomers are moving into group houses, a college-era solution to their modern needs. Housemates share costs, socialize, and cheer each other on through life's thick and thin.
heard on air
Contact the Show
Send us your comments, questions, and suggestions.