Two Top Trios: Jason Moran, Fred Hersch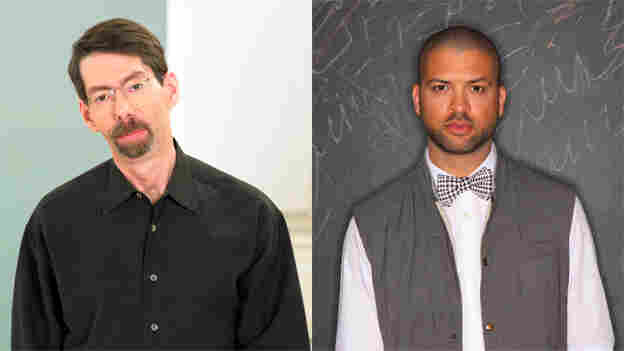 What luck that today brings the release of two fine new piano trio albums. Jason Moran's Ten and Fred Hersch's Whirl are both out today, and they're both well worth your time.
I've taken to describing Jason Moran as a jazz pianist who makes conceptual art sound natural. His Ten is a commemoration of the tenth anniversary of his Bandwagon trio (Tarus Mateen on electric bass and Nasheet Waits on drums). As Kevin Whitehead says in a Fresh Air review today, "The Bandwagon confirms the value of working groups; sometimes, musicians make the most progress by sticking together." Soon, we'll have video proof: the band came to NPR's headquarters to play a special session for us. But don't wait up, when you can hear the entire thing for a limited time: preview the album via our First Listen series. [Exclusive First Listen: Jason Moran, 'Ten']
Those who have followed the saga of Fred Hersch know just how incredible it is that he's still making music — let alone still alive. He spent two months in 2008 in AIDS-related comas, but has returned to the scene as sharp as ever. As proof, NPR Music and WBGO recorded the Fred Hersch trio — John Hebert on bass, Eric McPherson on drums — live at the Village Vanguard last July. On the eve of a new record release (and another week at the Vanguard), Robert Siegel of NPR's All Things Considered journeyed up to New York to speak with Hersch in his apartment — and even caught a bit of the trio's rehearsal. That conversation airs today. Oh, and what does Whirl sound like? Stream a track, after the jump. [All Things Considered: Fred Hersch: Transcending Illness On An Unflinching Album]
Two Top Trios: Jason Moran, Fred Hersch
"Skipping," by Fred Hersch Trio, Whirl (Palmetto). Fred Hersch, piano; John Hebert, bass; Eric McPherson, drums. Released Jun. 22, 2010.